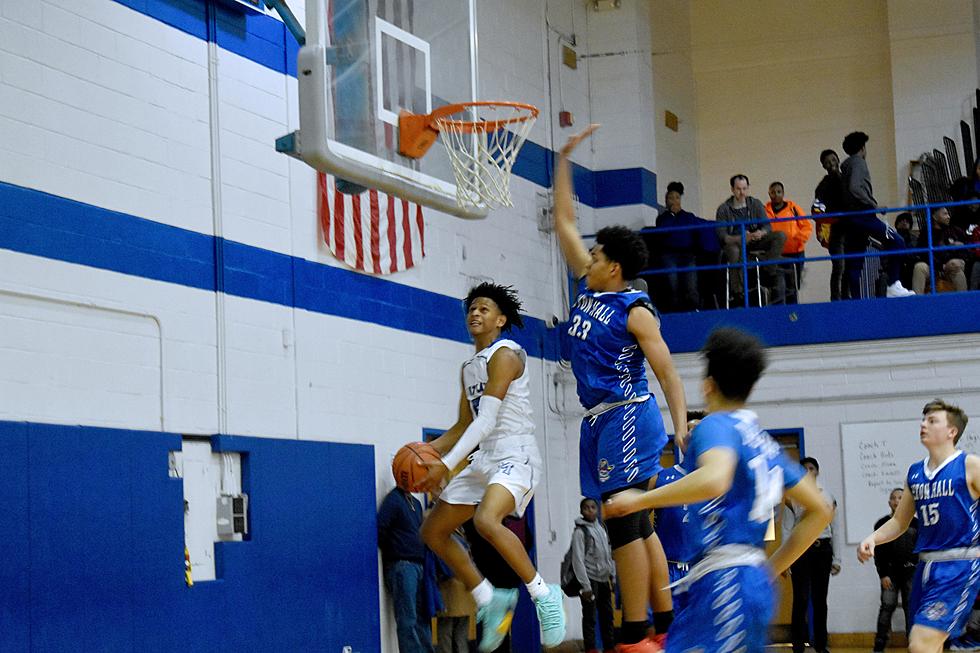 Montclair Basketball: Mounties stumbles cost them in 48-29 loss
Senior DeShawn Davis goes up for a layup during the Mounties' 48-29 loss to Seton Hall Prep. Davis ended the night with six points.
PHOTO BY ANDREW GARDA/STAFF
by Andrew Garda
garda@montclairlocal.news
The Montclair High School boys basketball team was off to a solid start to the season, but with the new year, have come several missteps.
First, there was a close 79-72 loss to American History on Jan. 2.
Then Friday night, they suffered another setback with a lopsided 48-29 loss to Seton Hall Prep.
The game didn't start off that way. The Mounties led throughout much of the first quarter, finishing with a 10-7 lead and some momentum. Four different players scored for Montclair, with Charles Murphy Jr, DeShawn Davis, Shawn Summers and Izaiah McPherson all scoring a basket.
The Mounties could have had a bigger lead, however, if they hadn't been sloppy with the ball. Errant passes, poor shot selection and ball handling just a little too cavalier created too many turnovers and gave the Pirates too many chances, while limiting Montclair's scoring.
"They're a very good basketball team," said head coach Gary Wallace of Seton Hall Prep after the loss."You can't just run around against them. They're going to make you play outside your game, and then when you do that, you'll just be running around for 30-something minutes. I told the guys, they had to be disciplined, run your stuff and we didn't do that."
The sloppiness and individual-focused play left the door open for the Pirates to get back on track. Seton Hall Prep fought back at the start of the second quarter, tying the game at 14 with 4:42 remaining in the half. After a 30 second timeout called by Wallace, the two sides traded points, tying again at 17.
---
MHS WRESTLING: MOUNTIES HAVING EARLY SUCCESS IN 2018-19 SEASON
MHS BASKETBALL: NEW GIRLS COACHING STAFF BREAKS GROUND
---
Then, the Pirates put together a nine point run, taking the lead and finishing the half up 26-17. They would outscore Montclair 21-0, with the Mounties finally scoring with 4:49 left in the third on a Davis bucket.
While Montclair scored the last five points in the quarter, they had been outscored 21-5 over the course of 10 minutes.
The source of that SHP run was the same thing which prevented Montclair from extending a comfortable lead early. Montclair's continued sloppy play resulted in turnovers, and while Seton Hall Prep has struggled this season, the Pirates are still too good a squad to hand the ball off to the way MHS did Friday night.
As the fourth quarter began, Montclair struggled to find the basket, while SHP was able to score almost at will. After lengthening their lead in the third quarter, the Pirates never came close to losing it, and Montclair was unable to close the gap.
Wallace said after the game he had tried to warn his team not to be overconfident coming into the game.
"I told these guys that even though we played a nationally ranked team over the break, we played two mediocre teams after that. Those games are Fool's Gold because they set you up for games like this. And we went into American History the same way. Lackadaisical, not doing what we do, thinking we can just go out and perform. We're not good enough to do that."
Wallace said he tries to give his players room to be themselves, but they have to remember they are part of a team.
"The system was put into place to allow these guys to play freely, but with purpose," he explained. "And when we don't play with purpose, this is what we look like."
For Wallace, he feels he has been let down the most by his upperclassmen.
"What's lacking is leadership from our seniors. I don't have a guy stepping up saying "this is how we're doing it, slow down, this is what we've gotta do," Wallace said. "And right now that's kind of disappointing because you'd think with seven seniors that there'd be a lot more leadership on this team. But right now we're lacking it in all categories."
Montclair took on Millburn Tuesday night and it seemed like Wallace's words may have had an impact as the Mounties led wire to wire and won 53-37. A dozen Mounties contributed points, led by Murphy, Omarion Jet, and Reid Eaves each scoring 8 points and Shawn Summers who scored 7.
It's hard to read too much into that win, given Milburn's 1-7 record, but at the very least, it seems like a good first step. MHS tries to keep the fresh momentum going against Columbia Thursday night at home.