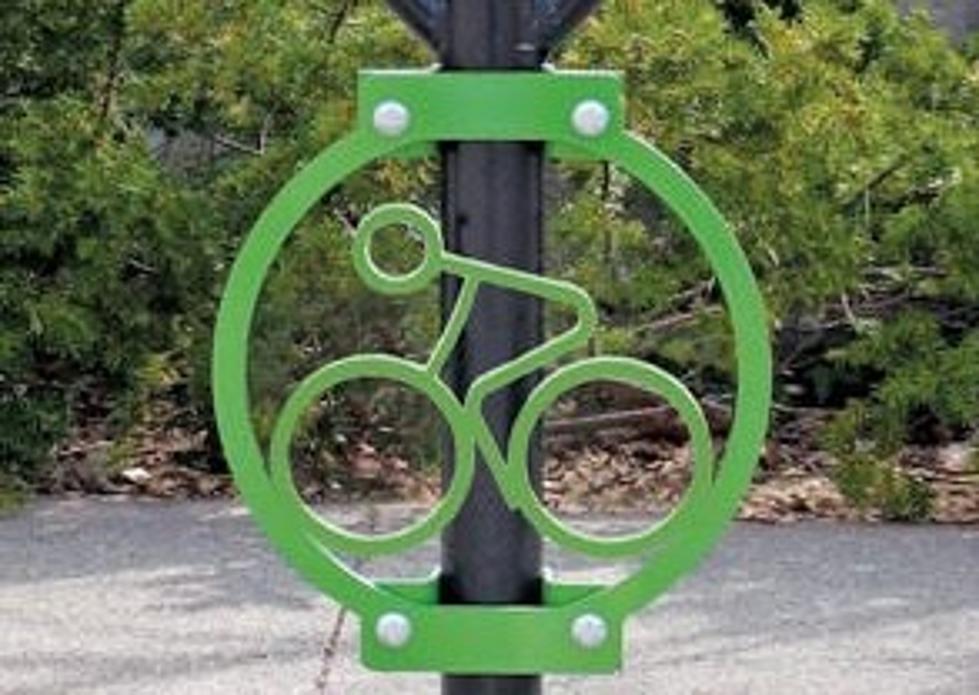 Montclair bicycle parking initiative gets a boost
An old bike parking meter rack. (COURTESY OF PAUL MICKIEWICZ)
Montclair Planning Board member Jacob "Jake" Nieman was riding his bike along South Fullerton Avenue on his way to get a haircut. When he arrived at Classic Man Cut & Shave, he realized there was no place to park his bike. He ended up walking down the street and tying his ride to a street sign. 
As he headed back to the barber shop, Nieman noticed that there were a number of empty parking meter posts lining the street. When Montclair's streets were redesigned a few years ago, paid street parking by meter was taken away and replaced with payment kiosks. What remains of the decommissioned parking meters are holes in the concrete with metal poles protruding. 
Passing these unused poles sparked an idea in Nieman that may provide a solution to some bike parking problems in the near future. 
"In previous conversations with Jason Gleason, who runs the BID, I learned that basically the biggest cost to installing a bike rack, because I asked him about installing one on Church Street, is digging into the concrete," Nieman said. 
"The rack itself may be only a couple hundred dollars, but digging into that concrete can make one bike rack cost $5,000 to $10,000. So, I saw these poles sitting in the ground that already had the hole, all they needed was a rack attached to them, and it cuts off some huge percentage of the cost of a bike rack." 
Later that January day, Nieman sent an email to Mayor Sean Spiller and councilors  Peter Yacobellis, Robert Russo and Lori Price Abrams with the suggestion to repurpose the parking meter poles into bike parking racks. To his surprise, the email drew attention and started conversations about turning the idea into a reality. 
"Through that, a collaboration was born," Nieman said.
Spiller was the first to respond. He agreed that the idea showed promise and forwarded it to the head of Montclair's Parking Utility, Emanuel "Manny" Germano, who oversees the town's meters. 
Two days later, Nieman received a response from Yacobellis, who brought other township officials and groups into the conversation, including the Department of Community Services, the township engineer, Gleason and Paul Mickiewicz, president of Bike&Walk Montclair. Together, they began brainstorming ways to advance the initiative. 
Mickiewicz sent an email to the group specifying the type of bike rack perfect for attaching to the old parking meters. Spiller said that the town's utility director had the same idea and was looking into that bike rack option. 
"Coincidentally, a few weeks ago, I had a conversation where I met Manny Germano of the Parking Authority," Mickiewicz said. "We were at the parking deck, and I was introduced to him by another person, and he said, 'Oh, you know, I got all these parking meter bike racks, what am I supposed to do with them? Because we're taking them apart.'" 
About 10 years ago, Mickiewicz said, Bike&Walk Montclair installed a number of the racks, which have a circular, metal bike logo on them. Using brackets, they were attached to the old parking meters once used around town. However, after Montclair discontinued the use of those meters, the racks were taken down and stored. 
"So when Jake's idea came up, it was like, wow," Mickiewicz said. "So that's when I copied and got Manny looped into the email, and said, 'You know, we were just talking about this, so there must be some of those laying around.'" 
Both Mickiewicz and Germano suggested that the town use that type of bike rack. "It's a great opportunity for reuse that's kind of sitting right before our eyes," Nieman said, adding that Gleason agreed to have the poles and racks painted come spring. 
Mickiewicz foresees himself and Germano taking some time to walk around town to see how many parking meter poles are fit for bike racks, and how many of the old bike racks can be used. 
"It doesn't always happen this way," Mickiewicz said. "This is a very positive and good example of collaboration."