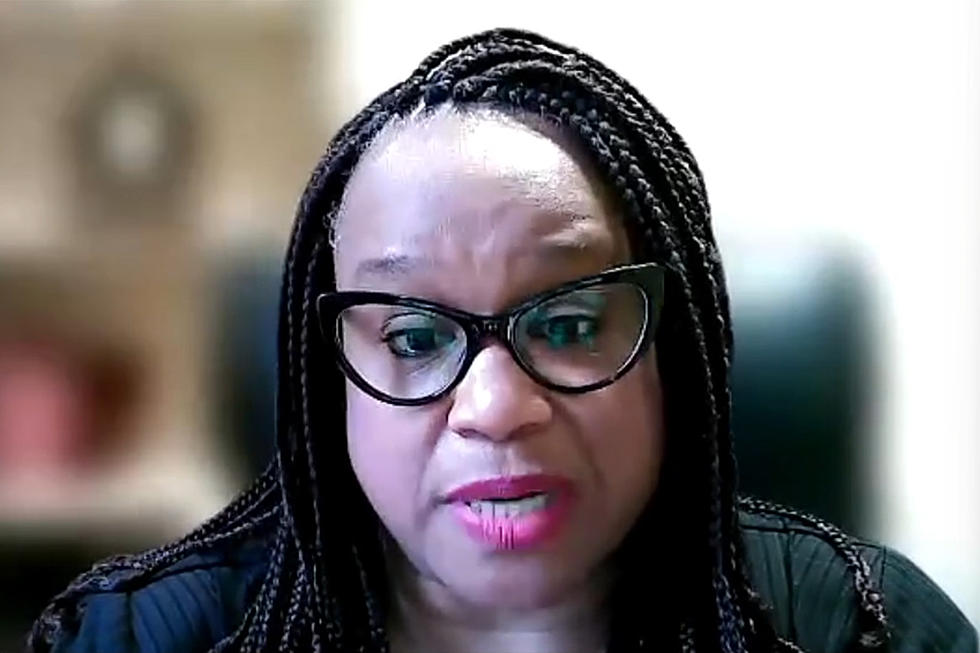 Montclair Black clergy: We need transparent policies for town investigations
The Rev. Anita Wright (MAACA Press Conference)
Members of the Montclair African American Clergy Association say months after starting conversations with local leaders about how incidents involving race and municipal employees are investigated, they're still not satisfied township policies are as transparent as community members and workers alike deserve.
"I think every employee ought to have the protection of some HR privacy, but I also think as a public servant, there is a level of transparency or accountability" that members of the public deserve, the Rev. Anita Wright, pastor of Trinity Presbyterian Church, said at a press conference with other members of the association, held via Zoom last week. 
She and other faith leaders said they don't expect to know everything about every investigation involving an employee, but they do want a better understanding of how investigations are carried out, what information might be made public and when, and what specific repercussions an incident involving race or another aspect of identity might carry. 
"There's a lot of latitude [in policies members have seen so far] that says 'up to and including termination,' but not really anything from the beginning to the end that says these are the steps that we will take," Wright said. Similar incidents, she said, might have wildly different outcomes based on the latitude members see in any township policies they've been shown.
Clergy association members say they're planning a town hall meeting — with members of the Township Council invited — to discuss the community's expectations around investigations. Mayor Sean Spiller told Montclair Local by email Monday that "with regard to any type of town hall, I would certainly always be willing to help facilitate or be part of the conversation."
The clergy association began bringing concerns to the Montclair Township Council in recent months after the retirement of former Township Attorney Ira Karasick, who stepped down after an investigation into his reference to a Black housing official as "three-fifths of a human." Karasick described the remark as an ill-advised joke about the Constitution's three-fifths compromise in an apology letter the day he stepped down.
The Township Council hired an outside investigator to review the matter, but hasn't ever said whether Karasick was subject to any discipline. Some council members acknowledged the investigation after press reports, including those by Montclair Local, about Karasick's comments. Montclair Local also reported in December the former attorney would be entitled to about $86,000 worth of continuing paychecks as an employee on terminal leave; officials hadn't discussed that payment publicly prior to that point.
Spiller shared to Facebook Montclair Local's first report on Karasick's comments, saying that "racist language, no matter the context or intent, is unacceptable and does not reflect the values of Montclair." He told readers of the post he couldn't speak to the specifics of a personnel matter, "but I am committed to ensuring we live up to our ideals."
And while the clergy association members said they're not focused only on that case, "of course we can't let it go, because as [to] policies and procedures, nothing has changed, yet," Wright said. Officials acknowledged Karasick's departure, but "just telling us the outcome doesn't really tell us how you came to the outcome," the Rev. Robert C. Coles, pastor of the Petra Baptist Church, said.
A Montclair police officer was recently suspended after allegedly using a racial slur, Chief Todd Conforti has confirmed. The chief hasn't disclosed the officer's name, said whether the officer was on duty during the alleged incident, or said whether the officer is receiving pay while suspended.
Coles said he's grateful the police department seemed to take immediate action in that incident, but he'd still like a greater sense of how such incidents are addressed — if an employee is always put on leave, if training is required after an incident, what consequences apply. 
"We think there should be protocols in place for all incidents such as this," he said.
Members of the clergy association shared a 2001 policy on employee harassment that they said township officials gave them during recent discussions. That says incidents will be "fully and completely investigated," that investigations will be handled with sensitivity but be "as thorough as necessary," and that anyone accused of an incident will be able to make a statement.
The policy says anyone found to have harassed someone will be subject to discipline "up to and including discharge."
Township Manager Timothy Stafford, in a message passed on by the township's spokesman, pointed Montclair Local to a January memorandum on the township's equal employment policies, barring discrimination. That memorandum also says discrimination can be subject to discipline up to and including termination, and that it falls to department heads to develop strategies to comply with the equal employment policy. 
Montclair police also have several policies regarding employees posted to the township website, Stafford noted. Among them is an internal affairs policy, which details a number of aspects of an investigation into any sort of misconduct, including how complaints are accepted, what matters are considered administrative misconduct, and how matters are reported to other agencies, like the Essex County Prosecutor's Office. It outlines responsibilities and aspects of a timeline for investigating incidents — for instance, saying an investigator has 30 days to file a report after being assigned a matter, that a report goes to the Office of Professional Standards for review and recommendations for discipline, and that the chief has 45 days to file a charge once provided with "sufficient information," under state law. It also says an explanation of the outcome of an investigation should be provided to a complainant. 
The policy also says the police department will periodically release a "brief synopsis" of complaints where an officer was suspended for more than 10 days — but not the names of the individuals involved. 
The Montclair Police Department last year suspended one of its officers, Bill Coad, for 20 days after he made a Facebook comment about a "China 19 check" — an apparent racial reference to coronavirus. Details of the suspension were first made public in February, in a compilation of police disciplinary records released by the state Attorney General's Office. That compilation doesn't detail the incident, which had been reported by Montclair Local, only that Coad "made inappropriate comments via social media which also touched on his position as a [Montclair Police Department officer]."
Stafford said there aren't specific policies that lay out whether a particular offense would always result in termination or other discipline, what factors might be considered, how an investigation is to be conducted or what can or can't be disclosed, except "for the statutory law and the common law."
And while members of the clergy association point to Karasick's case as one where they want a better understanding of what steps should have or did apply, the township doesn't comment on personnel matters, Stafford said. 
William Scott, co-chair of the Montclair Housing Commission and the individual Karasick was referencing when he made his remark, said he saw the clergy association's request as one for equal justice.
"We want to make sure that all parties that might be suffering this type of situation are represented and equally supported throughout the community," he said.