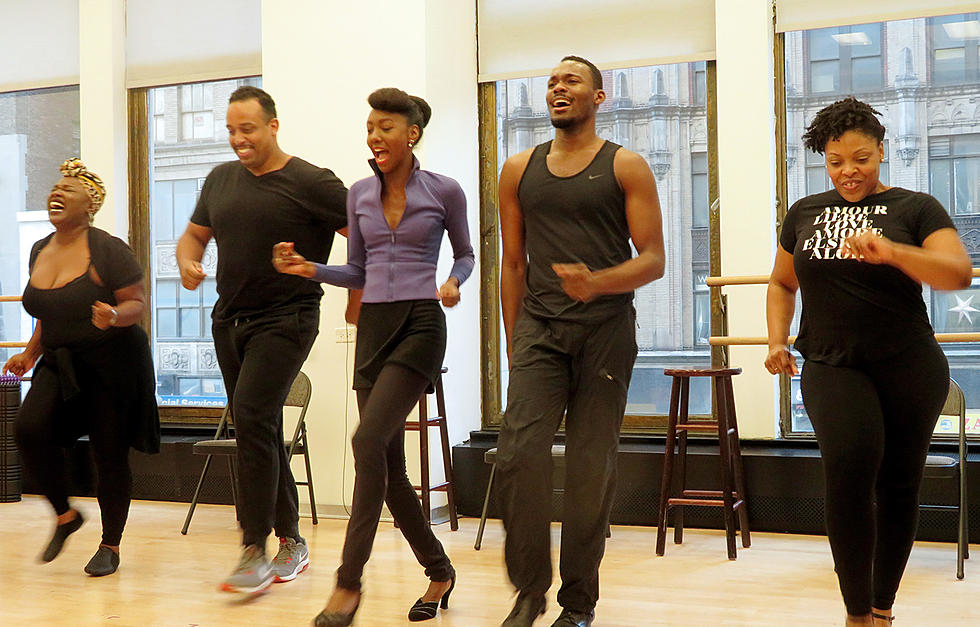 Harlem Renaissance: Ain't Misbehavin' comes to NJPAC
"This joint is jumping. It's really jumping." "Ain't Misbehavin" cast Johmaalya Adelakan, Zurin Villanueava, David Samuel, Borris York, Rheaume Crenshaw. GWEN OREL/STAFF
Ain't Misbehavin'
Presented by Crossroads Theatre Company and NJPAC
Restaging of Fats Waller musical, which played during Crossroads Theatre Company's 2011-2012 season.
Conceived by Richard Maltby, Jr. and Murray Horwitz
Directed by André De Shields
Feb. 1-4
New Jersey Performing Arts Center
1 Center Street, Newark
njpac.org, 1-888-GO-NJPAC
By GWEN OREL
orel@montclairlocal.news
Outside, it was almost too cold to breathe.
But inside the Ripley Grier Studios, the joint was jumping.
Literally, as cast members for the NJPAC and Crossroads Theatre Company co-production went through the Fats Waller song, and then his pensive "Black and Blue," at an open rehearsal in New York City.
Director André De Shields, dressed in red,  with snappy black and white shoes, stopped the number. He asked an actor, "Do you know the worm?"
The actor tried it again. His knees didn't bend right. He got more help. Then he got it.
"Shall we?" De Shields asked.
The choreography tells a story: a man cuts in to dance with a girl; her date objects; a gun is drawn. The music continues. It's witty; it's lively; it's irresistible.
Then for "Black and Blue," the cast of five sit still. They sing:
I'm white, inside
But that don't help my case
Cause I can't help
What is on my face
The un-miked voices soar.
De Shields told the assembled press that the show is more than a musical revue of Fats Waller songs.
The Harlem Renaissance, depicted in the show, was the "first time in history" that a concentration of black artists and political consciousness came together in one place. And "each song is a play."
It's black history, and it's also American history, he stressed.
The song "Black and Blue" resonates because "we are always concerned and conscious about the obfuscation of that indelible context to not only American society but also the world culture," De Shields said. It matters that NJPAC and Crossroads Theatre Company would decide to co-produce a revival of this play, which ran at Crossroads in 2011, in "the month we celebrate black history."
This year also marks the 40th anniversary of the original Broadway production, he said. To have an opportunity to continue to work on the play with younger actors and preserve its legacy means a lot to him: "I'm living the dream."
In an interview, De Shields said he had grown up with a lot of the music, that his older brothers and sisters would sing it around the house. "My mother, around the house, would do a dance called 'snake hips,'" he said. So when the choreographer said of "Viper's Drag," his song in the original production, "We're going to do a dance called 'snake hips,'" he just laughed.
When he first auditioned for the show, in the blizzard of 1977, he didn't know what the show would turn out to be. "Four months later," he said, "we were on Broadway.
"Six months later, we received the Tony for Best Musical." He added: "It was the first time that I've received a spontaneous standing ovation. At the last note of the show, instantaneously, people leapt to their feet."
The show, which opened in May 1978, won Tony Awards that year for Best Musical, and Best Direction of a Musical, for Richard Maltby Jr. Also receiving nominations were choreographer Arthur Furia and actress Nell Carter. The show closed in June 1982, and was revived in 1988 with the same cast, earning glowing reviews.
Most of  "Ain't Misbehavin',"  De Shields said, doing the Charleston to demonstrate, "is kickass entertainment. But we're also setting you up. A spoonful of sugar helps the medicine go down. We're feeding you sugar, sugar, sugar. And once we've got you hooked, we bring on the medicine." And that would be "Black and Blue." It's particularly relevant now, because of the separation of the body politic.
"It's like when you go to your favorite juice bar and get your smoothie, and it's this lovely blended drink," he said. "But if you don't drink it quickly enough, it separates into its individual parts." Which is unappetizing.
Musicals like this one help bring people together, he said.
"Black and Blue" is a favorite moment for some of the cast, too. Johmaalya Adelekan, who plays Armelia, said she loved the music, and "it's a moment in time we take stock of some of the deeper, more hurtful things in our spirit."
The names of the characters are the first names of the original Broadway cast:  Nell Carter, André De Shields, Armelia McQueen, Ken Page and Charlayne Woodard.
Rheaume Crenshaw, who plays Nell, added that the song is also about self-esteem and self-love.
There are fun moments, too: "Fat and Greasy" is a favorite of Zurin Villanueava, who plays Charlaine, a character she described as young, wanting attention, and saying "whee!" because she's out of the house.
And though the show is especially appropriate for Black History Month, there is history in it that gets a reaction from everyone, Crenshaw said, particularly with older audiences. Toward the end of the show, when the cast sings "I'm gonna sit right down and write myself a letter," Crenshaw said, she can feel the change in the house.
"The audience has memories of that time, or hearing their moms play that music, you see the nostalgia go across their faces," Crenshaw said. "It doesn't matter if they're black, white, whatever. You see them remember things and they start to rock. You see them relate to it personally. That's one of my favorite moments.
"I did the show once in Florida in a community that was very different from any community where I'd ever done the show before. It was very much an older community. And that section of the show, the whole audience kind of starts to 'ahh'... some people cry, but it's never sad. It's like, 'Oh I remember.'"