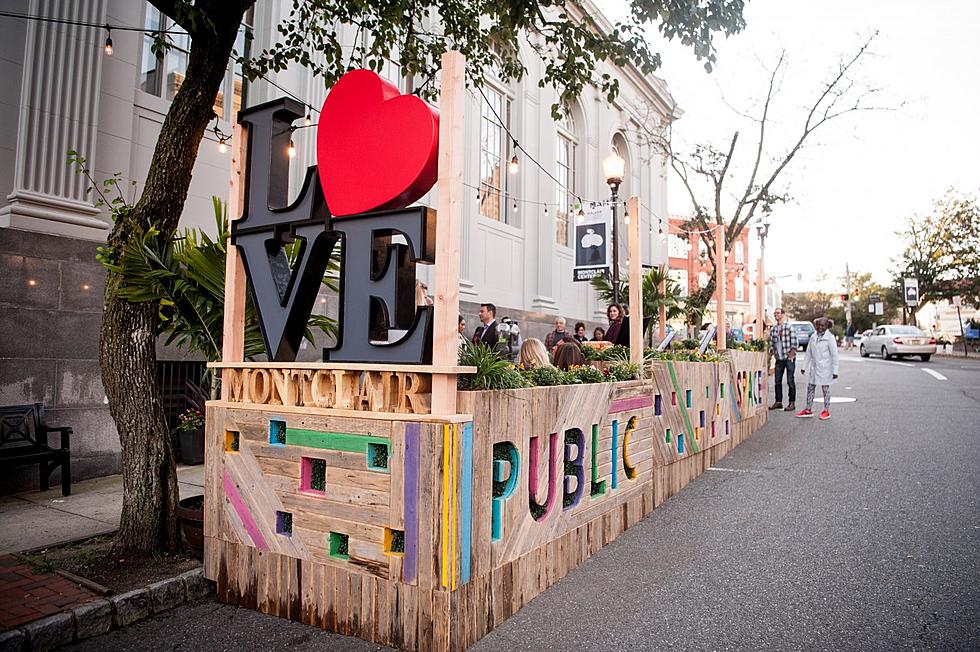 Montclair businesses can have pedlets, parklets into the street this year
A parklet on Glenfield Avenue in 2019. (KATE ALBRIGHT / FOR MONTCLAIR LOCAL)
By JAIMIE JULIA WINTERS
winters@montclairlocal.news
More than 75 businesses have taken Montclair up on its free sidewalk cafe permits this year — already exceeding the 67 from last year, when restaurants could not serve indoors due to the pandemic. 
On Friday, May 28, New Jersey's 6-foot social distancing requirements for both indoor and outdoor businesses and the prohibition on ordering and eating/drinking while standing at bars and restaurants will be gone. The state has already lifted percentage-based capacity limits for most sorts of facilities, though the social distancing rules had still meant a practical upper limit on capacity in many places. On June 4, remaining indoor capacity limits, including those for large venues, will be lifted.
But some customers still aren't ready to eat inside crowded restaurants, and Montclair is giving businesses a way to expand their outdoor dining capacity.
For a sidewalk cafe, Montclair normally requires that the entire length of the pedestrian pathway must be free of obstructions for a width of at least 4 feet. But this year, a business owner can also apply for an expanded sidewalk cafe permit that lets it use the full sidewalk, while creating a "pedlet" — a blocked-off extension of the sidewalk into the street, set up with barriers. A business owner can also create a "parklet," repurposing parking spaces for seating, a minipark or extra dining space.
Only pedlets will be allowed on Bloomfield Avenue, while side streets can have either pedlets or parklets, BID Executive Directive Jason Gleason said.
The township has allowed heavy concrete barriers to be used at construction sites and for long-term roadway repairs. But it will now allow lighter concrete barriers or even plastic ones that can be filled with water to allow for pedlets or parklets, Montclair Police Lt. Stephanie Egnezzo, traffic bureau commander, said.  
Gleason said the construction barriers cost around $1,800 and require a crane to be put in place. But a 4-foot concrete bin barrier, like the kind allowed for the pedlets and parklets, costs anywhere from $30 to $50. 
"Montclair was very restrictive on the types of barriers that could be placed," Councilman Peter Yacobellis said. "It wasn't reasonable in cost and availability."
Although the township is not charging for the cafe permits, businesses that get approval to place barriers in the street to expand their dining spaces onto sidewalks will have to pay the township for 11 hours of daily parking fees for each space that is taken away. That equates to $66 a week per space.
As of Monday, May 24, the township had received only one application for a pedlet — from Toast at 700 Bloomfield Ave., which is expected to be approved this week, township Communications Director Katya Wowk said.
But Gleason said he knew of 13 other businesses — Fascino, Mesob, Eclectic Chic Boutique, Uncle Momo, Cucina Candela, Jack's Seafood, Zuegma, Fresco, Samba, Puebla de Noche, Fleet Feet, Ah Pizz and Kai Yang — have expressed interest.
Sidewalk café permit fees typically are $150 for 12 seats or fewer, and $250 for more than 12 seats. 
"The Township Council and I are pleased to continue this effort in 2021 and hope to see even more eateries offer outdoor dining services this year," Mayor Sean Spiller said in a statement about the free permits.
A business with a pedlet must provide a temporary ramp between the curb and the street at both ends of the café to ensure barrier-free pedestrian mobility, or a structured boardwalk built up to curb height.
Upper Montclair Business Association President Paul Giordano said restaurants there have already expanded outdoor dining to sidewalks, parking lots and alleys, but said the narrowness of the streets is not conducive to parklets or pedlets. He is expecting a good summer for the businesses in Upper Montclair.
"We are coming back," Giordano said, adding that almost all the storefronts are filled.
In June of last year, while dining indoors was still banned due to the pandemic, Gov. Phil Murphy signed an executive order permitting a restaurant, bar or brewery to use outdoor spaces it owned or leased for food and beverage sales.
Last year, business owners called on the Montclair Township Council for months for a plan to allow restaurants to move out onto their sidewalks while indoor dining remained closed and to waive fees for permits. Township officials began waiving fees the day after New Jersey allowed businesses to open outdoors, June 15. 
When asked how long Montclair would continue offering the extended sidewalk permits, Township Communications Director Katya Wowk pointed to a provision in a law Gov. Phil Murphy signed Feb. 5, setting up a framework for bars and restaurants to use outdoor spaces. The provision says the law is in effect until November 2022 or until the state lifts capacity limits on restaurants and bars, whichever comes later. 
"Along with increased indoor capacity numbers, our businesses and restaurants have a much more hopeful 2021 ahead," Gleason said about the town's waiving permit fees and allowing for expansion onto sidewalks.
There are other benefits to allowing parklets in place of parking, Gleason said.
A 2015 report by the University City District in Philadelphia found that in the week or two after parklets were installed there in 2011, businesses saw sales jump an average of 20% over the week or two prior. 
Parklets also serve as a traffic calming method — their presence encourages slower traffic speeds, Gleason said.
Neighboring Essex County towns that have implemented parklets are Bloomfield, Caldwell, East Orange, Newark and South Orange.