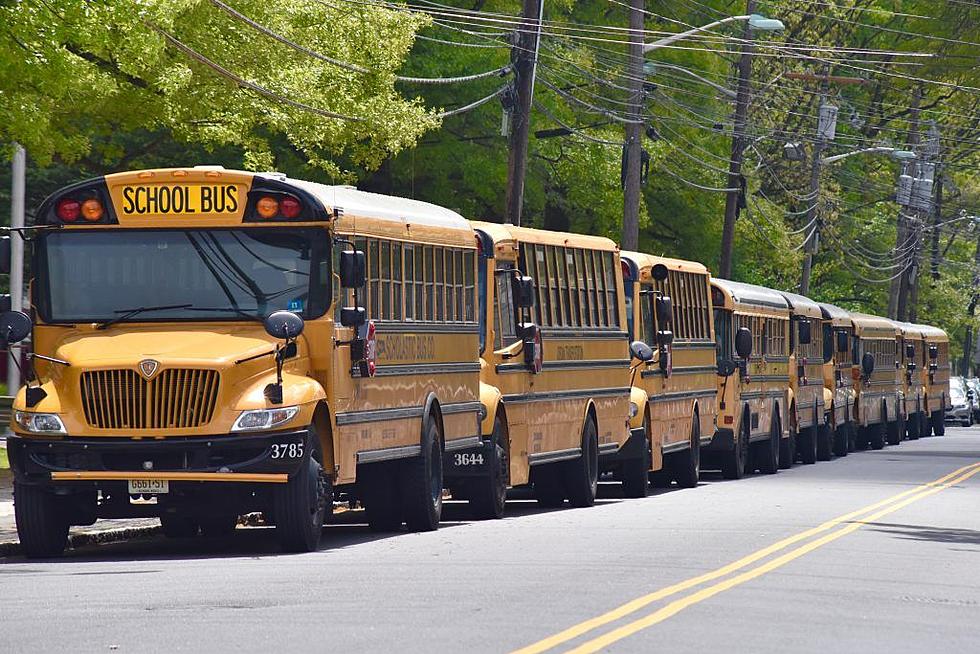 South End high school students to finally get free busing
FILE PHOTO
Montclair's schools will expand bus routes to include more of the town, including the South End. Students and families have campaigned for more bus service to that part of town, citing difficulties students have in getting to school.
By ERIN ROLL
roll@montclairlocal.news
Students from Montclair's South End will finally get district-provided busing to and from Montclair High School. 
At the Oct. 7 Board of Education meeting, Superintendent Jonathan Ponds announced that bus routes will be expanded for every student living 2.25 miles from school. 
Ponds said this will cover areas of Montclair that do not currently have school bus service and at no extra cost to the school district. 
Students at the high school have been campaigning for improved bus service to and from the South End over the years since at least the 1970s. 
The most recent effort started with a campaign by the school's Young Democratic Socialists Club. Busing was also one of the demands that students presented to the district following the Black Lives Matter Unity Walk on June 7. 
Proponents state that lack of reliable free busing has been a serious equity issue. The lack of busing for some students makes it difficult to get to the high school on time, which in turn affects their attendance and academic records, and also makes it difficult for them to participate in extracurricular activities after school. 
Montclair High School's high rate of chronic absenteeism has been attributed in part to difficulties that students have in getting to school. 
Under New Jersey state law, school districts must provide busing for elementary school students who live two miles from school, and for high school students who live 2.5 miles from school. Students living at those distances or beyond are considered "remote from school." 
However, due to Montclair's geography, nearly all of Montclair's South End is located within 2.5 miles of the high school. Conversely, a section of Montclair's north end near the town line with Clifton falls outside the 2.5 mile radius and is therefore eligible for busing for high school students. 
State law allows local BOEs, at their discretion and expense, to provide busing to students who are not considered remote from school. 
"My thoughts are that I am extremely happy that this success was made though it is disappointing how long it took and how it already had negatively impacted many people. However this is a step in the right direction and hope this trend continues," said Jake Keller, a MHS graduate who helped lead the push for expanded busing during his time as a student. 
But some say the distance doesn't go far enough. 
Sofia Bari's mother Cynthia Newlin, said they had numerous questions about the busing expansion, including whether their home will be eligible. 
Bari said even 2.25 miles won't be enough for many of her friends. "I have a friend down the street who's probably exactly the right amount of distance for busing yet, he has a better chance than I do despite me living on this small dead and street," Bari said.
The expansion is better but not sufficient, Newlin concurred.
Former Councilwoman Renee Baskerville, who was involved in the effort to expand busing from the township's end, said that the issue had been raised at least as far back as 1974, when she herself was a student at the high school. 
"This is an exciting day for Montclair," she said. 
In 2018, students asked NJ Transit to add a courtesy stop to its 34 bus route, which travels between the high school and the South End, to coincide with school opening and dismissal times. The township established a bus stop on Chestnut Street and NJ Transit added an extra stop to the route, but students and town officials called for the district to pursue district-sponsored busing. 
NJ Transit busing wasn't without its own challenges, Bari said, including having to pay for fare, and needing to have exact change or an NJ Transit app. 
As for the discounted tickets that MHS offered for students, she said, "It's not that much less. It was like a dollar less per week or something. I didn't really think it was worth it to go through all the trouble just to get it."
It didn't help that tickets had to be obtained from a specific staff member during lunch, and many times tickets or change wouldn't be available, she said. 
The BOE set up a transportation committee in 2019, and has been in discussions with the township and NJ Transit about possible alternatives since that time. 
The next steps will be for the transportation committee to update the busing policy to reflect the new distance requirements. Once that happens, the district will begin restructuring the bus routes. 
Families and students who will be covered under the new distances will receive information on bus stops and availability before schools reopen. 
"I am extremely grateful to our student activists who began challenging this antiquated law about two and a half years before this, and began to take action and energize this movement once again," Baskerville said. 
Bari said, if she is eligible, she will appreciate not having to pay for the bus every day, walk almost a mile down to the bus stop, and wake up an hour earlier.