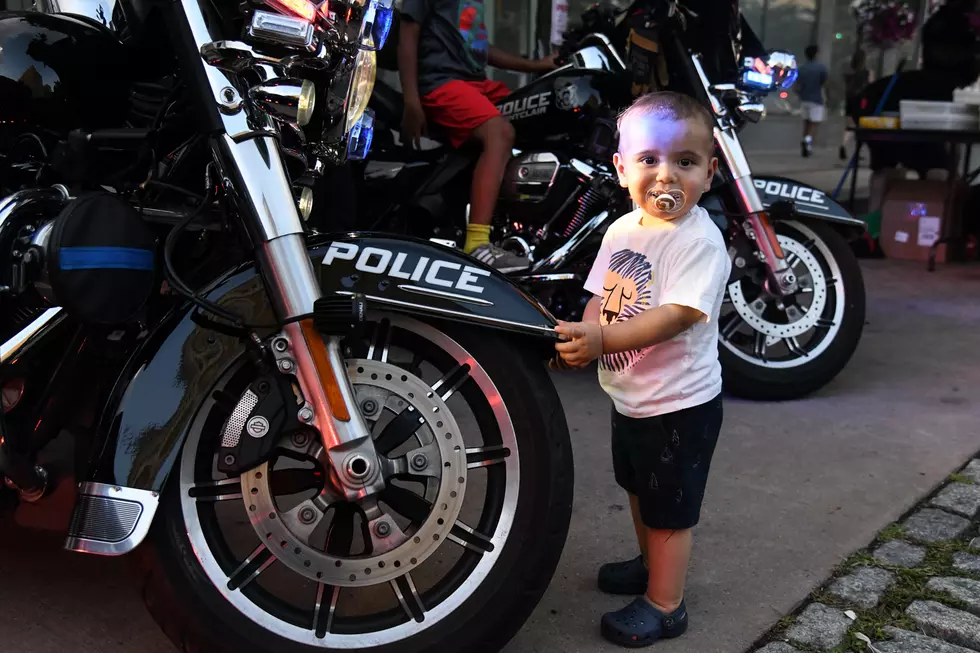 Montclair celebrates National Night Out
Julian Ecker investigates a police motorcycle at National Night Out on August 2, 2022. (KATE ALBRIGHT / FOR MONTCLAIR LOCAL)
About 400 Montclair residents gathered on Tuesday, Aug. 2, between the closed-off sections of South Park and Church streets to celebrate National Night Out with local law enforcement officers.
Thousands of communities in all 50 states, the U.S. territories and military bases worldwide take part in National Night Out. Traditionally held on the first Tuesday in August, the annual event is intended to build relationships between first responders and the communities they serve. 
Each year in Montclair, the event is organized by the Montclair Police Department's Community Service Unit (CSU). This team develops the yearly opportunity for Montclairians to come out and meet local police officers, firefighters, EMTs and other first responders and learn about  the role they play in the community.
"There's local politicians out, vendors, community members from throughout the town, coming together to celebrate what it means to protect our community and truly serve," said the commander of the CSU, Lt. Tyrone Williams. 
Williams has helped organize this event since he was a community policing patrolman in 2000. Back then, he said, the event was a lot smaller, and included only the Police Department.
Around 2007, Williams said, the MPD's community unit was disbanded. But around 2012, the unit was reinstated when he was a commander. Since then, National Night Out in Montclair has expanded to include all types of first responders and local businesses. 
Montclair's Salvation Army Emergency Disaster Services group was on the scene. Around 6 p.m. members began serenading passersby with live horn music. For new members of the crew, 60-year-old Maj. Carl Avery said, attending this event serves multiple purposes – supporting and sharing. 
"It's really twofold," Avery said. "We want to support the police department because we need the police. They are a big help to us. … So we want to give back to them and contribute, but other than that, we want to get information out about the Salvation Army so people know what we do in this community." 
The Wellmont Theater also had a group on hand. The pandemic forced the Wellmont to close between March 2020 and August 2021. The group agreed that attending National Night Out would help build back a presence in the community. 
While Montclairians engaged in discussions with local law enforcement and community organizations, this year's National Night Out also featured interactive entertainment for small children. Montclair firefighters blew up balloons next to their fire truck, which was open for little kids wearing plastic fire hats to explore. A DJ blared dance music in the streets, and families lined up to order snow cones. 
"We came to show our support, and my daughter loves the fire trucks, the ambulance, the police cars – this makes her day," Jessica Heiser, wife of Montclair police officer Dan Heiser, said. "I think it's great that they get to do this and all the kids get to come and see what everybody does. I came here to show the kids, ya know, this is what Daddy does." 
National Night Out serves an important role in connecting Montclairians to the public officials who serve them, Williams said. 
The community "gets to really see who's behind these uniforms, the people that are here serving," he said. "The fathers, the husbands, the mothers, sons and daughters, nieces and nephews, all of these are true people that put on a uniform every day and come in here to truly be a public servant." 
One newer Montclair resident, 51-year-old Jamilla Walker, said attending this year's National Night Out gave her an opportunity to meet with the emergency services workers who helped her in a crisis situation. 
"About three months ago, I thought I was having some type of panic attack and I told the EMS," Walker said. "At that moment, I was under stress, but now I'm relaxed, and the guy at the EMS table was like, 'I'm glad to see you're doing much better.' It's just good to see that they're out."