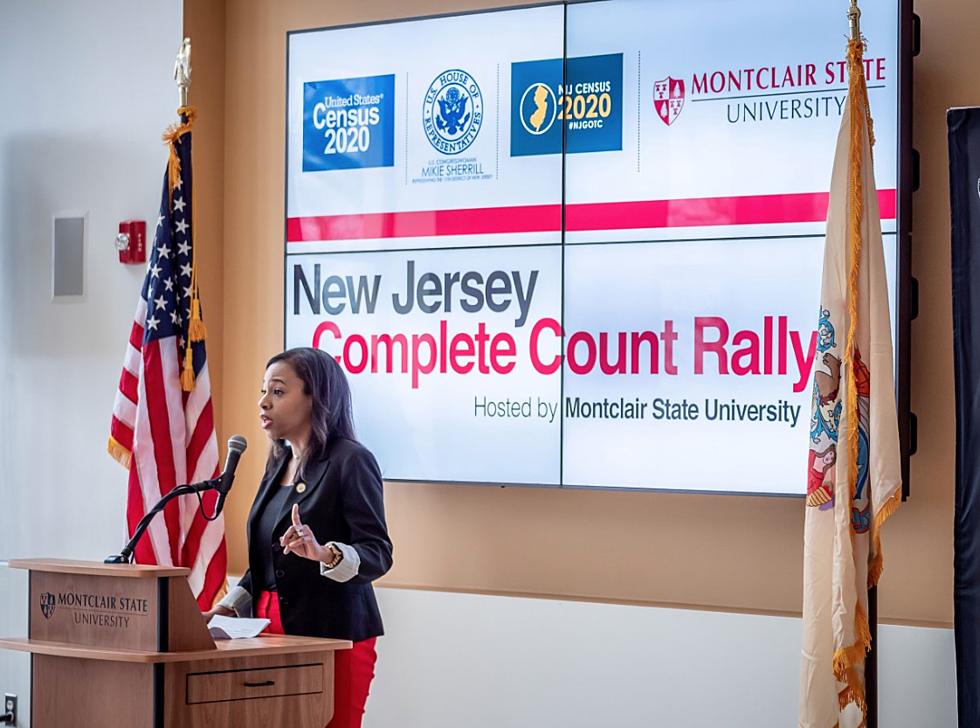 Get ready to be counted Montclair, Census 2020 is here
By JAIMIE JULIA WINTERS
winters@montclairlocal.news
During the 2010 Census, portions of Montclair were undercounted, according to Anne Mernin, the local chair of Census 2020's Complete Count Committee. As a result, Montclair's most vulnerable populations received less federal funding than they were entitled for programs that help children, seniors and the poor, while all residents lost out on funds that could have gone toward transportation and infrastructure.
In 2010, Montclair's participation rate was 73 percent, which means 27 percent of the then population of 37,669 was not counted. 
Mernin wants a better response rate with the 2020 count.
The Census is the key tool used by the federal government to determine Congressional representation and funding allocations of more than $675 billion in public services including roads, schools and transportation. Conducted once every 10 years, any population undercount can impact a community for a full decade.
"An undercounting of a population means they just don't exist when officials come to the table to decide on federal funding," said Mernin.
The 2010 Census reflected a decline of 3.4 percent, or 1,308 residents, from 38,977 counted in 2000. According to 2010 Census data, the racial makeup of the township was 62.16 percent white, 27.16 percent black, 7.46 percent Hispanic or Latino, 3.81 percent Asian, and 0.16 percent Native American.
The Complete Count Committee is a joint effort of Montclair and Bloomfield townships to make sure every resident from those towns is counted, with grant funding from the Partners for Health Foundation. Heading up the committee are Mernin, director of Montclair's Toni's Kitchen, and Bonnie Flynn, Bloomfield Township planning director. Representatives from the towns' school districts, local governments, libraries, local nonprofit organizations and others will assist in serving hard-to-count populations. 
Census 2020 will launch March 12 with its message, "Easy, safe and important." Residents can expect to get a letter in April directing them to a website where they can fill out the form online.
Questions include whether their residence is owner- or renter-occupied, the number of people in the household, and the sex, age and race of each person living in the household.
"The committee will focus on those who are at risk for being significantly undercounted," Mernin said, "including very young children, low income residents, people living in multigenerational housing, and others. Montclair and Bloomfield both have multiple census tracts that were undercounted in 2010."
Almost a quarter of the state's population, including people of color, low-income individuals, children, immigrants and people who are homeless, reside in areas considered "hard to count" by the Census Bureau, and are more prone to be uncounted. 
These same communities often have the highest poverty rates and stand to benefit the most from essential services funded by the federal government, according to Lisa Moore, assistant regional census manager for the U.S. Census Bureau.
Census officials were at Montclair State University on Monday, Feb. 10, encouraging local officials to reach out to their residents and to employ local community directors to talk to their communities about the importance of the count.
Montclair State student workers will also canvass in their own neighborhood and across the state. Local clergy, and senior centers, pre-K school, after-school program officials and soup kitchen officials will be advocating for participation in the Census at church fellowship and gatherings.
"They have the relationships to those communities and they can best relay how important it is to participate in the census," Mernin said.
Census responses can be made online, by phone, or by mail starting March 12. Reminders and a paper questionnaire will be sent by mail in April to those who do not respond online or by phone. In late April, the Census will mail a final reminder notice; after this, a Census taker will follow up in person. 
Census takers will visit homes in April to conduct quality-check interviews, and again in mid-May to help collect responses from those who have not responded.
Residents are advised to check that any Census worker visiting their homes has a valid ID badge, with their photograph, a U.S. Department of Commerce watermark, and an expiration date. Census workers may also carry Census Bureau bags and other equipment with the bureau logo.
"The best way to avoid a visit from a census taker is to fill out the 2020 Census questionnaire online, by phone, or by mail as soon as you receive your invitation to participate," according to Census officials.
Under Title 13 of federal law, the Census Bureau cannot release any identifiable information about you, your home, or your business, even to law enforcement agencies. The answers you provide are used only to produce statistics, and responses remain anonymous. The law ensures that your private data is protected and that your answers cannot be used against you by any government agency or court. Census workers take an oath to keep all information confidential.
"There are high penalties for any violation of privacy," said Mernin.
The Census Bureau is also hiring for a wide variety of temporary positions. Starting pay is $21 an hour for most positions. For more information, visit 2020census.gov/en/jobs.html.
QUESTIONS ON CENSUS
How many people were living or staying in this house, apartment, or mobile home on April 1, 2020?
2. Were there any additional people staying here on April 1, 2020 that you did not include in Question 1?
Mark all that apply.
Children, related or unrelated, such as newborn babies, grandchildren, or foster children

Relatives, such as adult children, cousins, or in-laws Nonrelatives, such as roommates or live-in babysitters 

People staying here temporarily

No additional people
3. Is this house, apartment, or mobile home —.
Mark one
Owned by you or someone in this household with a mortgage or loan? Include home equity loans.

Owned by you or someone in this household free and clear (without a mortgage or loan)? -
Rented?
Occupied without payment of rent?
4. What is your telephone number?
5. Please provide information for each person living here. If there is someone living here who pays the rent or owns this residence, start by listing him or her as Person 1. If the owner or the person who pays the rent does not live here, start by listing any adult living here as Person 1.  Name:
6. What is Person 1's sex? 
7. What is Person 1's age and what is Person 1's date of birth? 
8. Is Person 1 of Hispanic, Latino, or Spanish origin?
Mark one
No, not of Hispanic, Latino, or Spanish origin
Yes, Mexican, Mexican Am., Chicano
Yes, Puerto Rican
Yes, Cuban
Yes, another Hispanic, Latino, or Spanish origin – Print, for example, Salvadoran, Dominican, -Colombian, Guatemalan, Spaniard, Ecuadorian, etc.
9. What is Person 1's race?
Mark one
White – Print, for example, German, Irish, English, Italian, Lebanese, Egyptian, etc. 

Black or African Am. – Print, for example, African American, Jamaican, Haitian, Nigerian, Ethiopian, Somali, etc. 

American Indian or Alaska Native – Print name of enrolled or principal tribe(s), for example, Navajo Nation, Blackfeet Tribe, Mayan, Aztec, Native Village of Barrow Inupiat Traditional Government, Nome Eskimo Community, etc. 

Chinese

Filipino

Asian Indian

Other Asian 

Vietnamese 

Korean 

Japanese

Native Hawaiian 

Samoan 

Chamorro

Other Pacific Islander

Some other race
Questions repeat for each person in the household. Do not count anyone living away from here, either at college or in the Armed Forces. Do not count anyone in a nursing home, jail, prison, detention facility, etc., on April 1, 2020.