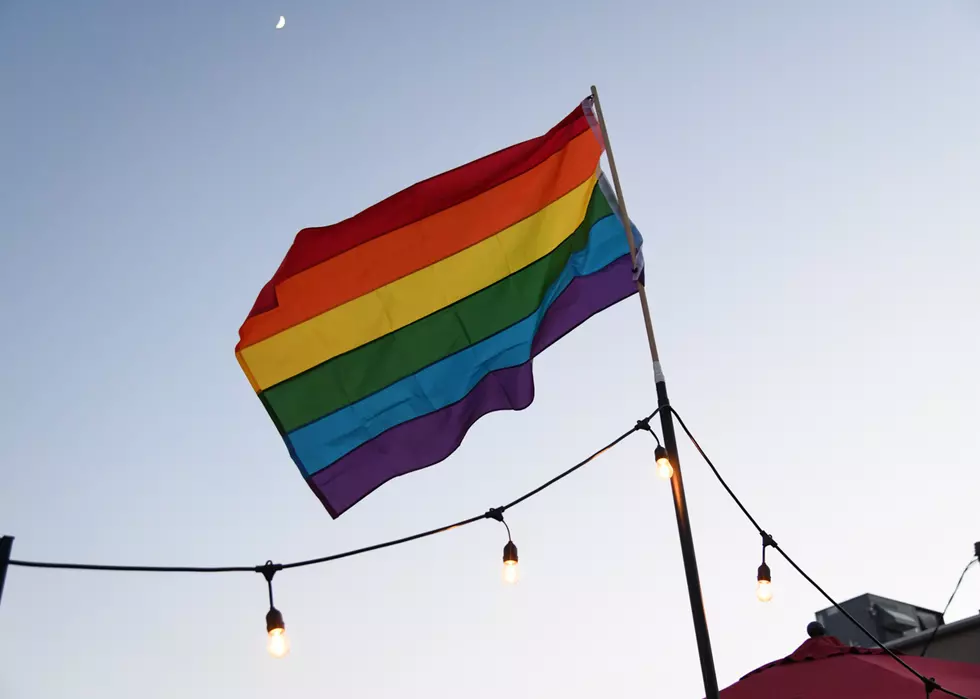 A show of support in Montclair for LGBTQ students, creating safe spaces
(KATE ALBRIGHT/FILE PHOTO)
When Liliana Vargas' eldest child came out as transgender while in tenth grade at Montclair High School, she was comforted to know that he had the support of the district and the Montclair High School Gender and Sexuality Alliance.
And he had the support of the community, she said.
"It's a testament to the Montclair community that youth and adults have felt safe enough to come out publicly," Vargas said. 
At the time, she met with district officials to learn more about transgender and LGBTQ policies and how they might impact her child, she said. 
She shared her experience at the May 4 Board of Education meeting in response to parents who spoke the week before against in-school discussions of and district policies on gender identity.
At that meeting, a Montclair parent said her child had joined the Gay Straight Alliance at Glenfield Middle School a few years ago and, after involvement with the club, changed their identity — adopting a new gender, new pronouns and a new name. (Gay straight alliances in Montclair schools have since been renamed gender and sexuality alliances.)
"My daughter turned into somebody I didn't recognize," the parent said. "She's depressed. She's afraid. She's frightened. She's claiming to be a he when she's a she."
Her child's new identity was "cultivated in the Montclair school system," the parent said. She told the board she only discovered the district was using a new name and pronoun for her child when she received an automated call after her child was absent from school. She felt disempowered, she said.
"Parental guidance should not be overshadowed," she said. 
According to the the Montclair school district's regulation on transgender students, when contacting the parent or guardian of a transgender or gender-nonconforming student, school personnel should use the student's legal name and the pronoun corresponding to the student's gender assigned at birth unless the student, parent or guardian has specified otherwise.
And while the district is required to maintain a permanent student record that includes a student's legal name and gender, the district is not required to use those identifiers on school records or documents, the regulation says. 
The district will change the name and gender on a student's record "upon receipt of documentation that a student's assertion of his, her or their gender identity is sincerely held as a part of the student's core identity," the regulation goes on to say.
It is unclear whether the child underwent an official record name change, but students have the right to be addressed by a name and pronoun they choose and to decide how much to share private information, according to the regulation.
"A student has the right to be addressed by a name and pronoun that corresponds to the student's gender identity," the regulation states. "A court-ordered name or gender change is not required, and the student need not change his or her official records in order to be treated in accordance with their expressed gender identity."
Another parent spoke at the April 29 meeting in support of the concerned mother, saying discussions around sex and gender are private family discussions, and lessons on gender "must be removed from the curriculum before more children and families are harmed."
"To plant seeds in young children's minds about changing their identities, to discuss their sexual preference or feelings at these young ages, is nothing short of child abuse," the parent said.
(Names of the parent commenters have been left out to protect the identity of their children.) 
According to the school district's regulations, trans and gender-nonconforming students have "the right to discuss and express their gender identity and expression openly and to decide when, with whom, and how much to share private information."
Schools Superintendent Jonathan Ponds told Montclair Local that Montclair, as a public school district, provides equal and equitable access, support and inclusion for all students.
According to the district website, the health curriculum introduces discussions of gender and sexuality in elementary school and continues those conversations through high school. Parents can opt their child out of specific areas of the comprehensive health and physical education curriculum, such as social and sexual health, board President Latifah Jannah told Montclair Local. 
"We also recognize and respect that parents may have their own concerns regarding what students are learning," Jannah said.
After the comments were made at the April 27 meeting, Justin Comini, one of two student representatives on the board, said they were not at the meeting but were shocked to hear parents upset because students felt comfortable to explore different aspects of their identity.
"As a gay, gender-nonconforming individual, I'm glad that I was not present in the space to listen to what these parents had to say," Comini said.
"Learning about queer people and queer history does not in turn make you queer," Comini said. "However, learning that you go to a school that accepts you no matter how you identify will lead you to become more comfortable in yourself." 
In response to the comments at the April 27 meeting, board member Kathryn Weller-Demming said that when she was in Montclair schools 30 years ago, students were already addressing topics of gender and sexuality. She was the only board member who responded to the comments at that meeting. 
"It is really important that when we speak about our children, we speak about raising them to be adults and to be authentic in their identities and empowered in their abilities and educated in the realities," Weller-Demming said. 
Students, parents and board members spoke out at the following board meeting held May 4, expressing support for gender and sexuality alliances and creating safe spaces for Montclair students. 
At that meeting, Comini said that "17% of students in kindergarten through 12th grade who were out or perceived as transgender have left school due to mistreatment," quoting from the 2015 U.S. Transgender Survey, by the National Center for Transgender Equality.
"If the place that students spend six and a half hours a day, five days a week does not accept them, this number will be even greater," Comini said.
Following the April 27 meeting, Comini said they spoke with Montclair middle school students about their experiences with gender and sexuality alliances and shared their comments at the May 4 meeting.
Comini said a sixth-grade student at Glenfield Middle School told them: "People like me can join the gender and sexuality alliance to become free from restrictions, at least for a period of time. For me, the gender and sexuality alliance is one of the only places where I feel safe being myself no matter what."
A student in seventh grade at Glenfield Middle School told Comini that "[the gender and sexuality alliance] is a place to make friends, make memories and learn things, all while feeling you're most comfortable. I don't know who would want to take the joy of having a community away from anybody."
Alma Smith, co-president of the Montclair High School Gender and Sexuality Alliance, said at the May 4 meeting that her goal is "to create a safe space for queer teens like ourselves, a refuge away from the type of parents who spoke last week."
"Every gay teen, trans teen, queer teen has not chosen to be gay, trans or queer," Smith said. "They have simply chosen to tell you and the world that they do not align with the boundaries that have been set up. They have simply chosen to enter spaces that celebrate and accept their identities."
At the May 4 meeting, every board member shared their support for the alliances and the students who spoke up. 
It can be frustrating for parents of middle school students, watching as their children discover themselves and the parent-child relationship evolves, Jannah said. 
"It takes some time to adjust and to realize that your child is actually growing up," she said. 
Board member Crystal Hopkins suggested the board look into creating an educational night for parents. 
"What this conversation has really brought up is that we're not creating a space to educate parents on how to handle these transitional periods of children's lives," Hopkins said. 
Gender and sexuality alliances "promote a better sense of inclusion for all students," Montclair Education Association President Cathy Kondreck said at the May 4 meeting. The alliances  provide a safe space to build community and be supported, especially if students feel they are not being supported at home, she said.
"To say that a gender and sexuality alliance club in any of our schools is saving a life, well, it's a reality," Kondreck said. "I've seen it, I witnessed it, and I thank those advisers who step up and oversee it because they are saving lives and to anyone who says otherwise, educate yourselves."
After hearing the comments at the April 27 meeting, Councilman Peter Yacobellis told Montclair Local he worked with the board of LGBTQ group Out Montclair, which he founded, and Montclair-based Trans Affirming Alliance to offer resources to the district. He and Celeste Fiore, founder of the alliance, were planning to meet with the Board of Education this Friday to discuss options for working together going forward. 
Debates around LGBTQIA+ inclusive curriculums and appropriate ages for children to be taught lessons on gender and sexuality are "raging" all over the country, he said.  
"Trans youth and their families are shamefully being targeted by political leaders, and misinformation is spreading rampantly," Yacobellis, Montclair's first openly gay council member, said. "In Montclair, I hope we can keep the debate between people in Montclair."
As a young queer person without adult examples to look up to, Fiore said they struggled harder to find themselves than was necessary. They said they were "making it up" while figuring out their identity. 
"Young people spend more time at school than they do at home (or than most adults do at work) with extracurricular activities or sports," Fiore said. "They must see themselves in schools and hear themselves being taught if they are to live." 
Straight and cisgender students see their identities modeled over and over — in TV, pop culture, books and at the front of classrooms — Fiore said. 
"Without teaching about diversity and recruiting teachers that reflect all the people students will encounter, we are doing all our children a disservice," Fiore said. "Affirming clubs and curriculum save lives and put LGBTQ young people on the path to self-discovery."
At the May 4 board meeting, the parent who had spoken against her child's participation in the Glenfield Gay Straight Alliance spoke again, saying she appreciated the feedback and wanted to clarify her concern — she is not upset about kids expressing themselves, she said, but instead about the club encouraging her child to not be honest with her. 
"Yes, it is important that we have a place for kids to be able to express themselves, but not to the point where they don't with their parents," she said.