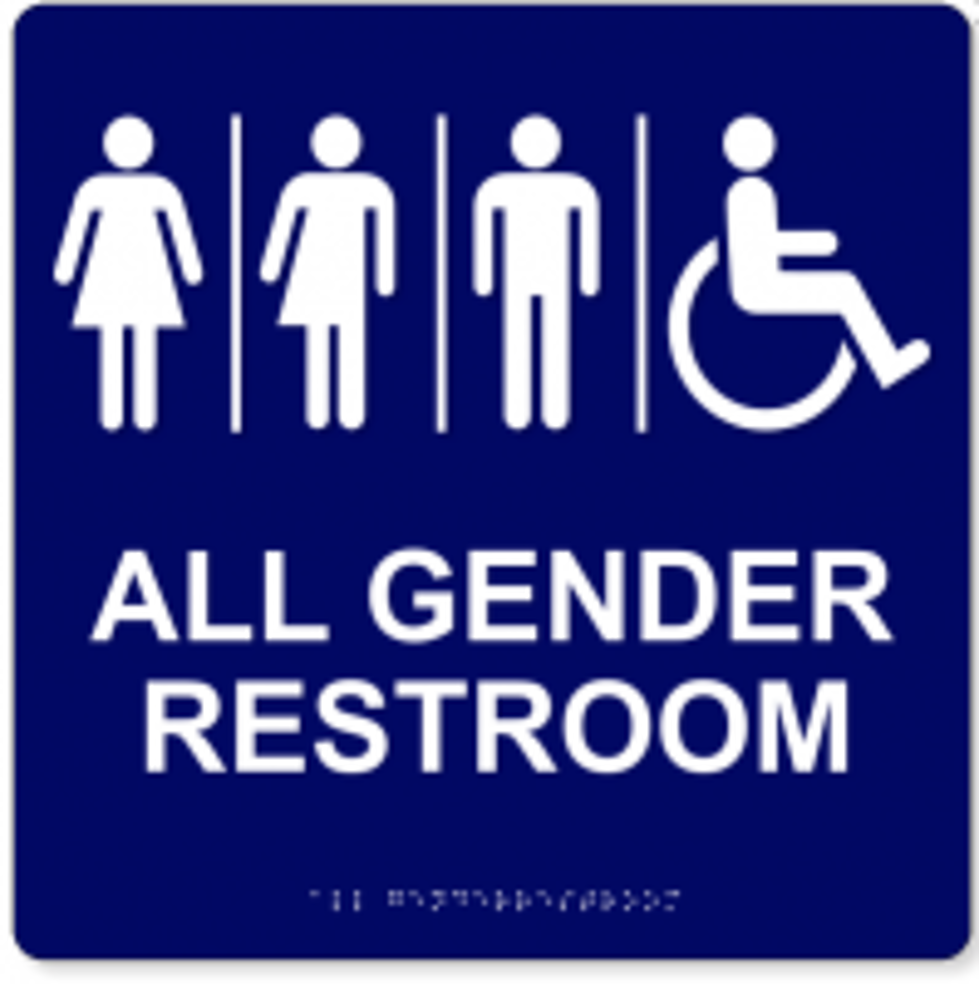 Montclair council moves on LGBTQ-inclusive hiring policies, unisex bathrooms
All businesses with single-use public bathrooms will become unisex if the council votes through the requirement at its next meeting.
COURTESY CUSTOM SIGNS
By JAIMIE JULIA WINTERS
winters@montclairlocal.news
The Montclair Township Council has introduced a set of ordinances meant to establish more LGBTQ+ inclusive policies — but some council members say they're worried a requirement for unisex bathrooms throughout town hasn't had enough discussion yet.
The ordinances, placed on the June 1 council agenda as "discussion" only items to be introduced at the June 22 council, were instead voted on for first readings after Councilman Peter Yacobellis pushed for their introduction that night. An ordinance requires two readings, and becomes law if council members vote for it after a second reading.
Noting some recent "concerning" legislation throughout the nation — Arkansas' ban on gender-affirming healthcare for transgender minors, a bill in Tennessee requiring businesses post warnings that patrons could encounter trans people in public bathrooms , and another in Alaska that would ban trans girls from playing on girls scholastic teams — and in lieu of Pride Month, Yacobellis made a motion to introduce the ordinances on Tuesday, June 1. 
One ordinance that was originally planned as two proposes protections against discrimination for sexual orientation, gender identity and gender expression in third-party bidding and contracts. It also would update the township's current Employment Non-Discrimination Ordinance, which now only prohibits discrimination based on sexual orientation, to bar discrimination based on gender identity or expression in hiring and appointments to positions.
Another ordinance would establish requirements for all-gender (unisex) restrooms, with proper signage, in all business establishments (including offices and office buildings), places of public accommodation and municipally owned buildings or facilities where publicly accessible single-occupancy facilities already exist or will be constructed in the future. 
Each business would have to post signage within 180 days, following the 20-day implementation period that takes place after an ordinance is passed.
The law does allow for a waiver if a business can demonstrate the requirement would violate or conflict with the state plumbing code or other state law.
Although about five members of of the The Unitarian Universalist Congregation at Montclair called in to support the ordinances, churches would be exempt from the requirement to "avoid legal challenges," Yacobellis said.
Councilman David Cummings said that he thought the implementation of unisex bathrooms needed more public discourse and a community education outreach effort.
Councilwoman Lori Price Abrams said the law "just means anyone can use that single-use bathroom."
Councilman Bill Hurlock said the vote felt rushed after council members received it the Thursday before a holiday weekend.
"We had a good policy, I feel, over the last eight years, that before the train left the station we were all on board," he said.
Yacobellis said he reached out the business community and received positive feedback on unisex bathrooms, particularly from women who would not have to wait for the ladies' room.
He also noted that in 2018, schools and township buildings that house single-occupancy bathrooms began offering all-gender bathrooms by way of policy.
Although the council voted unanimously on the ordinance on hiring practices, Cummings voted against and Hurlock abstained from the unisex bathroom ordinance.
The second reading will take place on June 22.
Another reason behind Yacobellis' pushing the ordinances forward on June 1 is to make a July 31 deadline for the Municipal Equality Index survey, which rates municipalities on their inclusiveness. Since 2018, Montclair has been one of the 12 New Jersey municipalities that participate in the survey. The rating card is put together by The Human Rights Campaign, the nation's largest LGBTQ civil rights advocacy organization. It rates municipalities that self-report on several categories: nondiscrimination laws, municipality as employer, municipal services, law enforcement and leadership on LGBTQ equality.
In 2020, the township scored 78 out of 100 points overall, rising 20 points in two years. 
"Our values are there," Yacobellis said. "Through the work of Bruce Morgan [the township's affirmative action officer and LGBTQ liaison] we have been able to identify there are gaps in our code." 
Last month, Morgan's role was expanded to include the liaison title and the township's Equal Employment Opportunity/Affirmative Action Policy was updated to give protection for township employees beyond sexual orientation, and now includes protection on the basis of gender identity and expression.
Yacobellis said he hoped that the township would now reach 100 points in its inclusiveness rating.
On Friday, June 4, at 3 p.m. Yacobellis and Mayor Sean Spiller, along with their colleagues, will for the first time raise a Progress Pride Flag at town hall.