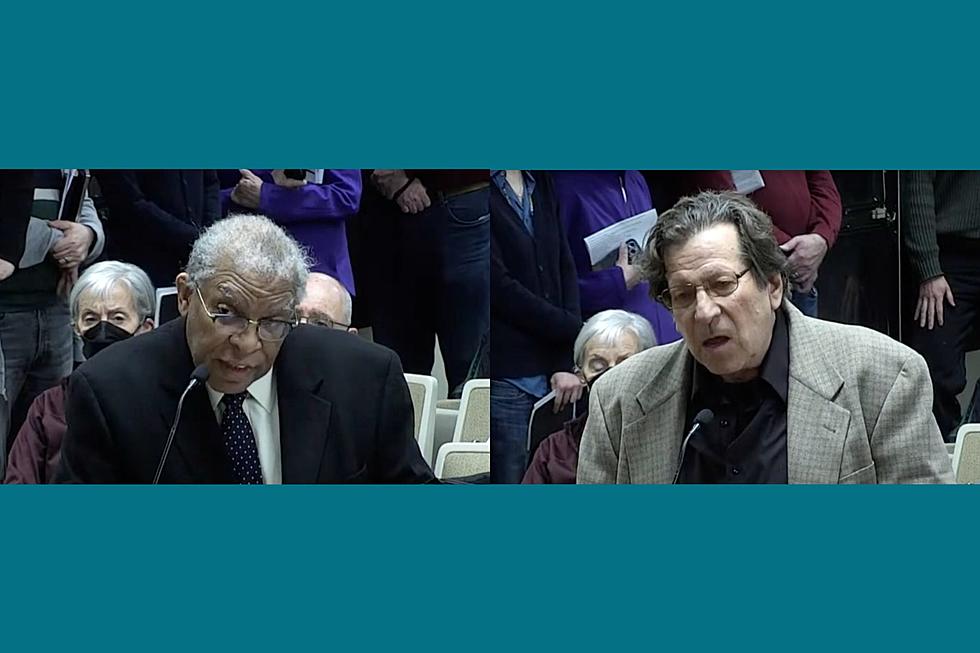 Montclair councilman Peter Yacobellis files defamation suit against two residents
David Herron, left, and Martin Schwartz are being sued for defamation
by Montclair councilman Peter Yacobellis.
(COURTESY MONTCLAIR TOWNSHIP COUNCIL)
Montclair Councilor-at-Large Peter Yacobellis is suing residents David Herron and Martin Schwartz for defamation, three weeks after they made statements accusing him of having a conflict of interest regarding the Lackawanna Plaza redevelopment project.
The 18-page complaint filed March 10 in Superior Court "arises from a concerted scheme" by Herron and Schwartz to pressure Yacobellis into recusal on a vote for the redevelopment, the suit says.  
The suit alleges Herron and Schwartz "engaged in a self-interested, defamatory smear campaign designed specifically, as threatened, to damage Yacobellis' reputation." Yacobellis is being represented by David B. Harrison of Spiro Harrison & Nelson LLC.
"As a result, Yacobellis has suffered and will continue to suffer reputational injury," the suit says.
Yacobellis has "lost a significant amount" of mailing list subscribers, "seen a decrease in attendance at his events and contributions to his candidate committee" and been left to "field a substantial number of calls or messages from constituents who are worried about what they heard," according to the complaint. 
The lawsuit does not specify an amount sought but asks for punitive damages, attorney fees and injunctive relief, among other things.
Comments cited in the suit "unfortunately crossed a serious line," Yacobellis said in a March 13 statement. 
"In the interest of protecting myself personally, as well as the integrity of our institutions and processes, I've decided to pursue this civil action," he said.
In a combined statement earlier this week, Herron and Schwartz said it is "shocking" that an elected official "continues to try to stifle" free speech.
The redevelopment plan that was drafted by the township with input from the developer, BDP Holdings, would take a 7.6-acre expanse of land that is now largely barren and give it an almost complete makeover. The plan has embroiled Montclair in a clash of visions over how to revitalize a centerpiece of the town without overwhelming the historic neighborhood surrounding it.
Over the past few months, Herron and Schwartz have alleged that Yacobellis received payments through donations from BDP "in exchange for favorable treatment" on the Lackawanna Plaza development, the suit says.
In January, Herron and Schwartz, along with residents Anson Pope and Cathy Renna, demanded Yacobellis meet with them "or else they would 'reveal' information that would be damaging to his reputation," Yacobellis alleges in the suit. 
"Schwartz wrote that there was a pending 'information reveal and political legal demand that is about to go out to the local media concerning the Lackawanna redevelopment' that 'would be very damaging to your reputation and standing' in the town council and Out Montclair," the suit says. 
Schwartz said his goal was to help Yacobellis preempt the media disclosure, which he controlled, the suit says. Yacobellis "did not give in to their extortion attempt."
Yacobellis has been involved with Out Montclair since its formation in April 2021, and initially served as volunteer president of the group, the suit says. In April 2022, BDP was one of 150 businesses and organizations to contribute to Out Montclair's Pride Festival. 
"Not a single penny from the Pride Festival sponsorships, including the donation from BDP, compensated Yacobellis or any officer with Out Montclair," the suit says. 
Seven months later, in November 2022, the Out Montclair board of trustees created a paid executive director role and offered it to Yacobellis. 
After Yacobellis declined to meet, Herron and Schwartz then "followed through" on the threats, "unleashing a barrage of social media postings and public statements designed very deliberately to damage Yacobellis' reputation," the suit says. 
At a Feb. 21 Township Council meeting, Herron contended that Yacobellis' position as executive director of Out Montclair is a "direct conflict of interest" because the organization receives "monies, donations, financial support from individuals seeking to develop Lackawanna Plaza."
He added that he had filed a formal complaint with the New Jersey Attorney General's Office.
Schwartz then said Yacobellis had held a fundraiser at the home of the architect hired by BDP and tried to cover up the connection by sending the invitations out under the name of the architect's wife.
But Schwartz acknowledged after the meeting that he was mistaken and that the fundraiser had been held at the home of someone who was not related to the architect and had a similar – but not the same – last name.
"It is fair game — in fact it is a requirement of members of the public to question if their representatives have any conflicts of interest in conducting official business," Yacobellis said in his March 13 statement. "But being in a democracy means that sometimes we don't get our way and that needs to be respected."
Regarding his recusal on the redevelopment plan, Yacobellis said he continues to keep his options open while discussing the situation with attorneys. 
"I'm not inclined to unilaterally create a new standard for recusal where one doesn't already exist," he said in his March 13 statement. "Existing case law does not suggest I have any conflict of interest."
He takes these issues "very seriously" and remains guided by his conscience, counsel and employer's policies, he said.
In their combined statement, Herron and Schwartz said they had not yet read the complaint. 
"However, it's shocking that an elected official continues to try to stifle and chill constitutionally protected free speech," the statement says. "Speech that exposed what we believed was a conflict of interest. Therefore, Councilor Yacobellis acted inappropriately over the Lackawanna project."
In a later statement, Schwartz said that the claims in the suit regarding his community service background "are sadly laughable now in their distortion." The suit references Schwartz's attempts to return to the Planning Board after not being reappointed by Mayor Sean Spiller in 2020, and a proposal he made to the council to create a consulting role for him to provide grant-writing services and government lobbying. 
Yacobellis previously invited Schwartz to speak at one of his own fundraisers and, until the Lackawanna redevelopment arose, he privately told Schwartz he wanted him back on the Planning Board, Schwartz said.
"I had been a strong supporter then," Schwartz said. "And some of his other former political supporters also actually tried to help him do the right thing and recuse himself, which he now says is somehow 'extortion.'"