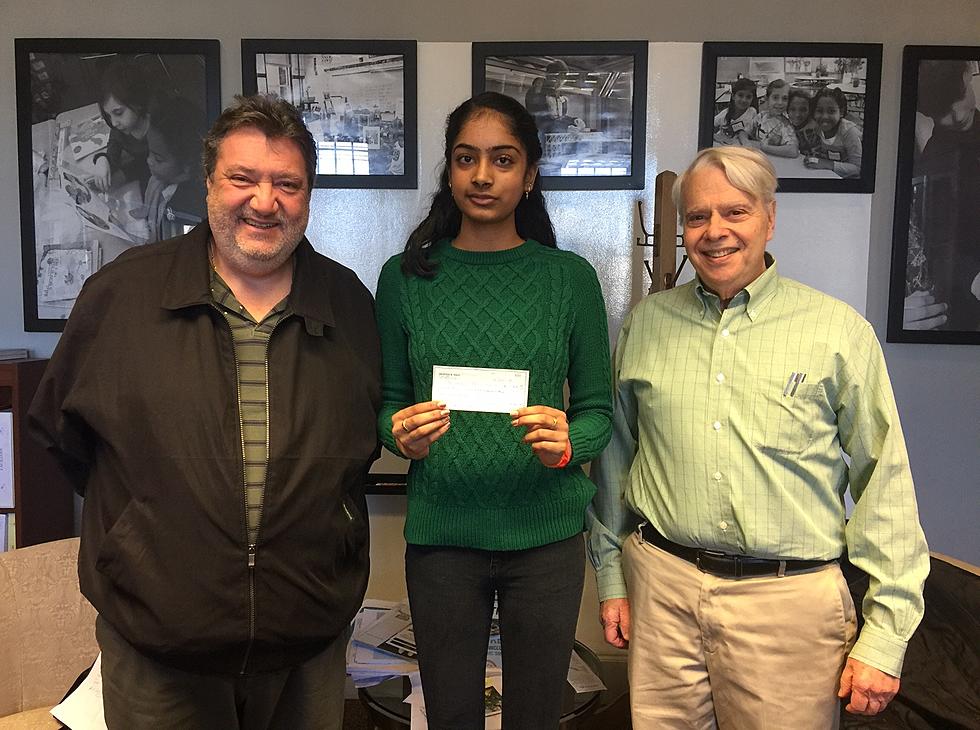 Montclair gets $17,000 donation to help decrease school lunch debt
ERIN ROLL/STAFF
Tanmayee Talla, center, presents a check for $17,896 to Interim Superintendent Nathan Parker, right, and Business Administrator Emidio D'Andrea. Talla is the president of Lunch Crisis Organization, a group that is working to help schools address meal debt among students.
By ERIN ROLL
roll@montclairlocal.news
The Montclair Public Schools got a very welcome present just ahead of the holidays, when the district received a donation of $17,896 from the Lunch Crisis Organization.
That money will be used to help offset debt incurred by students whose families can't afford to pay their school meal balances.
A year after Montclair received a $3,000 donation from the LCO, the district was once again included on the organization's list of recipients.
Lunch Crisis was started in 2017 by Keertana Talla, at the time a student at Kent Place School in Summit. Since her graduation in 2019, her younger sister Tanmayee Talla has taken on the role of president.
Lunch Crisis operates primarily in New Jersey, but is working to expand to other states. Chapters have been established in Alabama, Colorado, Maryland and North Carolina.
"We saw how large the debt was," Tanmayee Talla said of Montclair's financial situation. Additionally, Montclair is a district with many different socio-economic levels, Talla said, and Lunch Crisis wanted to do what it could to help the district make sure families' needs were being met.
Meal debt has been a source of concern for the Montclair schools for the past few years. Montclair's students had almost $130,000 accrued for unpaid lunches, as well as breakfasts, at the end of the 2018-2019 school year, compared to the $100,000 in balances at the end of the previous school year.
The Montclair school district has stated that no child will be denied a lunch because their account is in arrears.
Business administrator Emidio D'Andrea said the school district is going to go through its records and determine how many students had incurred a negative meal balance because of their families being in financial need. "We want to help the families that are in need," D'Andrea said.
The school did not yet have any estimates on how many students, as of Dec. 23, had negative balances on their accounts.
Lunch Crisis got some assistance from some high-profile donors and helpers, Talla said. Singer-songwriter John Legend gave the group publicity through his documentary mini-series "Can't Just Preach," which follows different activists and organizations making a difference in communities and across the country. Radio DJ Elvis Duran, who hosts the Morning Show on Z100, donated $10,000.
Interim Superintendent Nathan Parker said the Montclair schools got a phone call last month that they would be receiving a donation, and he said the schools were very grateful to Lunch Crisis for their help.
"We expressed joy, frankly, in once again being approached again this year," he said. "And furthermore, given the timing of the holiday season, it seems an appropriate time to receive the donation."
The Montclair NAACP has been working to encourage families who may be eligible for free and reduced-price lunch to sign up. The big question, said James Harris, who chairs the NAACP's education committee, is whether the students who are incurring lunch debt can't afford to pay, or if their families can afford to pay but their parents have not put money in their accounts. The amount of uncollected debt is substantial, Harris said, and whatever debt is not paid for is ultimately the school district's responsibility.
It is in Montclair's best interests to address the issue of lunch debt, from a standpoint of finances as well as social issues and equity, Harris said: "If you're spending money on a deficit, that's money you can't spend on something else," Harris said. And access to meals is a civil rights issue, he said. If a child is hungry in the classroom, it affects their academic performance.
Lunch Crisis was founded in 2017 in response to stories making national news about students being "lunch shamed" in different districts because they did not have the funds to pay for a meal at school. Some of the tactics reportedly included throwing a child's meal away in front of them and giving them an alternate cold lunch, or putting a hand stamp on the child's hand, or making the child clean the tables in the cafeteria.
Several states have since taken steps to ban lunch-shaming practices. In November, the Assembly Education Committee introduced three pieces of legislation aimed at helping students and schools address negative lunch balances, and at curbing lunch-shaming.
This fall, the Cherry Hill school district made headlines after it was reported that students with negative meal balances above $75 would not be allowed to participate in certain school activities, such as going to the school prom.
Those who are interested in donating can do so either through Lunch Crisis's GoFundMe page or through Lunch Crisis's main website: lunchcrisis.org.