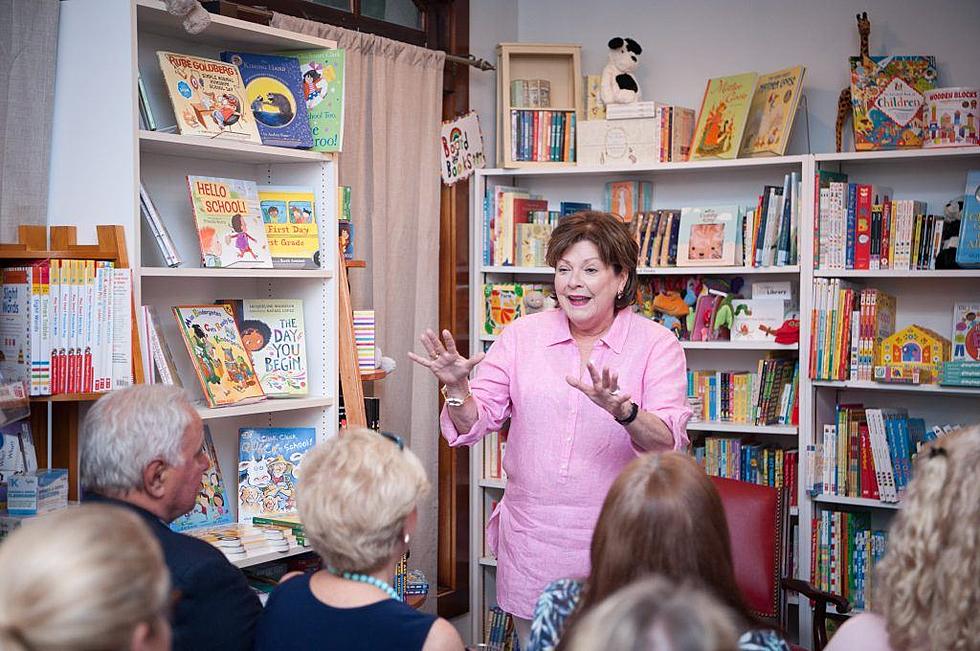 Remembering Dorothea "Dottie" Benton Frank
Book-signing event in 2018 at Watchung Booksellers for Dorothea Benton Frank's novel, "By Invitation Only." KATE ALBRIGHT/FOR MONTCLAIR LOCAL
By GWEN OREL
orel@montclairlocal.news
Dorothea "Dottie" Benton Frank's death last week from myelodysplastic syndrome (MDS), a fast-moving cancer, was unexpected to all but her closest friends and family.
Frank, whose novel "Queen Bee" went to Number Two on the New York Times Bestseller List this spring, was only 67. It was her 20th book. 
She was a regular contributor to Montclair Local, with her column "Dot's Desk," and the paper expected to cover her regular talk at Watchung Booksellers in the fall.
At a gathering for family and friends at Highlawn Pavilion in West Orange on Thursday, Sept. 5, her husband Peter Frank talked about his wife's generosity, energy and wisdom; and their passionate marriage and her selfless nature.
"I would take 39 years with Dottie, before I would take 100 years with anyone else," he said.
Frank served on many educational and arts boards in Montclair and in South Carolina, her home state. At various times she served on the boards of The Montclair Art Museum, the Montclair Film Festival, Whole Theater Company, the Drumthwacket Foundation, The NJ State Council on the Arts and the NJ Cultural Trust.
Beth Hart, director of major gifts at MAM, said that any gala or event was more fun when Frank was there. 
At this year's gala, Frank approached her and said, "Why the heck didn't you ask me to offer naming a character in the next book for an auction?" MAM had done that in the past and it was always a popular item, but Hart felt uncomfortable asking every year, she said with a laugh.
When Frank offered, Hart ran up to the auctioneer, and he announced "This just in…" and the item sold.
Frank grew up in Sullivan's Island, South Carolina, and set her books there. Her first novel, titled "Sullivan's Island, came out in 2000, debuted at number nine on the NY Times Bestseller List, and has been reprinted 25 times.
Gretchen Prater, who was at the memorial, said she grew up with Frank. "We were supposed to grow old together," Prater said. "We knew her mother and father and brothers and sisters. Everybody, you know we were on Sullivan's Island. I loved her laugh. I will miss that probably the most." Prater was one of the guests who did know Frank was in the hospital and even talked to her there.
The family kept it private, said her daughter Victoria Peluso. She and her mother wrote a children's book together, "Teddy Spaghetti," that will come out this summer.
"Growing up with my mom was a celebration," Peluso said. "Everyone thinks she was an exciting person because of her stories, but she was even better in real life." Looking at the books and pictures displayed in the room, Peluso said she kept expecting her mom to walk into the room.
Her mother was diagnosed right after July 4, and then it snowballed into Leukemia in one week. "It was very shocking," she said. "It was really aggressive." Peluso lives in Charleston, S.C.
'THE STEPHEN KING
OF MONTCLAIR'
Many of Frank's literary friends attended the memorial too. "Dottie was the grand doyenne of Montclair writers," said bestselling novelist Christina Baker Kline ("Orphan Train" and "A Piece of the World"). "She was sort of the Stephen King of this town. Dottie presided over Montclair in her big beautiful home. She also provided a big beacon of light for aspiring writers. She was warm, she was accessible, and she also had a career many would envy. She published many books, and had many bestsellers, and she sort of lived large."
And she worked hard, Kline said. "She loved her job, and she made it look easy." She met Frank not long after she moved to Montclair in the '90s. At the time, there were not many novelists in Montclair, more nonfiction writers and journalists, Kline said.
Prof. David Galef, who teaches creative writing at Montclair State University, told Montclair Local in an interview before the memorial that Frank inspired students when she came to speak to them because she was a working author, and gave "good practical advice. She knew how to work a crowd."
Like Kline, Galef was impressed by Frank's strict working schedule, delivering a book every year. "She stressed the importance of a writing schedule, of having a quota of time or words per day, and how it adds up," he said.
Montclair writers including Laurie Lico Albanese ("Stolen Beauty") and Benilde Little ("Good Hair," "Welcome to My Breakdown") recalled being inspired by Frank, and having fun with her too.
Author and film director Adriana Trigiani ("Big Stone Gap" novel and film) recalled meeting Frank at book event at Book Expo America, and noticed her beauty and jewelry. Trigiani said, "I'd like to have that ring." Frank replied, "I'd give it to you, but it's from my husband and I love him."
A couple of days later, a big crystal paperweight like a diamond arrived in the mail. "That's Dottie," Trigiani said. "It would appear that she was driving the party bus in literature, but she was really driving the book mobile. She knew about authors' books and history. That effortlessness was because she was so excited about reading, books, people and readers."
"She was a supporter, and a cheerleader," Albanese said. "She was so kind to other writers, no matter what stage of your writing you were at."
Little recalled how funny she was, and how she felt funnier herself with her. And she remembers being bowled over the first time she went to her large house. "This giant house on Lloyd Road. She invited me over. She opens the door. My first question was, 'What the [bleep] are you doing here?' It was incongruous, the house."
________________________________________________________________________
READ: DOROTHEA BENTON FRANK DIES AT 67
READ: DOT'S DESK; HALLMARK MOVIES ARE MAKING ME FAT
READ: CHRISTINA BAKER KLINE TALKS CHRISTINA
________________________________________________________________________
She and Kline hitched a ride home to Montclair after a People Magazine party during the Book Exposition of America in New York City.
"We talked non-stop all the way home, Dottie doing most of the talking," she said. She also recalled seeing Frank not long after her mother died. She saw Frank at a party, and told her what had happened. "She looked at me and grabbed me and hugged me so hard. I could barely breathe. She said, 'Oh my God, oh my God.' That was Dottie. Irreverent,  and so kind."
Little said it was good that Frank didn't know very long. "She would have been a miserable patient, cussing everybody out," she said with a smile. 
She loved life: that was a theme of everyone who knew her. "She'd be mad at you if you went out on a business lunch and you didn't order dessert, because it was an opportunity to enjoy yourself," said her agent, Suzanne Gluck. "Life was a grand adventure, and she wanted you to come. And she wanted you to have another drink, and some whipped cream on the cake."
Frank was always telling Gluck what she was reading, befriending other writers. She answered all of her emails from fans as well.
Editor Carrie Feron worked with Frank on 15 books. For Feron, it was appropriate that Hurricane Dorian hit as Frank died: "She was like that. Generous as a storm, ferocious as a storm. Everything was over the top with her."