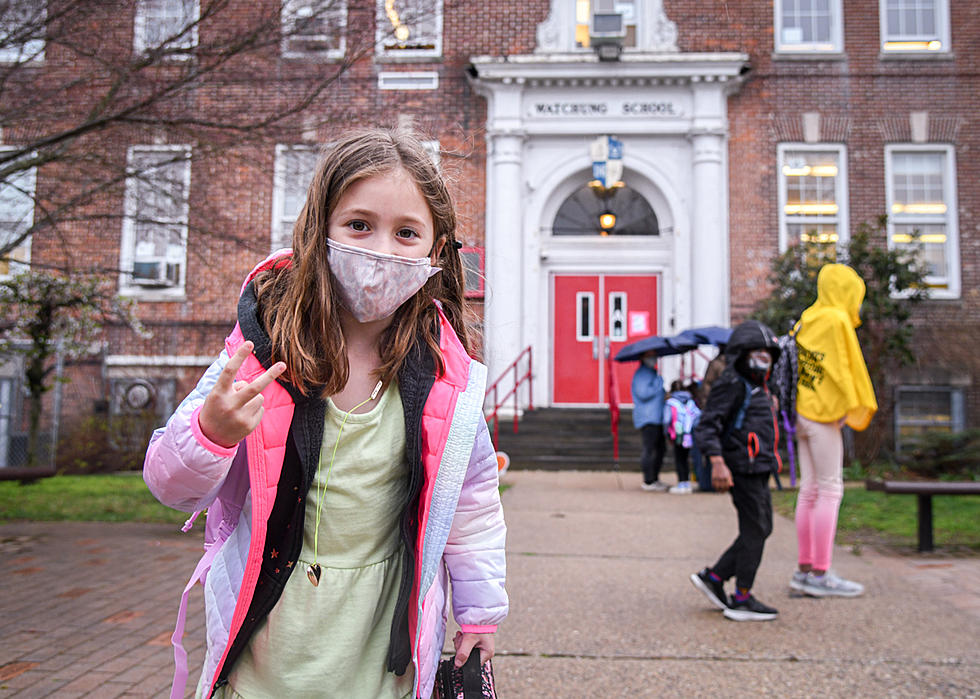 Montclair elementary students in school for first time in a year (PHOTOS)
Maya Sadow poses on her first day back at Watchung School, April 12, 2021. KATE ALBRIGHT / FOR MONTCLAIR LOCAL
It's been a long, bumpy journey — but Monday, Montclair elementary school students returned to in-person learning Monday for the first time in more than a year.
Attention parents: We'd like to hear from you about the first day back. Contact roll@montclairlocal.news today to speak about your family's experience.
Update: 75% of elementary students coming back, 57& of high schoolers staying remote.
The return on a hybrid learning schedule was made possible, after several delays, when the Montclair Public Schools district and the Montclair Education Association last month settled a lawsuit prompted by MEA members' refusal to return in January over safety concerns. Montclair's schools originally planned to reopen for some in-person learning in September, but the district opted to push that date back because ventilation systems in most of the buildings were deemed inadequate. Schools superintendent Jonathan Ponds pushed back a second expected reopening date in November because of a high rate of community transmission of the novel coronavirus.
But he says temporary measures — such as the purchase of 400 air purifiers and other mechanical fixes in school buildings — have made them safe for a return and meet state standards. In the settlement, the district agreed to walk MEA representatives through each of its buildings and provide more detailed information on safety practices and facilities upgrades.
Students remain on an rotating schedule, classified as "Mounties" or "Bulldogs," and those families that opt to keep their children home may to so. The district is observing masking and social distancing requirements, as well as conducting batch coronavirus testing to flag potential safety concerns.
The return also comes as the district faces a federal lawsuit from eight families seeking a return to full-time in-person instruction. Gov. Phil Murphy has said he expects that to be the only option for districts in the fall, though allowances would be made for staff or students with specific health concerns.
Montclair's middle schools and high school are also expecting a return soon, but no date has yet been announced.
— Louis C. Hochman
See photos from the first day back below.