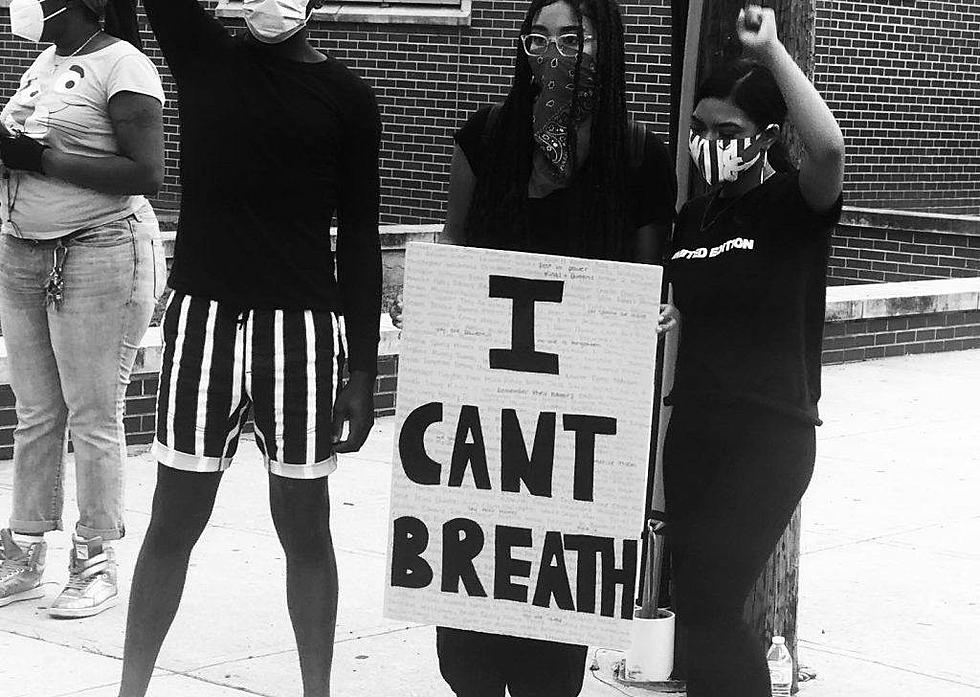 Amid nationwide protests, Montclair, Essex County police leaders discuss community policing
Montclair resident Lauren Vroegindewey photographed marchers in Newark protesting police brutality Sunday.
COURTESY LAUREN VROEGINDEWEY
BY JAIMIE JULIA WINTERS
winters@montclairlocal.news
The meeting was supposed to build connections between the Montclair police and the community in the aftermath of George Floyd's death and amid the protests taking place across the nation. 
But it got off to a rocky start, as several township residents questioned why a flag symbolizing the Blue Lives Matter movement was on the wall behind Montclair officers who spoke. 
One resident said she felt the flag was in retaliation to the Black Lives Matter movement. Police defended the flag, saying it was a symbol of brotherhood and not of racism.
But the meeting saw Montclair officers and other law enforcement officials agreeing with residents in expressing their revulsion at Floyd's death, before going on to discuss proper police procedures on use of force, as well as recruitment and training methods.
Floyd, an African-American father of two, died on May 25 after a white Minneapolis officer, Derek Chauvin, knelt on his neck for more than eight minutes while arresting him. Chauvin was subsequently arrested and charged with murder; officials anticipate that the three other officers at the scene also will be charged.
The virtual meeting on Zoom Tuesday was held by representatives from Montclair's NAACP, the Essex County Prosecutor's Office and the Montclair Police Department, with more than 300 residents logging in.
Although some use-of-force or restraining methods are a part of policing when subduing suspects, communities across the nation, including Montclair, are questioning relations with law enforcement and how far is too far when it comes to the use of force. Protests over Floyd's death, the large majority of which have been peaceful, have taken place across the country, with more planned.
Marcia Marley, president of the grass-roots advocacy group BlueWaveNJ, said better police-community relations will take more than protests and vigils. 
"Only with dialogue can we change the system," Marley said.
Deputy Chief Wil Young said that Montclair police watched in horror as Chauvin's fellow officers did nothing to stop him. Capt. David O'Dowd said an officer's duty is to intervene when excessive force is used, and then to report it. 
Chief Todd Conforti said that the incident "goes against everything we believe in and are sworn to uphold.
"Watching officers stand by and do nothing is just as disturbing as the officer committing the heinous act," he said. 
Assistant Essex County Prosecutor Alex Albu pointed to the professional standards created by the Attorney General's Office that require an officer to intercede when excessive force is used and then to be truthful in reporting of it. 
"This policy reinforces the responsibility of law enforcement officers to take those steps possible to prevent or stop the illegal or inappropriate use of force by other officers," the policy says. "Every law enforcement officer is expected and required to take appropriate action in any situation where that officer is clearly convinced that another officer is using force in violation of state law. Officers are encouraged to do whatever they can to interrupt the flow of events before a fellow officer does something illegal and before any official action is necessary."  
RELATED: Montclarians reactions to killing
Further, according to the policy, "sworn law enforcement officers have been granted the extraordinary authority to use force when necessary to accomplish lawful ends." But, it adds, the utmost restraint should be exercised, and use of force should never be considered routine.
An officer may use physical force, the policy states, when the officer reasonably believes it is immediately necessary at the time: to overcome resistance directed at the officer or others; to protect the officer, or a third party, from unlawful force; to protect property; or to make an arrest.
O'Dowd said that Montclair's policy since 2005 advises police on positional asphyxiation situations, such as when suspects are on their stomach or back, and to not put weight, as with aknee, on a person's back for any prolonged period of time.
All officers are to undergo semi annual training on the lawful and appropriate use of force and deadly force, O'Dowd said. They are required to file reports whenever force is used, whether excessive or not, detailing what force was used and on what part of the body. Those reports go through a departmental review. If excessive force is found, the county prosecutor is notified and then does a review.
Albu said that the county is taking a more proactive role in monitoring use of force reports even if it is determined a crime has not been committed. Sometimes that could result in a recommendation of suspension, but it also might ensure that the right person is on the job.
MONTCLAIR'S USE OF FORCE
A report compiled by NJ Advance Media using data collected from local police departments on use of force, published late last year, reveals that MPD use of force among its 103 officers had dropped considerably in 2016, according to records from 2012 to 2016 (the last year available). In 2012, 30 reports were taken; in 2013, 27; in 2014, 29; in 2015, 48; and in 2016 the number dropped to 9. 
Over five years, 70 officers used force, with those officers averaging 2.3 incidents. In New Jersey, a system of tracking use-of-force trends is not required; such tracking could potentially flag problematic officers for review. 
Based on arrest reports, black persons are 15 percent more likely to have force used on them than white persons, according to the 2012-16 data. Of the officers who used force, 70.6 percent were white, while 19 percent were black. 
Police reported that in 93 percent of the incidents, a compliance hold was used, in which the suspect's arms are held behind him. In other incidents, officers used their fists in 27 percent of the incidents. Use of batons or pepper spray was at about two percent, and firearms in such incidents were not used during the time period.
Resisting arrest was the most common reason officers used force; an attack from a suspect was the next most common reason. When force was used, 18.8 percent of the suspects were injured, according to the report.
WHY NO BODY CAMS?
Although every Montclair police vehicle has been equipped since 2005 with a camera that must be utilized during traffic stops, officers in Montclair do not wear body cameras. In June 2015 the state began setting aside criminal forfeiture funds for counties to distribute to local police for purchase of body cameras. At the time, it was $2.5 million. 
Montclair did not request the funding. Conforti said that MPD has no issue with wearing body cameras, but that the cost was prohibitive.
"The cost of the cameras is not the issue, it's the storage, maintenance and producing of the video footage," Conforti said, adding that there were also privacy issues with residents. Theodore N. Stephens II, acting Essex County prosecutor, said that the Prosecutor's Office is now mandating that all police departments move toward the utilization of body cameras, and that most Essex County police departments do.
Stephens said that the county is making available all forfeiture funds set aside for each municipality but held by the county for the purchase of cameras. He however did not know how much would be made available to Montclair, but said it could be "substantial." 
Stephens said he expects towns without body cameras to have a plan by year's end. Conforti said that it would be up to the incoming council to move forward.
HOW MONTCLAIR 
VETS NEW HIRES
When it comes to new applicants, Conforti said that the force looks to hire candidates who reflect the town's diversity and who already have residential status. He said the recruits go through multiple background checks, including interviews with family members and neighbors, past employment records, a search of social media accounts, and a psychological review. Once hired, the officer is on probation for one year.
BRIDGES NEED MENDING 
Illustrating tensions between some residents and the police, viewers voiced concerns over a wooden flag hung on the wall of the conference room where the police were speaking. 
Young said that an officer had made the piece of art and that the department hung it recently after having the room redone. 
"It's a symbol of brotherhood, not a symbol of racism," he said. "I take offense that you would think we support anything having to do with racism. You can't immediately go to 'That is racist.'"
But to resident Alliah Livingstone, the Blue Lives Matter flag was created in direct retaliation to the Black Lives Matter movement. 
"The Black Lives Matter movement is a movement that does not decry the importance of law enforcement, rather it serves to remind people to remember the value of black lives at a time when they are so visibly devalued," Livingstone wrote to Montclair Local. 
"For this symbol to be hanging in the conference room of the very people our tax dollars support to protect our community as they attempt to extend an olive branch to the community... was simply a slap in the face. This is not an official symbol, like the American flag, or the crests of our county and state. 
"I want nothing more than to create a bridge and work productively with law enforcement. But if I cannot fully trust the people enlisted to protect my family, then what protection does that guarantee us?"
WHAT'S NEXT?
Marley suggested a civilian review board be formed, which Conforti said he would not be against but would have to be formed with council review. 
On June 2, the same day of the Montclair meeting, Attorney General Gurbir Grewal said the state's newly launched Use of Force Portal will allow for the gathering and analysis of uniform use-of-force data from all law enforcement agencies in New Jersey. 
The Attorney General's Office has not updated its use-of-force policy in two decades. In December 2019, Grewal announced that the Office of Public Integrity & Accountability would undertake a comprehensive evaluation of the use-of-force policy. On June 2, he announced that he will issue a directive by the end of 2020 that will revise and update the policy.
"We all have work to do," said NAACP President Al Pelham. "This is just a start."