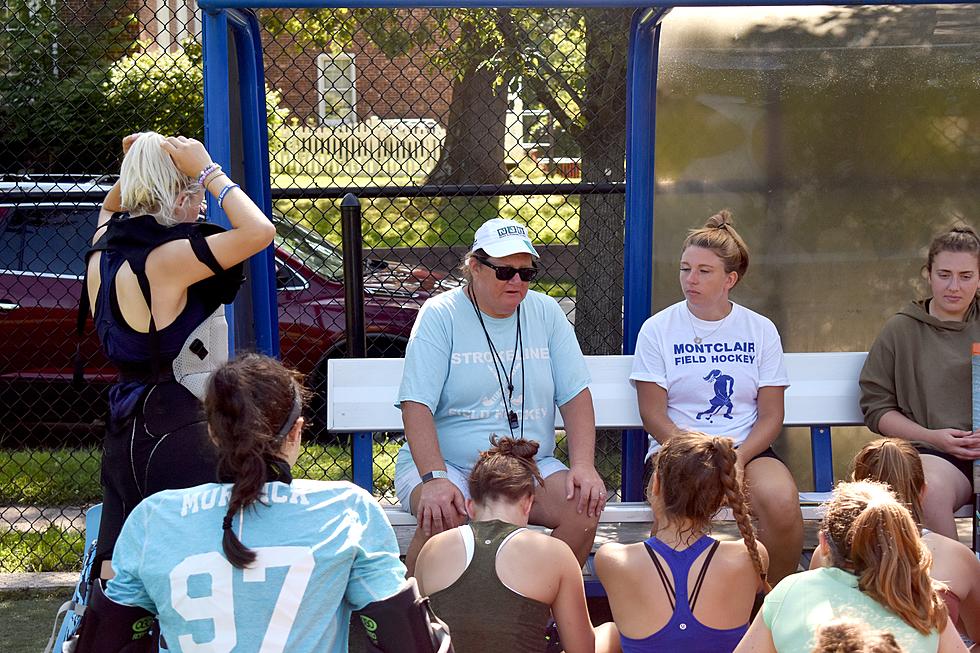 Montclair Field Hockey: Veteran leadership leads the way for Mounties
MHSCOACHMERCURO ESSEX MONTCLAIR 08/19/2019
This summer has seen MHS head coach Mary Pat Mercuro's team swell with talented kids. "It's a good problem to have," she said.
PHOTO BY ANDREW GARDA/STAFF
by Andrew Garda
garda@montclairlocal.news
The Montclair High School field hockey team had a great 2019, compiling a 15-6-1 record, with postseason runs in the Essex County and NJSIAA North Jersey, Section 1, Group 4 tournaments.
That both runs ended in losses in the finals doesn't take away from the Mountie effort. ECT champion West Essex finished No. 3 in the state with a championship in the Group 2 state tournament in addition to the county title, while NJSIAA N1 G4 champion Ridge finished No. 17 in the state.
Even though this season will have just 14 games and no Essex County Tournament, rather than 17 regular season games and both a county and state tournament, the Mounties are no less excited.
Coach Mary Pat Mercuro said one moment at the end of practice on Monday, Sept. 21, really highlights the intensity of this year's team.
A ball was knocked toward the sideline and was heading out of bounds.
Or at least that's what Mercuro expected to happen.
"I thought it was going out of bounds," she said. "[Instead] I had one offensive player and one defensive player just like hustling, busting it, to get that ball."
Mercuro said that type of effort at the end of practice, when a lot of teams might begin to slack off, inspires her.
"As a coach, you know, it's very rare that you get a team that will run their hardest, endline to endline," she said. "The hustle and the speed and, you know, it's exciting."
This year Mercuro will once again look to her seniors, specifically her senior captains. Lulu Rubins, Elizabeth Haefeli and Charlotte McClenahan are all seasoned players and will be a steadying influence on a fairly young team. 
Mercuro is especially excited to see what Haefeli can bring to the table after a great 2019.
"She's a great forward," she said. "She scored goals for me last year, she scored goals for me as a sophomore. She can play any position on the field."
More importantly, she's willing to play any position on the field, an approach that Mercuro said has spread throughout the team.
"That seems to be everybody's attitude," she said. "There's no field hockey positions. There are just field hockey players, and they all just want to be out there."
Leading by example is important for all the seniors to do, Mercuro said. Not only do the players need to stay focused on the field, but they have to take care of themselves off it, as a positive COVID test can shut a team down for a couple of weeks or, worse, end a season.
So Mercuro needs seniors Emily Amirata, Katherine Cummings, Meg McClenahan and Maddie Moore to pitch in both on and off the field to help keep the team focused and playing.
While the seniors hold the focus, some young players are going to have to step up. 
The most critical spot will be in net, where Amanda Murnick blocked shots for the last few years before graduating in June. 
Now Mercuro will be looking to sophomore Isabel Ginns to keep shots out of the back of the cage. 
Ginns is just one of a number of young players Mercuro sees having a big impact for years to come.
"All around, I think we're stronger," she said. "I don't see a position where I don't have at least two people [who can start], you know? I don't even know if I could tell you who I would start if I had to play today."
The Mounties will need that depth, because even with an abbreviated schedule, the team faces the usual tough competition, with games against Oak Knoll, Scotch Plains, Johnson and crosstown rival Montclair Kimberley Academy, which will be coached by Injoo Han. 
Mercuro and Han have known each other a long time, and until the pandemic shut it down this summer, ran a field hockey camp each year as well.
That just adds a little extra spice to what should be an exciting season for Mountie field hockey, which opens its season at home against Millburn on Oct. 2.  Rules for attending spectators were not available at press time, but will be posted on the Montclair Local website when available.
The following week sees two games on the road for MHS, with a Wednesday,  Oct. 7 match-up against Oak Knolls followed by another game on Friday, Oct. 9 where they will battle Scotch Plains.