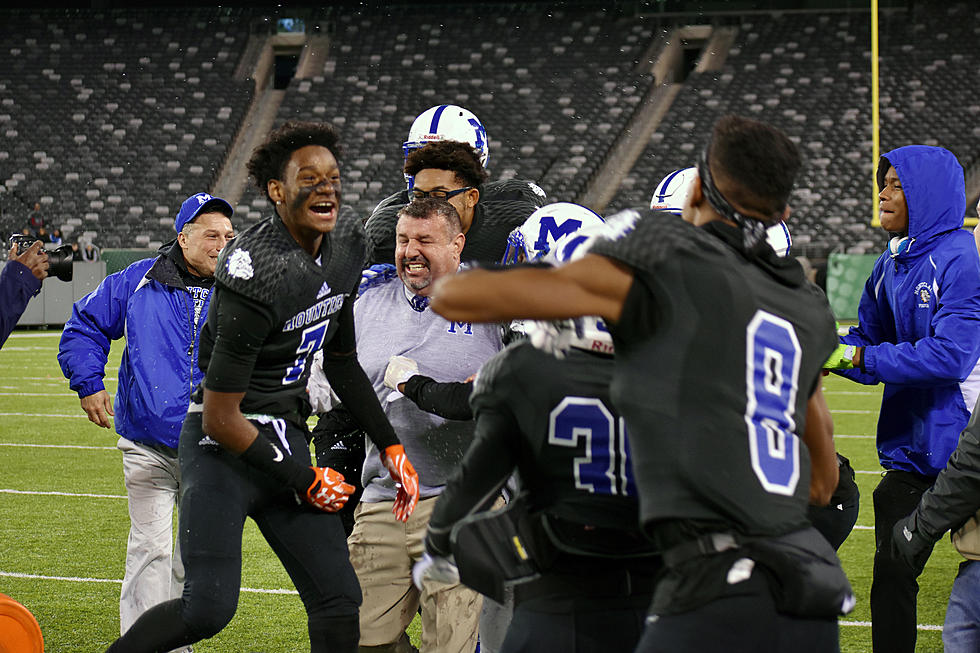 Montclair football gets head start as other MHS teams look to Aug 17
MHS football head coach John Fiore and his staff have the team listed as a club for the summer to give them a head start on preseason practice. The Mounties are slated to open their truncated 2020 season on Oct. 2.                                    PHOTO BY ANDREW GARDA/STAFF
by Andrew Garda
garda@montclairlocal.news
Montclair's Board of Education finally approved the hiring of coaches for the fall, freeing them up to begin summer workouts Aug 17. But some coaches aren't waiting that long.
MHS head football coach John Fiore and his staff met with their team over Zoom on Thursday, July 23, making sure their athletes were ready for practice, which began at Glenfield Park on Monday, July 27.
Normally, the team would be conditioning at Woodman Field, located at the Aubrey Lewis Sports Complex, but this year is a bit different.
To get a leg up, the Mounties are functioning as a club, not a team. While somewhat unusual, it's not unprecedented, as the MHS crew team does the same each year. 
Being a club allows the Mounties to meet a little earlier and get their conditioning going, so come Aug. 17 they are ready to begin practicing in earnest. With a shortened summer and preseason window, every day counts, and this will allow MHS to take advantage.
Being a club means the team cannot avail itself of school resources, so they will practice on the same field as the Montclair Cobras, one of the town's two youth football teams. 
Fiore and his staff are being meticulous in their planning. Last week, they laid out the daily practice procedure. Student-athletes will arrive at 9:10 a.m., to have time to be checked in and have their temperature taken while also staying six feet apart, with masks on. 
Players will then be put into separate "practice pods," which will be consistent day to day so any potential exposure is contained. This will be carried over into the season, as the team will be separating starters, breaking up position groups and spreading them across two locker rooms. 
During the regular season, this plan is intended to avoid having a positive test decimate an entire unit.
While the Mounties are a club team right now, they will still follow all NJSIAA health and safety protocols.
Fiore was very clear with his team that he expects his student-athletes to do their part off the field as well: no hanging out playing basketball after practice, no carpooling with multiple kids, no refusing to wear masks — the players are to come to practice, execute practice and return home. 
The reason for this is simple — if too many kids need to be tested, or get sick, the season for football, and maybe even for all fall sports, could be shut down.
Fiore reminded his team that one Central Jersey school district, Carteret, has already pulled the plug on athletics for the season due to concerns about the health and safety of students and staff. 
If the student-athletes of any program, not just football, don't follow protocols, everyone could pay the price.
As to what those programs will be doing, current district policy does not allow media to directly speak with coaches.
However, MHS athletic director Patrick Scarpello gave a broad view of what the school's overall approach will be in an email to the Local.
"The workouts will be tailored to follow the strict guidelines of the NJSIAA Phase 1 plan.  Our teams will begin their training session with getting their temperature checked as well as handing in a one page questionnaire to ensure every student/athlete and coach are healthy prior to training," he wrote. " Our training programs will be cardio based.  The real goal with summer training is getting the students back on the field and around their friends to regain the camaraderie that is shared in athletics.  
Scarpello pointed out that this year, the summer training session will be very different compared to years past.  
As for football, the Mounties have also received the official schedule for the 2020 season.
MHS opens on the road against Bloomfield on Oct. 2 at 7 p.m., then has its home opener on Oct. 10 against rival East Orange, which beat them twice last season.
West Orange is the next opponent, in another game at Woodman Field, on Oct. 17, with the second night game of the year on Oct. 23 at Livingston. 
Montclair High has its last regular season home game on Halloween, Oct. 31, against a new opponent, Barringer, and then finishes at Irvington on Nov. 6.
If all goes well, the Mounties will find themselves in a four-team playoff.