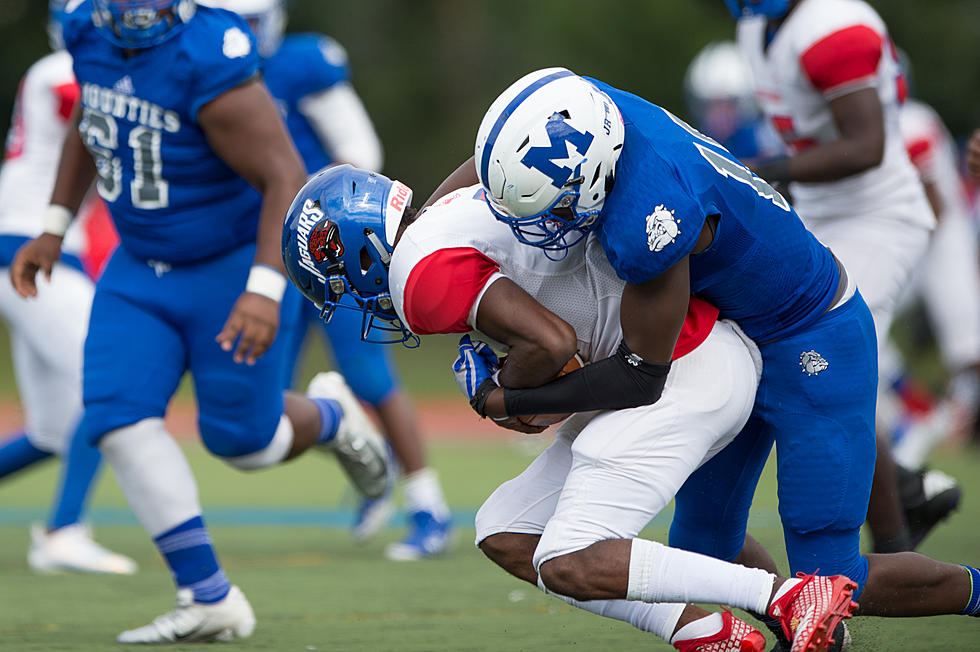 Montclair Football: Mounties Collins has unfinished business before Rutgers career
Senior Shawn Collins is a key part of the Mounties plans on both sides of the ball.
Courtesy Wil Young
by Andrew Garda
garda@montclairlocal.news
It took a while for Montclair High School senior captain Shawn Collins to land on committing to Rutgers University, but ultimately he thinks it was a no-brainer.
The program, the college, the team, Coach Chris Ash — all seemed a good fit for him.
Still, as happy as he is with his choice, ask him if he's excited to become a Scarlet Knight, or to open the season as a participant of the "Rumble on the Raritan" against West Orange on the SHI Stadium field on September 7, and you'll get an answer that could surprise you.
"I'm excited for the opportunity to play for Rutgers next year," he said after MHS' recent media day. "But I'm focused on what we have to do this year."
There certainly is a lot to do, and Collins will be a key piece for the Mounties on both sides of the ball. Collins' height and vertical ability will be a factor at tight end, while his speed and physicality could have a major impact at defensive end.
Collins said he's really looking to fine-tune his game this year on both sides of the ball. At tight end, where he is expected to play at RU, Collins has to work on both smaller things like his technique with his hands while catching the ball, to more critical things, such as continuing to sharpen his route running.
---
RELATED: MONTCLAIR FOOTBALL 2019 SEASON PREVIEW
---
It's not that he isn't good with either attribute. It's that, according to Collins, he can always be better.
The Mounties know he can be a difference maker on the offensive end of things, and it's critical he performs. Aside from Donovin Bell, the team doesn't have wide receivers they know they can rely on yet.
That means they really could use Collins to step up. 
"I know I can do it," he said. "I'm ready to be that guy."
Defensively, Collins can take advantage of a deep defensive line as well as some dangerous linebackers. With teams occupied by Dhani Clifford on one side, Sebastien Fortune and Pat Barr in the middle, plus linebackers like Nareece Wright, Jordan Williams, Zach Lepak and Jaheim Lowe bringing pressure as well, Collins could take advantage and hammer a quarterback or ball carrier.
Conversely, if Collins gets the attention of an offensive line, he's going to draw coverage and free someone else up to make a play.
That's true on offense as well. If Collins becomes the dynamic pass-catching threat the Mounties coaching staff feels he can be, it's going to draw attention away from the running backs and receivers. 
And if teams choose to focus on other players, well, Collins can torch them down the middle of the field with his speed and athleticism. 
The huge opportunity laid out in front of him — to be a key factor on both sides of the ball for MHS — is one of the reasons Collins is focused on this season, not the future.
Another reason is doubt. Collins, like the rest of his team, is keenly aware that people doubt this year's crop of Mounties. That's fine, as far as he's concerned. Let them sleep on Montclair, he said.
All that does is make them play with a chip on their shoulder. As for Collins, the rare New Jersey prospect who is choosing to stay in the Garden State, it just makes him play with a bigger chip on his shoulder.