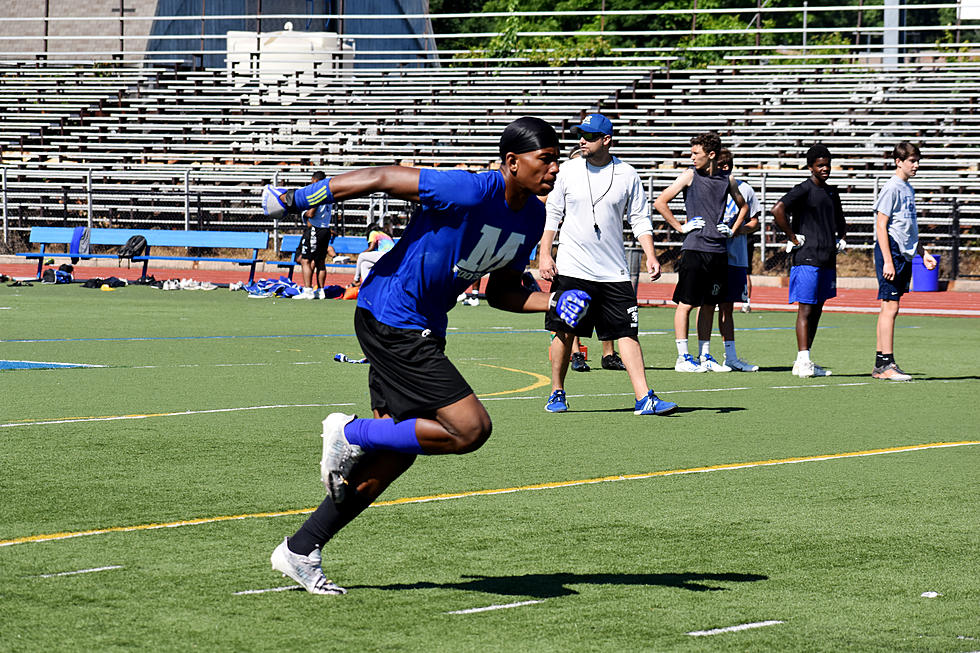 Montclair Football: Mounties have new faces in new places this preseason
Montclair High rising junior Kyshawn King will look to prove himself as an impact player this season, possibly at wide receiver, with the Mounties' top target last season, Charles Murphy Jr., expected to move to quarterback. ANDREW GARDA/STAFF
by Andrew Garda
garda@montclairlocal.news
Summer is here, and while school is over, for the Montclair High School football team that just means work is just beginning. The team knows it has a target on its back coming off an undefeated season where they won the North 1, Group V championship.
The team got a taste of what it's like to wear the crown recently when took part in a 7-on-7 tournament at Rutgers University and it was a mixed bag. The Mounties were represented by two teams and forty kids, with the "A" team went 2-2 with rising senior and assumed starter Charles Murphy Jr. and rising sophomore Michael Robinson throwing the ball. The "B" team finished with a 1-3 record.
"We could have easily been 4-0," head coach John Fiore said during a recent practice. "But the inexperience caught up to us."
The Mounties have to fill several holes caused by departing seniors as well.
Reload and Replace
The Mounties were lucky in how deep they were at wide receiver last season, and both Fiore and offensive coordinator Patrick Leonardis said it was one of the toughest position groups to crack on the team. There was a lot of talent which rarely made it on the field.
The two biggest names to watch this summer are rising senior Walter King and rising junior Kyshawn King.
Kyshawn injured his knee before the season started last season and only recently got back on the field, while Walter played almost exclusively on defense.
"The King boys are as athletic as anybody in the state," Fiore said. "They've just got to put it together. Be here on time, work hard and learn what they need to do offensively."
Murphy may be the hardest receiver to replace though, as he was unstoppable when Earle threw a tall pass for him to go up and get.
"Replacing Murphy is going to be hard at wideout, and we found that out at the Rutgers 7-on-7," Fiore said. "We've got some work to do there."
Kyshawn's height could make him a natural replacement for Murphy if he proves to have the hands for the role, while Walter has good speed and instincts.
They aren't the only ones to keep an eye on.
Changes and New Faces
Last offseason, the Mounties lifted weights during the day and came together for practice in the early evenings. In his first summer as Athletic Director, Dr. Patrick Scarpello has changed things up a little, scheduling the football team for an early practice.
"So Monday and Wednesday we go 8-11 am, lift and practice," Fiore explained. "Tuesdays and Thursdays we go 8 to 10:45 a.m. and then we do an hour of yoga."
It's different, but Fiore said that the team and staff are embracing it. Fiore sees a fresh direction and different schedule as methods to keep his team on its toes as it faces a game schedule which didn't get any easier this year. Seton Hall Prep, West Orange, East Orange and Columbia — which beat the Mounties in the 7-on-7 tourney this past weekend — all improved.
"These guys can't sleep on anybody," Fiore said.
This year saw Fiore get a break from managing the weight room as well.
"My days are shorter. I'll get to see my family a lot more. The kids get a break to do other stuff in the afternoon. It's good."
The district is going through some changes, and Fiore sees it as a positive thing, something that will energize the town, the district and the high school.
"We're going to have, from the top down to our program, it's going to be all new administration. From Dr. Johnson, the new superintendent, whoever the new principal is going to be and Dr. Scarpello, who is still getting settled."