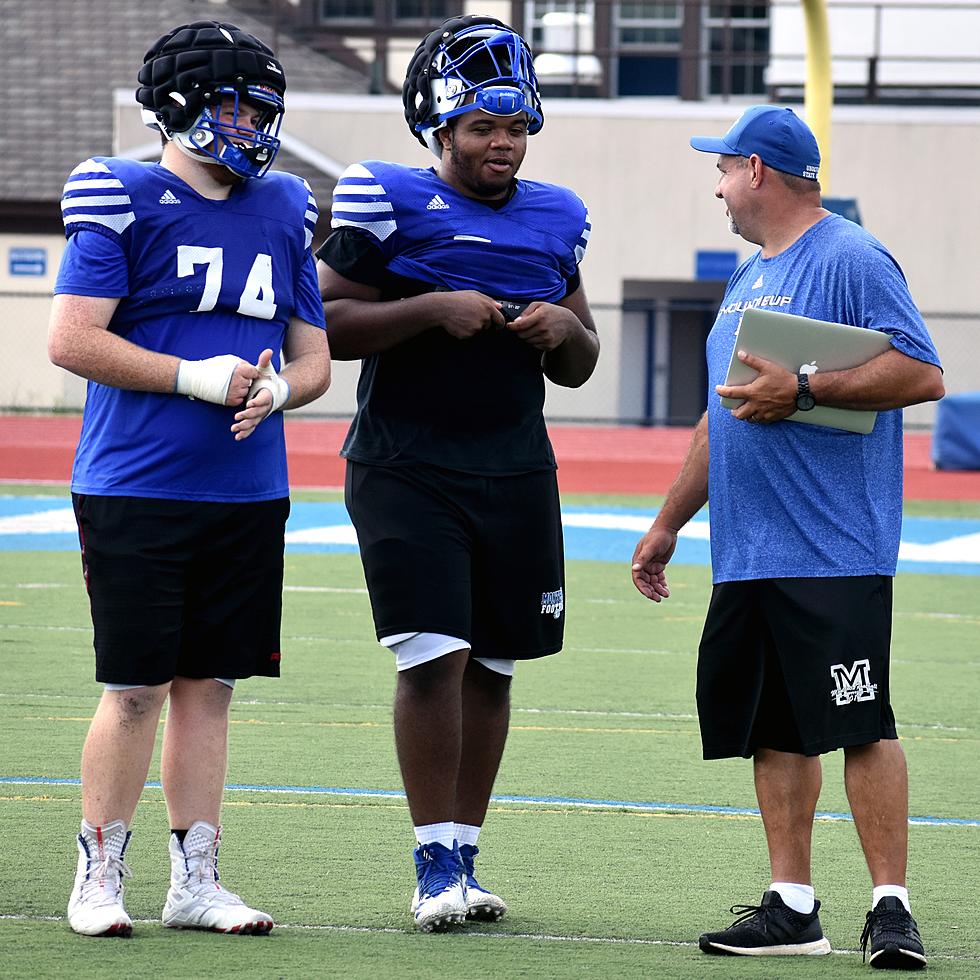 Montclair Football: Mounties' strength is in the trenches
MHS head coach John Fiore will depend on senior offensive linemen Pat Barr and Sebastien Fortune to lead the way in the trenches.
ANDREW GARDA/STAFF
by Andrew Garda
garda@montclairlocal.news
As a freshman, Sebastien Fortune was thrust into a role to snap balls to future Bucknell University quarterback Tarrin Earle. Meanwhile, Patrick Barr was learning how to play football, which he had never done before arriving at high school as a freshman.
This fall, both linemen will help form the foundation of the Montclair offensive line, often the unit that the offense lives or dies by most.
"Sebastien and Patty are going to be three and two year starters, All-Conference players," MHS head coach John Fiore said. "And then you've got a bunch of sophomores and juniors that are fighting it out. Ethan Daddabbo, Wyatt Tobin who just transferred back from Seton Hall Prep, Eli Dawson, Eli Pinillis, and Max Koiso are all guys fighting it out to try and get into those other three spots. So that should be a strength for us."
Head coach John Fiore knows he can depend on Fortune and Barr to show whoever ends up next to them how to play Mounties football in the trenches. It's one of the reasons he made them captains.
Both players take tremendous pride in their play and the improvement they have made and both credit line coach Eugene Kline.
"Coach Kline, he's the best [line] coach in the state," Barr said.
"Everything we do, he shows us how to do it, and helps us to get better," Fortune said.
---
RELATED: MONTCLAIR FOOTBALL 2019 SEASON PREVIEW
RELATED: MOUNTIES COLLINS HAS UNFINISHED BUSINESS BEFORE RUTGERS CAREER
---
It was Kline who pushed Fortune to keep working hard during his freshman year. Both Kline, and Earle, encouraged a player who was by his own admission not ready to play varsity football. But Fortune, who had the size to withstand that punishment as a freshman, was clearly very smart and definitely determined.
During that first season, Fortune made a mistake and Kline ripped into him for it, but also always followed it up with an explanation of what corrections Fortune needed to make for the next play.
Earle did much the same thing, Fortune said, though with a little less volume.
Barr talks about Kline the same way. One minute, he's on a player's case about a mistake, the next he's got an arm around that player's shoulder, explaining what needs to change.
With up to three new players on the line, Kline will have his hands full and that's where Fortune and Barr come in. After four years, both talk about knowing what Kline expects from them and how they need to help instill that in the younger and newer players.
Right now Dawson, Abdullah Hamilton and Max Koiso are the starters, but as has been the case every year, anyone can be called upon at any time.
If Daddabbo, Tobin, or Pinillis needs to step in at tackle or center, there are worse people to emulate and follow than Barr and Fortune, both of whom found themselves suddenly thrown in the mix.
While Fortune had a job pushed on him during his freshman season, Barr only came into his own in 2018. On a returning line containing Fortune, Bo Bigelow and Gary Robinson, there weren't a lot of spots to land in, but Barr snatched one early on.
Once injuries hit the line — especially with Bigelow going down — Barr found himself having to help get other players up to speed.
If you want a great example of what a coach like Kline can produce when he gets some help and a willing player, you only need to watch a film of Alejandro Dagnino.
Listed at a generous 5-foot, 9-inches and 180 pounds, Dagnino played a tenacious tackle, helping keep quarterback Charles Murphy Jr. free to throw or helping open holes for running back Josh Crawford.
Just like Fortune and Barr, Dagnino's success last year is a testament to Kline's efforts with the offensive line.
With just Fortune and Barr returning as starters on the line, it's tempting to wonder whether the offensive line will take a step back. However, that's the same thing people have predicted prior to the previous two seasons.
Fortune and Barr can tell you how that worked out.