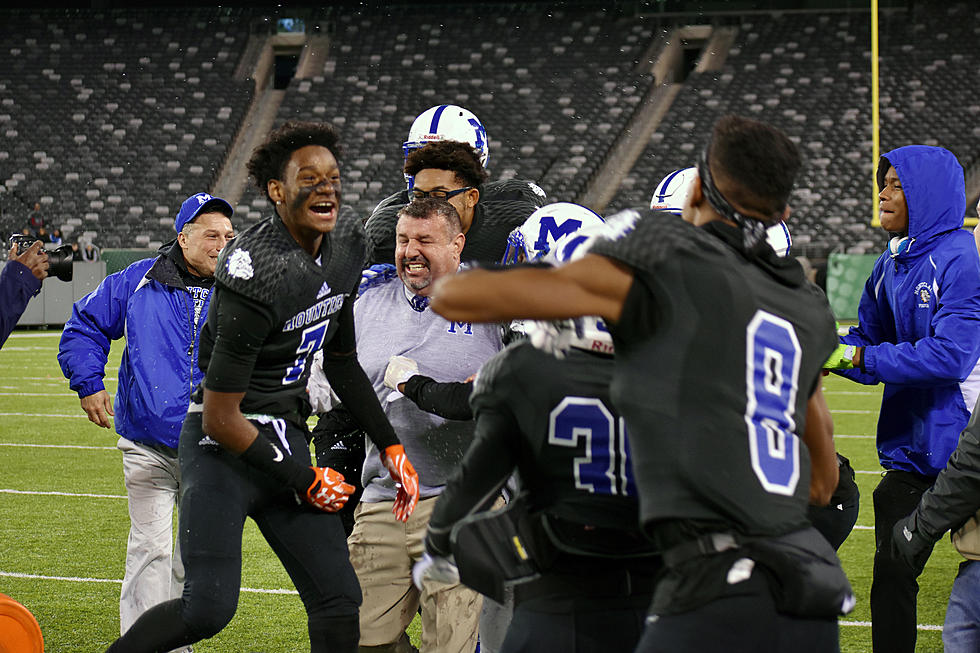 Montclair Football Notebook: 750 wins, a look in the backfield and Bayonne preview

Head coach John Fiore (pictured here in 2017) Mounties scored the MHS football team's 750th win last Saturday, with a 49-21 win over Nutley.
PHOTO BY ANDREW GARDA/STAFF
by Andrew Garda
garda@montclairlocal.news
The 49-21 victory over Nutley on Saturday, September 14, 2019 was a little bit more meaningful than your average win. It also notched Montclair High School's 750th all-time win, the most for any school of New Jersey.
It is believed that Phillipsburg is the second-winningest program in the history of New Jersey high school football; the Stateliners notched their 697th win this past weekend.
According to records compiled by independent researcher Dr. Roger B. Saylor and archived on the Penn State University website, along with Montclair Local's own records, the Mountie program boasts an all-time record of 750 wins, 338 losses and 55 ties, good for a .680 winning percentage.
While head coach John Fiore's tenure, which is now in its tenth season, accounts for 85 of those wins, he said there's a lot more to the record than what he's done.
"We've had a lot of good coaches and good players," said head coach John Fiore, who has accounted for 85 of those wins over his nine-plus seasons leading the program. "This is a great program with a great tradition. That 'M' is special."
Forty-five of those wins have come in the NJSIAA playoffs since they were instituted in 1974, including eight state championship wins — four under Fiore (2012, 2013, 2014 and 2017), three under Ed Lebida (1994, 1996 and 2002) and one under Butch Fortunato (1983).
Montclair's football history is a proud one, with the names of all-time Mountie greats serving as a who's-who of New Jersey high school football, from 1950s phenoms Aubrey Lewis and twin brothers Robert and Richie Haines to more recent standouts, including 2,000-yard rusher Rikki Cook, future Super Bowl champion David Tyree and 2019 first-round NFL Draft pick Josh Allen.
From a coaching standpoint, Montclair has been a program with incredible stability — Fiore, who arrived in 2010, is only the sixth head football coach at MHS since 1940. 
The legendary Clary Anderson is the all-time winningest coach in program history, winning 197 games out of a possible 224 (197-22-5) during a career that spanned from 1940 to 1968, minus a four-year stint while he served during World War II. He coached the Mounties to 11 unbeaten seasons and 18 NJSIAA sectional championships, including numerous No. 1 statewide rankings. From the beginning of the 1946 season until the end of the 1957 campaign, Anderson's teams won 102 games and lost only four.
Fortunato, who served as head coach while Anderson was away from 1942 to 1945, and then took control of the program from 1969-83 when Clary left to coach at Montclair State, finished his MHS career with a record of 106-50-8 with a state championship in his final season.
Jack Davies had a successful seven-year run following Fortunato (1984-90), winning 52 games and regularly placing Montclair among the top teams in the state of New Jersey, including memorable playoff battles against Union, Passaic and Randolph.
Ed Lebida is the second-winningest coach in Mountie history, having won 130 games and reaching nine NJSIAA playoff finals — and winning three — during a head coaching career that spanned from 1993 to 2009.
And Fiore, who is closing in on a full decade of leading the Mountie program, boasts a .792 winning percentage as Montclair's third-winningest coach (85-23), including undefeated 12-0 seasons in 2012, 2013 and 2017, and 11-1 campaigns in 2011 and 2014. The Mounties have reached seven NJSIAA playoff finals in Fiore's first nine seasons, winning four.
The Four Horsemen?
The Mounties' ground attack exploded in the second half against Nutley, ending the game with a staggering 400 yards and six touchdowns on the day. Michael Robinson, Jordan Diggs and Jordan Williams all had over 100 yards and accounted for at least one score.
According to Fiore, they aren't even at full strength.
"When we get Nate Bryan back, you can add fourth guy in there."
Bryan accounted for 230 yards and a touchdown last season, as he mostly handled mop-up duty with Diggs behind Josh Crawford and Willie Matthews.
With Crawford playing for Central Michigan and Matthews playing defense for the University of Kansas, Bryan was expected to split duties with Diggs, but has been sidelined with an injury.
Diggs moves with a shiftiness between the tackles and some explosiveness off the snap, while Williams tuns tough through the gaps and has shown surprising elusiveness when he reaches the second level. Robinson is, of course, on his way to becoming a dual threat, using his arm as well as his feet to frustrate defenses. He's had some success on bootlegs and read-options, and will only improve as he gets experience.
Bryan's speed and athleticism could be an intriguing option to throw in the mix when he gets back on the field.
Heart of a (NY) Giant
Montclair senior Sebastien Fortune was recently nominated for USA Football's Heart of a Giant Award presented by Hospital for Special Surgery and the New York Giants. Fortune and the other nominees have been nominated by their coaches for their commitment, teamwork, will, character and dedication.For the next 23 days you can vote for the Mountie captain at https://usafootball.com/hoagvote/ .
Bee-keepers
With unbeaten Bayonne visiting Woodman Field this week, it's notable that there's only one game to look at for the Bees, as they received a win due to a forfeit by Week 1 opponent Memorial. Bayonne saw its first on-field action of the regular season Friday night, defeating future Mountie opponent Livingston, 28-21, in double overtime.
Bees quarterback Danny McAuliffe threw the ball 33 times, completing 18 of his throws for 203 yards, two touchdowns and a pair of interceptions, including one returned for a score in the third quarter. He targeted wide receiver Jerome Edwards eight times, more than anyone else, with the result a touchdown and 110 yards. 
The team also ran 25 times, 19 of which were by Cedric Bazile for 108 yards and a score. Preseason reports had Christian Ashe as splitting carries, but that didn't happen against Livingston.
From the defensive side of the ball, that means the Mounties cornerbacks will have to be careful with Edwards and contain him, while the defensive line and linebackers will have to keep an eye on Bazile.
After the win over Nutley, Robinson talked about the Mounties offense controlling the offensive tempo, making the plays they wanted and eating the clock. 
The Bees only let Livingston throw the ball for 93 yards, and a touchdown while generating three interceptions, but allowed 191 yards to the Lancers running backs. They were stingy at the goal line, letting Livingston only score once on the ground, but that many yards seems to favor Montclair's running backs.
Given the success against Nutley, it's hard to see the MHS backfield being kept out of the end zone.
Montclair and Bayonne have met just twice, in 2012 and 2013, with the Mounties winning both in blowout fashion.