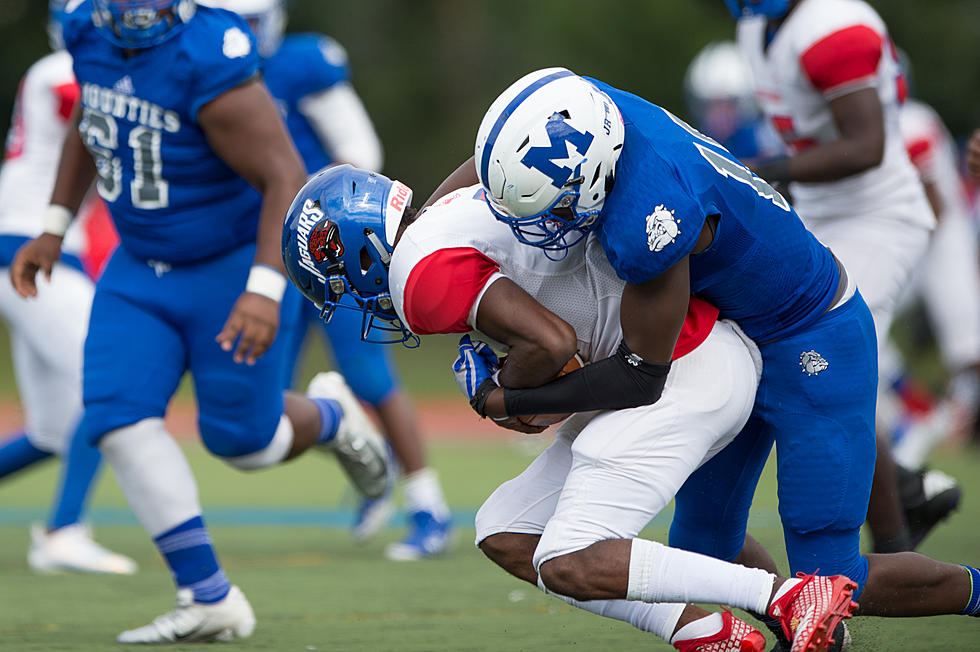 Montclair Football: Collins commits to RU, QB battle underway
MHS rising senior

Shawn Collins (10) tackles an East Orange ballcarrier on Friday, Oct.26. Collins verbally committed to Rutgers University on June 22, and is expected to play tight end.


Courtesy Wil Young
by Andrew Garda
garda@montclairlocal.news
The 2019 Montclair High School football preseason is barely under way, and one Mountie has already notched a big win.
Rising senior Shawn Collins decided home is where the heart is, choosing to remain in New Jersey for college and committing to Rutgers University.
The 6-foot 5-inch, 210-pound tight end gave his verbal commitment to the Scarlet Knights on June 22 after performing well at a Rutgers camp. Collins had multiple offers including Northern Illinois, Bowling Green, Columbia and Western Michigan, and initially it had looked as though he might wait until August to decide in case more followed.
However, it's clear he liked where the Scarlet Knights program was headed and saw the value in staying in the Garden State for college.
Rutgers head coach Chris Ash has worked hard to keep New Jersey players home, but it's always a tough hill to climb when you have to compete with the rest of the Big Ten and powerhouses like Ohio State and Wisconsin as well as storied schools like Michigan. 
Collins' sharp route-running, size and good hands make him a good addition to an offense that is still trying to find its personality. With Collins' athleticism, it's not impossible for him to end up on the other side of the ball as well.
Regardless, it doesn't look like MHS faithful will have to go too far in order to keep an eye on one of their own in 2020.
Youth Movement
Collins is just one of the young players who will need to step up next season for the Mounties. Collins and senior Nareece Wright are the only two players who got regular varsity reps last season.
The most intriguing battle will take place at quarterback, as Charles Murphy Jr. has graduated and rising senior A.J Zaccareo is transferring to Hotchkiss School.
That leaves rising junior Michael Robinson and two rising sophomores in the forms of Solomon Brennan and Raeden Oliver. Robinson has not been cleared to throw yet after an injury this offseason, so reps are being split between the two sophomores.
Brennan got most of the work under center on the freshman team last season, but both players are relatively inexperienced at the high school level. The jump from youth football to freshman football is significant, but in many ways pales in comparison to the leap from freshman to varsity.
With the departure of offensive coordinator and new father Patrick Leonardis after last season, head coach John Fiore will take over offensive play calling duties, with co-defensive coordinators Jamie Bittner and Pete Ramiccio remaining in charge of the defense.
How Fiore changes things on offense —and how any of the three potential starters handle play at a higher level — will have a massive impact on the outcome of the MHS 2019 season.
7-on-7 update
Last weekend saw Montclair head to their second 7-on-7 tournament, this time heading to William Paterson on Saturday, June 29. These tournaments are light on defense, as they are flag tournaments, so it's hard to really judge how a team looks based on the outcome.
That said, things could have gone better for the Mounties.
Things kicked off well as the team beat Kennedy by a score of 12-7. Kennedy had a very simple offense, with short screens out of a Wing-T formation, which the Mounties were able to slow down.
It didn't go as smoothly against their next opponent, Verona, who defeated MHS 20-13, or the game after that, a 13-7 loss against Woodbridge.
As there were only eight teams in the tournament, MHS made the playoffs despite the two losses, facing Verona for the second time. Unfortunately, things didn't go any better for the Mounties, who ended their day with a 14-0 loss to the Hillbillies.
Again, there's a long way to go before the season kicks off, but the Mounties know they have to step it up. Future opponents East Orange looked very good, and West Orange had moments during that Saturday as well. 
The opponents look good and this year seems to have more storylines than previous ones, but at the end of the day, Montclair is in the same position they are every season — sitting with a target on their back and a chip on their shoulder.