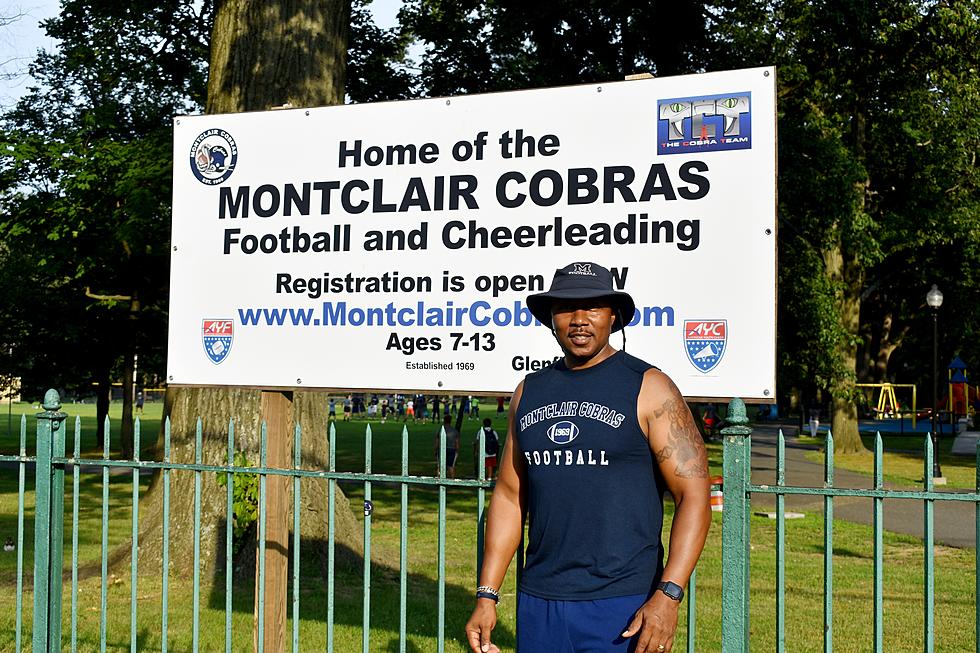 Montclair Football: Youth football Cobras start fundraising for 50th anniversary
Montclair Cobras director Wil Young is grateful for the donations the youth football organization has already accrued to help make their 50th season special.
PHOTO BY ANDREW GARDA
by Andrew Garda
garda@montclairlocal.news
The 2019 youth football season is going to be a cause for celebration for the Montclair Cobras, as they celebrate their 50 year anniversary. Started in 1969 by Howard Finney, the Cobras have been a fixture in Montclair sports ever since.
The Cobras program is a not for profit private organization that provides opportunities for boys and girls ages 7-13 to compete at the highest level of in both full contact football and cheerleading in North Jersey. 
While wins and losses are typically the barometers of success, the Montclair Cobras Junior Program prides itself on instilling the values of teamwork, discipline and education. Discipline and accountability on the field and in the classroom are expected and fostered throughout the program. A disregard for these principles could result in disqualification, said Wil Young, current head of the organization.
In celebration of the organization's 50th, Young is getting new uniforms, adorned with 50th anniversary patches on them, and brand new helmets for the kids at all levels of play.
Of course, all this takes money, which Young has been lucky enough to find via many fundraising efforts and some very generous people.
"We have been fundraising like crazy since the end of last season," he said. "It really kicked in during January, and I'd be remiss if I didn't mention our number one sponsor, and former Cobra, the Zimmerman family from Just Jakes. They helped us sponsor a good four events in pre-season, where we were able to put some money in the bank."
Other bigger sponsors include former councilwoman Katherine Weller, business owner Zach Zeltzer and real estate developer Steve Plofker.
"He never wants us to put his name in anything, but I told him we've got to let people know because people don't realize how deep his generosity goes," Young said. "He's been a big supporter of us for years and his son, Duke, played in the program. He and Bobbie Brown, they're both very good friends of our community and not just the Cobras."
Young said there are many others who have contributed in different ways, such as former NFL player Roman Oben.
"He's with the NFL now in the back office, and he's been on our staff now since his kids played. He helps out tremendously with grants and a lot of the administrative stuff for us and every year we've been able to do something with USA Football, who we've been with since day one of Heads Up Football."
Oben helped the Cobras get an improved deal on the helmets, saving the organization some money as well.
Still, between helmets, uniforms, practice jerseys and insurance, the Cobras have already spent a lot of money they have fundraised. Which means that, if they are going to keep celebrating five decades of football in Montclair, more fundraisers are coming up.
First up will be the Cobras Fish Fry on Friday, Aug. 16 at the community center at Glenfield Park starting at 6 p.m. There will also be plenty of "shake the can" style fundraisers where the kids look to drivers to donate whatever change they have. Those will take place on dates to be determined and will occur at the corner of Grove and Bloomfield, as well as the South Park and Church areas of town.
The Cobras will also have candy sales, raffles — including one they do yearly for a big TV – and much more.
The Montclair Cobras Junior Football and Cheerleading Program was also named grand marshal of the 2019 July 4th parade in honor of the organization's 50th anniversary.
The Cobras play in the Garden State American Youth Football (AYF) Conference, New Jersey's first unlimited weight junior football league. AYF competes on a national platform where teams annually vie for the national championship.
What else could add to the celebration of the Cobras' 50th anniversary?
"Well," Young said, "Hopefully a couple of championships."