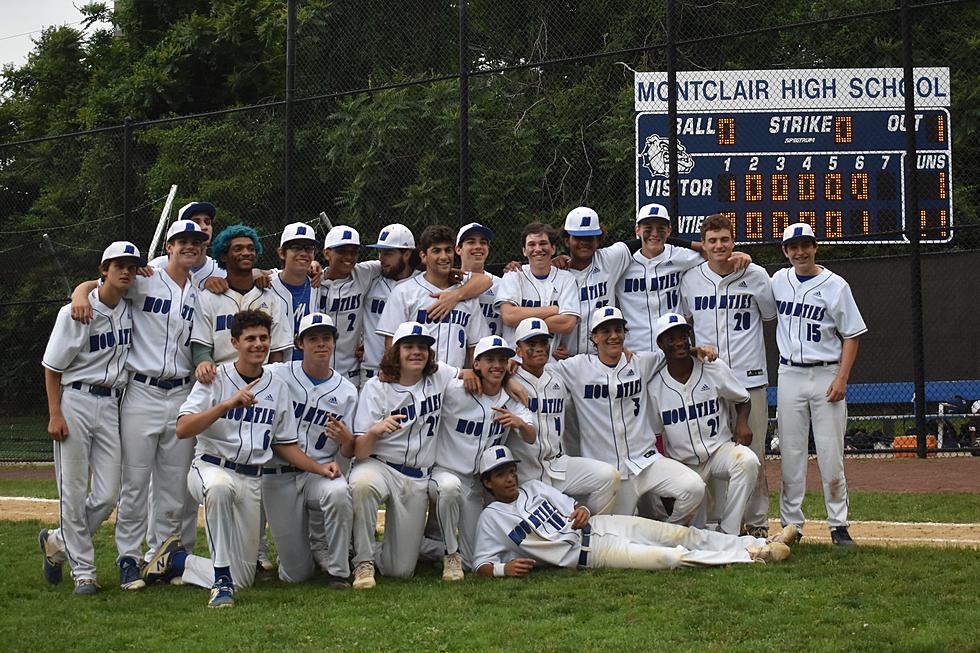 Montclair High baseball wins first Sectional title since 1964
The 2021 NJSIAA North Jersey Section 1, Group 4 Champion Montclair Mounties. MHS beat Livingston 11-1 on June 11, 2021.
ANDREW GARDA/STAFF
By ANDREW GARDA
garda@montclairlocal.news
With a loud and powerful call, the home plate umpire at the North Jersey, Section 1, Group 4 NJSIAA Sectional Tournament left no doubt about a pitch being a strike.
And with an equally powerful third inning, the Montclair High School baseball team members left no doubt that they were Section 1, Group 4 champions.
A mammoth walk-off home run by Nick Levine to make the score 11-1 and invoke the Mercy Rule — when a team that leads by 10  or more runs wins automatically in the sixth inning — merely put an exclamation point on the day. Certainly June 11, 2021 will be one MHS remembers for a long time.
As Levine's hit rolled across the endless outfield at Woodman Field, and he ran the bases, the massive crowd — some counted as many as 800 people — erupted in cheers. Teammates swarmed home plate and Levine in celebration.
It was a celebration 57 years in the making. The last time the Mounties won a State Sectional Championship was 1964, long before anyone involved in this title was playing baseball.
"I'm proud of them for setting some new [ground]," head coach Ron Gavazzi said.
Now, the Mounties have a shot at another first, as they enter the two-game Group Finals tournament, which as a Section 1 school, they will host on Monday, June 14, at a time and against an opponent not yet determined as of Friday night.
Gavazzi said home field for the Group semifinals is a huge deal.
"I feel like that plays in our favor," he said. "We enjoy playing at 'The Wood.' We usually play our best baseball here. And certainly the community [and the] schools have come out to support [us]."
Rocky first impression
Montclair was the No. 1 seed in the N1G4 bracket, and Livingston was the No. 10, but it was hard to know what to expect from a Lancers team that had upset No. 7 Bergen Tech, No. 2 Ridgewood and No. 3 Clifton on its way to the final.
With ace lefthander Jeremy Sacks on the mound, the Mounties knew they would be hard to score on, but things were shaky behind Sacks early.
First, the Lancers' leadoff hitter beat out an infield hit, before stealing second base. Then, after Sacks got the next two batters to strike out, shortstop Sean Brown bobbled the ball and threw it away, allowing Livingston to score.
Sacks struck the next batter out, but the damage was done and while MHS was able to get Brown on base with a walk, and allow him to steal second, Montclair couldn't plate the run.
Montclair shut Livingston down in the second inning, including executing a great 5-4-3 double play, but again couldn't get things going at the plate during the bottom of the inning, despite Ethan Daddabbo and Will Godsil walking to get on base.
Redemption
In the first two innings, Livingston's pitcher showed off a strong arm but very little control and with each at bat, Montclair seemed to gain just a little more edge over the pitcher.
So far during the State Tournament, MHS has often taken a few innings to get the measure of the opponent on the mound, and despite producing outs when making contact, each ground out or fly ball seemed to show Montclair getting ever closer to cracking the pitcher.
Montclair's batters started at the top of the order with leadoff hitter Amar Francis, who sent a rocket into the gap between short and third base. Jack Burke followed that up with a single, which allowed Francis to reach third base.
Then Brown, one of the best hitters on the squad, sent Francis home with a big double, tying the game. Sacks would help his own cause with a sacrifice hit that sent Burke home, and then Levine drove Brown home to make the score 3-1. Two batters later, Melvin Matias would make it 4-1 with an RBI single.
Livingston then walked the next two batters before Francis came back to the plate and drove in a run to make it 5-1. Burke sacrificed another run in to make it 6-1 and then Brown came up for a second time in the third inning with two men on.
The double had clearly refocused the Mountie shortstop, and he bashed a pitch deep into the outfield, where it reached the Woodman field track and kept going. Brown swiftly rounded the bases and crossed the plate, unleashing a scream of pure joy that the student section behind the fence returned with equal fervor.
Just like that, Brown's early struggles were forgotten and the Mounties were in complete control up 10-1.
"Coach preaches it every day," Brown said after the win. "Practice, game, no matter what, I've just got to stay in the moment and take it pitch by pitch. I can't let any errors or mistakes build on me. I've just got to keep it going. We got seven innings to play with 21 outs. I've got to keep playing."
Solid Sacks
When Sacks returned to the mound, he continued to look relaxed and in good command of his pitches. The Lancers were getting the measure of him a little, and managed to get two men on right away.
But as he has all tournament long, Sacks regained control and shut batters down, striking out three of the next four batters and stifling a potential Livingston response to the MHS 10 run inning.
He also had some help in the fifth inning, including two sharp throws from Brown to gun down a runner vying for an infield hit.
For Francis, it's a big deal to know a guy like Sacks is there to keep Montclair in a game when the bats are struggling, but also able to shut down batters with a lead.
I mean, Jeremy, he's amazing," Francis said. "He's our guy. That's the guy. I would do anything for that kid. He's one of a kind. He's very special."
Across the fifth and sixth inning, Sacks allowed just two more hits. Overall he allowed just five hits on the day.
"Jeremy's thrown great in the State Tournament," Gavazzi said. "He's been very aggressive, attacking hitters, moving [the ball], mixing it, staying on the attack. He's been really impressive. He's had a great career, he's had a very good season and I'm so proud of him."
History in the making
When Levine hit his home run to end the game, the gravity of the moment was not lost on Gavazzi.
"It seems like every year we're doing something for the first time in a long time," he said. "I mean, this is certainly historic."
This is the second long drought Gavazzi's teams have snapped as well.
"You look back at 2012 when we broke the [Greater Newark Tournament drought] at 49 years," Gavazzi said. "Now the 57-year streak with the state. It just shows you that in recent times, we're just as competitive as any other team here in North Jersey, in our county and certainly our league."
With a win on Monday, MHS could forge more new ground, with an appearance on Saturday, June 19 in the Group 1 Championship.