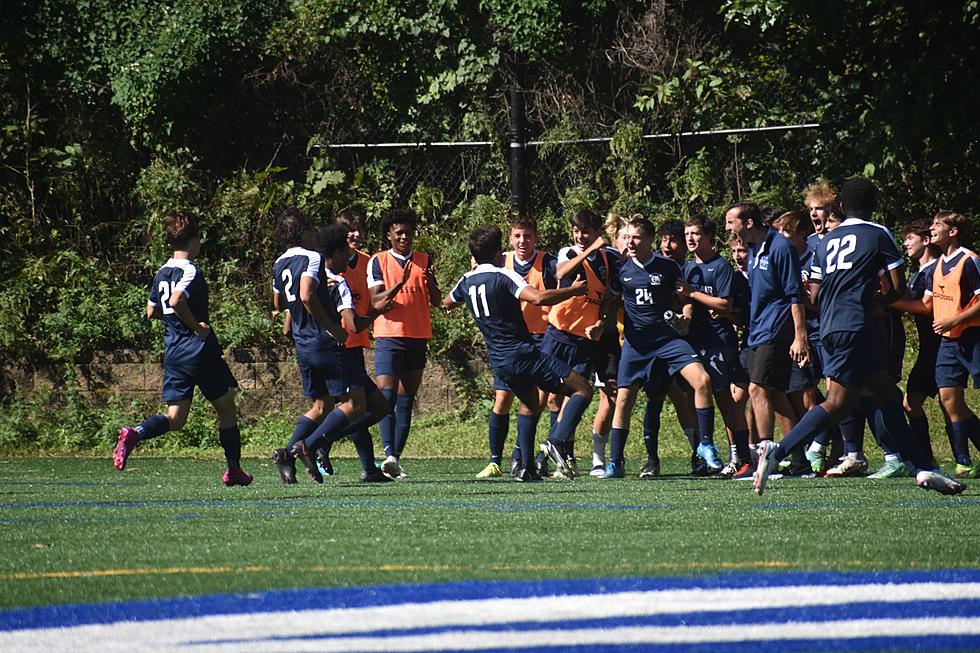 Montclair High beats crosstown rival Montclair Kimberley, 2-1
MHS senior Kerem Bulut (11) plays to the crowd and the bench after his second goal against Montclair Kimberley Academy on Saturday, Sept. 25. Bulut's two goals were the difference for the Mounties in their 2-1 win.
ANDREW GARDA/STAFF
BY ANDREW GARDA
garda@montclairlocal.news
For the second time in less than a week, Montclair High School and Montclair Kimberley Academy collided on the soccer field, this time on Saturday, Sept. 25, with the boys teams, after the girls played on Tuesday, Sept. 21.
MKA took the girls game in a tight 1-0 win, but Saturday morning it was the Mounties who eked out a victory over their opposite number, 2-1.
Every game counts, but that was even more critical this week as the Essex County Tournament seedings were released on Wednesday, after deadline. A win over a top team could secure a higher seed, a big loss could send a team to a lower seed.
Even a tie against a good team matters right now, and MHS continued to get hot at the right time as it tied Seton Hall Prep on Tuesday, Sept. 28, 1-1. The Mounties took the undefeated Pirates to double overtime, which will likely be reflected in the seedings Wednesday.
The goal by Montclair was by Filippo Gaisie.
In the MKA win, the difference for MHS (5-1-1, 3-1-1 SEC-American) was senior Kerem Bulut, whose two goals gave Montclair a two-goal lead midway through the second half, a deficit that was just a little too deep for the Cougars to overcome.
Not that MKA (3-4, 1-4 SEC-American) didn't make it closer than the Mounties would have preferred. 
The Cougars didn't quit, with a goal by junior Omar Martinez with eight minutes left in regulation off a nice pass by Brandon Yeu. 
MKA was reinvigorated by the score and pressed the Mounties for much of the remaining time, with Montclair's defense staving off attack after attack. Martinez nearly tied the game on a sliding shot in the keeper box that went just wide on the far side, and another by junior Dash Weintraub that was slightly off the mark.
While Montclair head coach Toure Weaver was pleased with the win and his team's overall progress, he feels there is still work to do.
The Mounties had very little time to adjust to any issues afterward, since Tuesday they were facing Seton Hall Prep (7-0-1, 4-0-1 SEC-American), considered the top team in the Super Essex Conference. Seton Hall slipped by MKA in week one with a 2-1 win but has since gutted the competition, 25 goals to 2, with five shoutouts in the six games after MKA.
"I think we've got to take some lessons from today. I think we could have been much better in the second half," Weaver said. "In the beginning of the year, we spoke about learning as we go, and this is a game that we've got to take lessons from. We worked hard, but I don't think we necessarily worked smart."
Two other spots Weaver feels could be improved are defense and possessing the ball.
"Defensively, I thought we were a little disorganized, and then in possession, we could have settled the game down by possessing more, not just getting rattled by the moment," he said. "So, lessons to take, but we still got the 'W,' so that's a good thing."
Like Weaver, MKA head coach Rob Leather was pleased with the effort, but saw things to fix.
"My one critique is they scored two really, really good goals, and we had a lot of situations like that and didn't quite match that sort of execution," Leather said. "It was a good local [match], good lively game."
Leather felt that MKA had every chance to beat its crosstown rival.
"I felt like we could outplay them through the midfield, and I thought we did that in the second half," he said after the loss. "It was trying to find ways to break them down, and at the end we have two great chances, by Omar and Dash. He'd gone on the wrong foot instead of going with his right foot."
In the end, the Mounties — specifically Bulut — made the most of their advantages one time more than the Cougars.
"Our main goal is to finish [each chance] from the start," Bulut said of the Mountie offensive effort. "And from the start, we just came out a hundred percent. We're looking for that first goal and we got it. Got that second, [and] we were looking to finish up with the third to completely seal the game."
Weaver said Bulut is a problem for opposing keepers because of how powerful his shots are.
"He's super-dangerous," the coach said. "His strikes on frame, on goal, when he shoots, he gets ahold of [the ball] and even if it's not perfectly placed, it's so uncomfortable for the goalkeeper because of how hard it hits him."
The Cougars were not at all interested in letting Montclair put the game away, though, and played stifling defense in the second half, with keeper Andrew Avalos coming up with some nice saves. 
His opposite number from Montclair, Gabriel Smullyan, came up big several times as well, as MKA continued to pressure the MHS defense until the last whistle.
On Tuesday, while Montclair was grappling with the giant that is Seton Hall Prep, MKA was struggling against Livingston, in the end falling 4-0.
The results for both MHS and MKA absolutely will have factored into their bracket positions on Wednesday. 
The question will be if the Super Essex County Conference sees the loss to Livingston as really bad for MKA while viewing the tie by MHS against Seton Hall Prep as impressive.