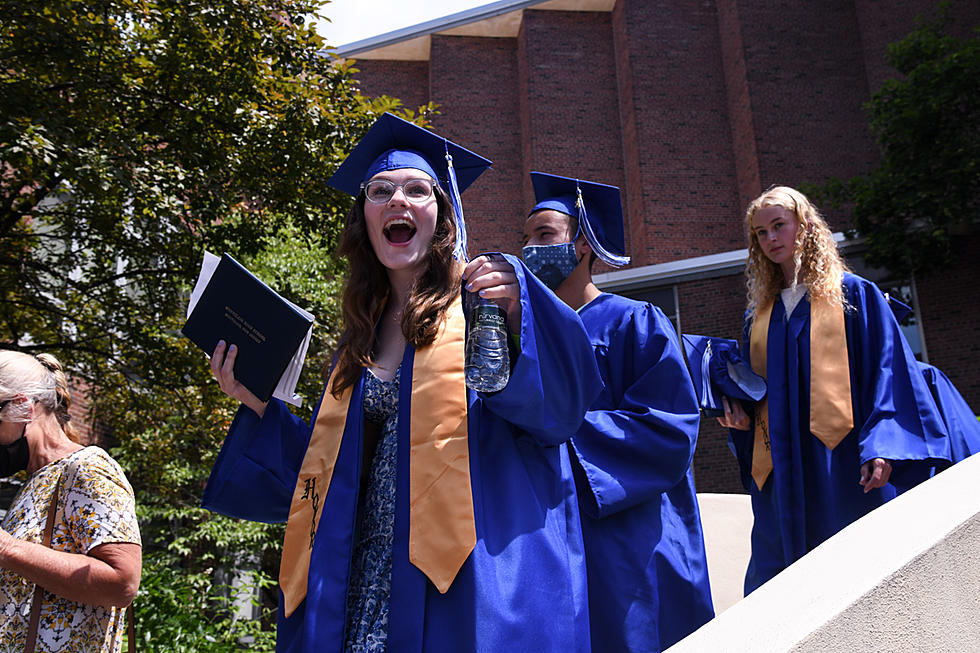 Montclair High School graduation 2021: 'Pride, love and admiration'
Graduates cross the bridge after the ceremony at the Montclair High School 2021 commencement June 24, 2021 (KATE ALBRIGHT / FOR MONTCLAIR LOCAL)
By DIEGO JESUS BARTESAGHI MENA
bartesaghi@montclairlocal.news
Herbert Coleman stood with other Montclair High School students lined up on Midland Avenue, their last day as seniors at a school many of them hadn't attended in person since the start of the coronavirus pandemic. 
He wasn't feeling any strong emotions yet, he said. But he knew that would change.
Coleman knew, he said, once his commencement ceremony came to a close, "it would hit me that I completed four years of high school, and it's going to feel great."
Coleman, who is moving to North Carolina after graduation, was one of more than 500 MHS seniors set to get their diplomas on Thursday, June 24, at the school's 154th commencement. He was there for the first of three ceremonies in the MHS amphitheater, split up to accommodate the size of the class and students' families. 
More from Graduation 2021 in Montclair
Niamh Cahill felt eager to finally graduate, describing the past year — in which the graduating class was on an all-remote schedule until some seniors returned for a hybrid in-person schedule just a few weeks ago — as difficult.
"Last year we couldn't see our friends for months," Cahill said. "It was hard learning online and not being able to communicate with teachers." 
She will be going to Canyon College, and is still deciding what career to pursue. 
Valentin de la Peña said he was glad to start a new chapter in his life. 
"I would say last year was challenging because it has been a lot of obstacles for us but that kind of helped us grow, and I think we are a unique graduating class," de la Peña, who is going to Northwestern University to study mechanical engineering, said.
Gaea Caro decided not to return to in-person learning when the option became available to seniors at the beginning of June. Under executive orders from Gov. Phil Murphy, any family could keep a student on remote-only learning this school year, even if a school system offered some level of in-person class. All schools are expected to offer only five-day, in-person in the fall.
2021 Montclair High School graduates + colleges
"I am excited to go and study what I am really interested in. So, I am really excited about graduating," said Caro, who will be studying marine biology. 
Maximilian Cytron, who is going to Missouri University to study computer engineering, said he was happy to see everyone back together.
"It was the first week in a year and a half that we were together. It's nice to see everyone," Cytron said. 
Aliyah Andrews was excited to graduate, but nervous to go to college. She described the last year as chaotic.
"We haven't had one regular year since freshman year," Andrews said. "But we did it. So that was good."
Andrews will be going to American University and will double major in public relations and strategic communications.
In the amphitheater, families gather to cheer for their graduates. Some shared some advice for their lives going forward.
"Just follow your dream. Never give up. Just keep persevering through anything. The fact that they are here today proves that they are resilient and they can combat anything," Phyllis Brown, mother of graduate Ya'Nae Brown, said.
David Blackburn, from the MHS class of '87, saw two of his children graduate June 24 — Madeleine and Maxwell Blackburn. He said the year was hard for his kids, but he felt proud of them and of all the graduates for the work they put in during this past year. 
"Stay positive, help each other and celebrate each other," Blackburn said.
Masiel Callejas, who is originally from Colombia, said her son, Michael Callejas, was frustrated during this past year because he was unable to meet with friends, but she was glad to finally see him graduate.
"Enjoy life, and whatever happens, God will be with him. Whatever comes, good or bad, take it as a learning experience," Callejas said. "Siempre positivo, always positive." 
Karen Gallione saw her first son, Devin Gallione, graduate. She said her son was able to overcome the challenges of virtual learning thanks to his girlfriend, who helped him study. She advised his son, and other graduates: "Be open to new perspectives of new people. They are going to different states, so be open to other perspectives. 
Nancy Scollan, who described herself as Gabrielle Diaz's "auntie," said she was excited for the graduates to finally be able to be up on stage, following through with the traditions they'd been looking forward to for four years.
"Keep your goals in sight and stay focused," Scollan said. "Whatever happens, whatever knocks you down, brush it off and get back at it." 
Yenny Medino, originally from Mexico, came to support her sister, Odalys Arias Lopez.
"Que le eche ganas y que salga adelante," Medino said in Spanish, meaning she wants Lopez "to keep pushing and to keep moving forward." 
Avery and Monte Lipman, MHS graduates from 1984 and 1982, told the class they were proud to have started a company, Republic Records, that "now competes at the very highest level." They introduced rapper and New Jersey native Coi Leray, who told the graduates: "Don't never let nobody tell you who you are. Stay true to yourself."
The last year, Monte Lipman said, was "one for the history books." 
"You have been challenged in ways that are unimaginable. In addition to being high school students, many of you have become caregivers, social activists, and might have suffered great loss," he said. "You may not realize it now, but this moment would set you apart from generations to come, and have prepared you for the unpredictability of life."
Elias Benchekroun, 2021 class president, gave an emotional speech, which he dedicated to his father and the class of 2021. 
"As I look back at the class of 2021, the people I've grown up with, I have nothing but pride, love and admiration," Benchekroun said.
He'll be majoring in international business with a minor in political economy. 
"I could tell you that you are all going to be incredibly happy and successful for the rest of your lives," Benchekroun said. "The reality is that your paths might be filled with many ups and downs. Sometimes you would laugh and sometimes you would cry. What I do know for certain is that while the road ahead may not be easy, you, and only you, are in control of it. While writing the story of your life, don't let anyone else hold the pen. Be prepared for the trials and tribulations ahead. But remember you are more than prepared to face them. Hard work always beats talent when talent fails to work hard."
A photo caption in an earlier version of this post included an incorrect last name for Jayden Berrian.