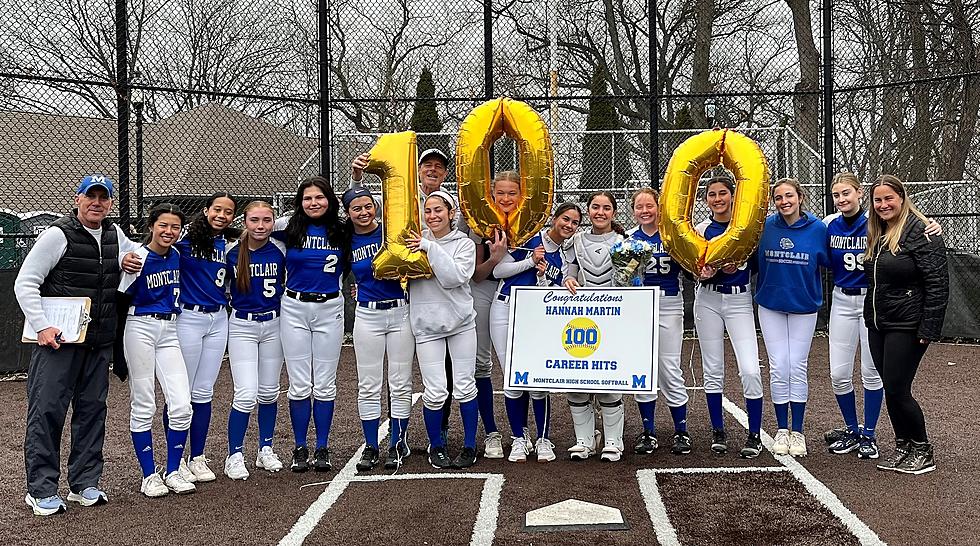 Montclair High School junior Hannah Martin hits century mark with a bang, home run
Montclair's Hannah Martin 100th hit. (COURTESY MONTCLAIR SOFTBALL).
Softball and baseball players always dream about hitting the big home run in a game.
Montclair junior third baseman and catcher Hannah Martin got her 100th career high school hit with a blast in the first inning at Nutley on April 5.
The home run would help propel Martin and the Mounties to a 19-5 win over the Raiders in a Super Essex Conference American Division battle.
"Getting my 100th hit was such a great feeling because it's something I've been working towards for the past two years," said Martin, who got it in the second game of the season. "It was also awesome to be able to start off the season with it."
And it was twice as nice to smack a dinger for the 100th hit. "It felt awesome getting it as a home run because it felt like all of the work I've put in wrapped up into one moment, which is a pretty cool feeling," Martin said.
For Montclair softball head coach Michael Goldstein, the astonishing part is that Martin has reached the mark in a brief span.
"An amazing accomplishment, especially to achieve that in such a short amount of time," Goldstein said.  "She has 101 hits in slightly more than two years of playing, and she missed a couple of games last season due to illness. A great player, a great teammate and a great leader on and off the field."
Martin said she tried not to dwell on it after she fell one hit short of the century mark at the end of the 2022 season.  "I ended last season with 99, so I knew I was getting close, but I did my best to keep a clear mind at the plate and during games," she said.
She added that Goldstein and her father, B.J. Martin, were very supportive of her reaching the milestone. "My coach and my Dad mentioned it to me a few times, but I think they wanted me to keep a clear head during games," Martin said.
She had a spectacular sophomore season in 2022 that had her win Group 4 second-team honors.
Martin was tops in New Jersey in RBI with 56 last season. She led Group 4 in hits (53) and extra-base hits (23) as well as RBI and was second in the group in runs scored with 52, behind teammate Brooklyn Awad, a freshman who had 54 runs. 
Martin was a big reason for the Mounties' finishing with a 20-7 record and winning the Super Essex Conference Liberty Division title.
This season Martin and her teammates are ready to take on the SEC American Division, the top echelon in Essex County. As of Monday, April 10, the Mounties were 2-2 overall and 1-2 in the American.
"I am very confident with the team this season," she said. "We worked hard in the preseason and have really come together as a team. With being moved up a division, I know that we're ready to compete at that level."