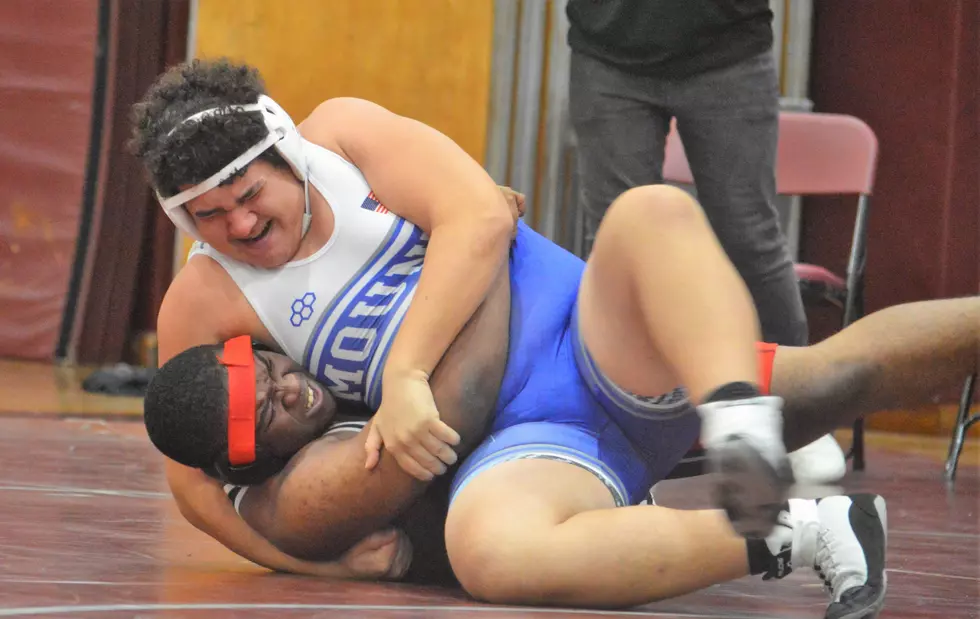 Montclair High School wrestlers, under a new coach, aim to peak in season's second half
Montclair sophomore Michael Monderoy (top). (EDWARD KENSIK/STAFF)
The Montclair High School wrestling team has a new head coach this year, and he's taken the reins after the squad went through a highly unusual season.
Last year, under former head coach Eugene Kline, the wrestling team saw its membership plummet from 40 down to 21 wrestlers as the coronavirus pandemic raged. 
Despite that, the Mounties finished with a 6-9 dual meet mark and qualified for the state tournament.
Ryan Corbosiero, who takes over for Kline this year after four years as head wrestling coach at Passaic High School, hopes to keep his group together for the full season. 
"I heard about the job at the very start of the school year," Corbosiero, a physical education teacher at Charles H. Bullock Elementary School, said. 
"Since most of my co-workers know I was already a wrestling coach, a bunch of them were accentuating that I should apply for the job."
Coming into the season, Corbosiero had to replace most of the team's top wrestlers, who graduated — Ross Berkowitz, Noah Dnistrian and Al-Tamir Coco, who were named to the  All Super Essex Conference Colonial Division first team last season. Those three, along with another graduated senior, Ihsan Falaise, and current senior Nelson Claremont were the wrestlers who fell to top-seeded Livingston, 75-6, in the North 1 Group 5 state playoffs.
The coach said the target for the team is to excel in the second half of 2022-23. Montclair was 0-3 in dual matches as of last week in the early going.
"My overall goal is very general and just for each wrestler to become the best versions of themselves and maximize their potential by the end of the year," Corbosiero said. "I would also strive for the team to qualify for the NJSIAA sectional playoffs and have at least one athlete qualify for the NJSIAA State Tournament in Atlantic City."
At its first tournament of the season, Montclair finished sixth in the team standings at the Clifton Invitational on Dec. 17. The Mounties were led by Claremont, who took home the title at heavyweight. Sophomore Michael Monderoy was third at heavyweight for the Mounties. 
Sophomore Jaden Lee had the next-best finish after Claremont, with a second at 126 pounds. Three other Mountie wrestlers took fourths, junior Ethan Pinillis (144), sophomore Richard Williams (150) and sophomore Jack Lebiedzinski (157).
At the beginning of the season the team was hampered with injuries and illnesses, and some of the wrestlers were playing out of their weight class. 
"Once we get everyone inputted in the right weight classes I think we could be a pretty competitive team," Corbosiero said. 
While most of the team consists of first- or second-year wrestlers, they are athletic, and the coach is optimistic about the season's outlook. 
"I was very impressed on how quickly they were able to pick up on the techniques and skills that were being taught in the first few practices," Corbosiero said. "I still think that we could make a splash this year."
Like many high school wrestling teams, Montclair struggles to fill the lower weights. "We may have to give some forfeits in the lower weights, but we have some good depth in the upper and middle weights," the coach said. "Right now, our biggest problem is we have a lot of good wrestlers all in the same weight class."
The top wrestler returning this season is Claremont, who was an All Colonial second-team wrestler last season at 132 pounds and is captain and a leader in the room. For this season he jumps up to 215 pounds.
"Nelson is one the best athletes I ever coached," Corbosiero said. "I think he definitely has the capability to get to the state tournament. We need to have some big wins early on in the season to help his seed in the district and regions. 
"He is also currently wrestling up a weight class. His goal is to get to 215, but his plan does not allow this to happen for a few weeks."
The other top wrestler returning is junior Finneas Jones, who received All-SEC Colonial honorable mention for 2021-22. In the off-season Jones worked on his craft by attending an intense wrestling camp, Jules Jordan Camp in Ohio. 
"Finn has really bought in on what it takes to be a great wrestler," said Corbosiero, who believes he has a shot at the state finals in Atlantic City. 
"He also has been doing club wrestling all off-season. Not only does he work hard during practice, but he is constantly staying after practice drilling moves and practicing new techniques.
"He dealt with some illness early on in the season, but I think if he continues working the way he does the sky's the limit for his success this season."
Beyond Claremont and Jones, the Mounties have several other wrestlers who could make some noise and collect points in dual matches. 
Leading the way are Lee (126 pounds), Pinillis (144 pounds), Williams (144/150 pounds), Lebiedzinski (157 pounds) and Monderoy (heavyweight).
Along with Claremont, the other seniors on the roster are Shemar Harper (175 pounds), Arturo Estrada (190 pounds) and Charles Ciambra (215 pounds).
For this season the Mounties move into the Super Essex Conference Liberty Division, where the teams to beat are Belleville and Verona.
Montclair wrestling schedule
(Matches at 5 p.m. unless noted)
Dec. 29 at Roselle Park Tournament, TBA
Jan. 4 Cedar Grove
Jan. 6 at Elizabeth
Jan. 7 at Belleville, TBA
Jan. 11 at Kearny
Jan. 13 Belleville
Jan. 18 at Glen Ridge
Jan. 20 at Verona
Jan. 25 Essex County Tournament, Codey Arena, TBA
Jan. 26 Essex County Tournament, Codey Arena, TBA
Jan. 28 Montclair Tri-Meet, 9 a.m.
Feb. 3 Kennedy
Feb. 4 at Nutley, quad meet, 9 a.m.
Feb. 10 Montclair Tri-Meet, 9 a.m.
Feb. 11 at Madison, 9 a.m.
Feb. 18 State individual districts, Randolph, TBA
Feb. 24 State individual regionals, West Orange, TBA
Feb. 25 State individual regionals, West Orange, TBA