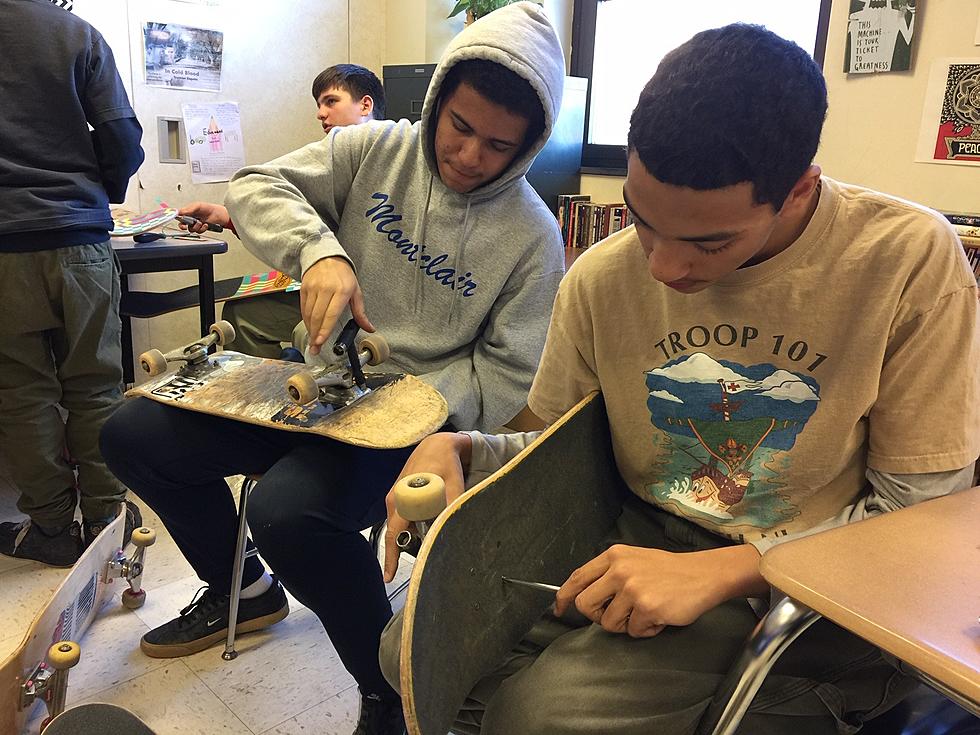 Montclair High School skate club overhauls skateboards to ship overseas
ERIN ROLL/STAFF From left, juniors Kyle Lauture and Antonello Terrana work on assembling skateboards. The skateboard overhaul project was done in partnership with Shred Co., which is assembling and collecting overhauled boards to ship to three partner organizations in Zambia, Zimbabwe and Angola.
By ERIN ROLL
roll@montclairlocal.news
It's after school hours, but science teacher Jamie Siwinski's second-floor classroom is a hive of activity, with the sounds of scraping, clanking and grinding.
The classroom serves double duty — science room by day and headquarters of Montclair High School's skate club after school. Last Wednesday, Jan. 22,  it was transformed into a skateboard assembly line factory, as students overhaul and assemble new boards from donated parts.
The completed boards will be shipped to skate groups in Zambia, Zimbabwe and Angola.
One group of students applies sheets of grip — dark gray, sandpaper-like tread that helps a skater keep their footing on the board — to skateboard decks. At the back of the classroom, other groups of students are sorting wheels and trucks.
The group is working with Evan Dittig, the founder of Wayne-based skateboard instruction company Shred Co.
Dittig moves around the room, giving instructions and tips to the students, and helping to unload and sort parts.
The parts have come largely from skate shops in northern New Jersey, including Underground Skate Shop, Travel Skate Shop, Travel Skateshop and NJ Skateshop.
Most of the tools belong to Dittig and Siwinski, but some of the skaters have brought their own tools, including T-tools that are used to tighten the lug nuts on trucks.
The goal is to have 30 overhauled boards ready to ship by the end of the day.
The skateboard overhaul is the group's first major project, after the Skate Jam that was held at MHS in October.
Some of the club members have been skaters for a few years at least. Others may only just be learning or thinking about learning. "I think what the club is doing is really dope," says senior Davida Task, who is helping to sort wheels and trucks. She herself is not a skater, but is trying to learn.
Nearby, senior Devon Hoskis is securing wheels to trucks, making sure they are a good fit. She has been learning to skate since the spring.
Stasia Mitchell, a junior, has just finished sorting a batch of wheels.
Mitchell, also a skater, recalled that when she joined the club about four months ago, the entire group was very welcoming.
Some of the students dropped by after seeing posters in the hallways or hearing about the club through other means. Others have learned about the club through the skatepark advocacy projects, such as the October free skate session, a petition drive that garnered more than 3,000 signatures, and 30 skatepark supporters coming to speak at a township council meeting.
The project to overhaul skateboards and send them overseas got started when Dittig went to South Africa to attend the Goodpush Global Summit for Social Skateboarding in Johannesburg. Goodpush is a project that helps support skateboarding-related social projects around the world.
While at the summit, Dittig made the acquaintance of three skateboard group leaders: Johnny Kalanga of We Skate Mongu in Zambia, Jesse Mendes of the Angola Skateboard Union and Chenai Gwandure of Skate Zimbabwe. All three groups run youth skateboarding programs in their respective communities. Through them, Dittig learned of how there is a need for skateboards and gear in rural regions of those countries, where skateboarding is popular but access to skate shops can be difficult. By contrast, Montclair skaters have access to a wide array of skate shops and suppliers, Dittig said.
Shred Co. is working with the three groups in Zambia, Zimbabwe and Angola to distribute the boards to skaters who need them.
It's been a busy time for the club, says Antonello Terrana, the MHS skate club president. "This year, it's really boomed," Terrana said. "People noticed that we're trying to bring skateboarders together." The club started out with a small group of students, he said, but has since grown to 30-plus students, he said. He attributes the jump in membership to the publicity over the skate park campaign.
"People get intrigued when we say we're a community of skateboarders," Terrana says.