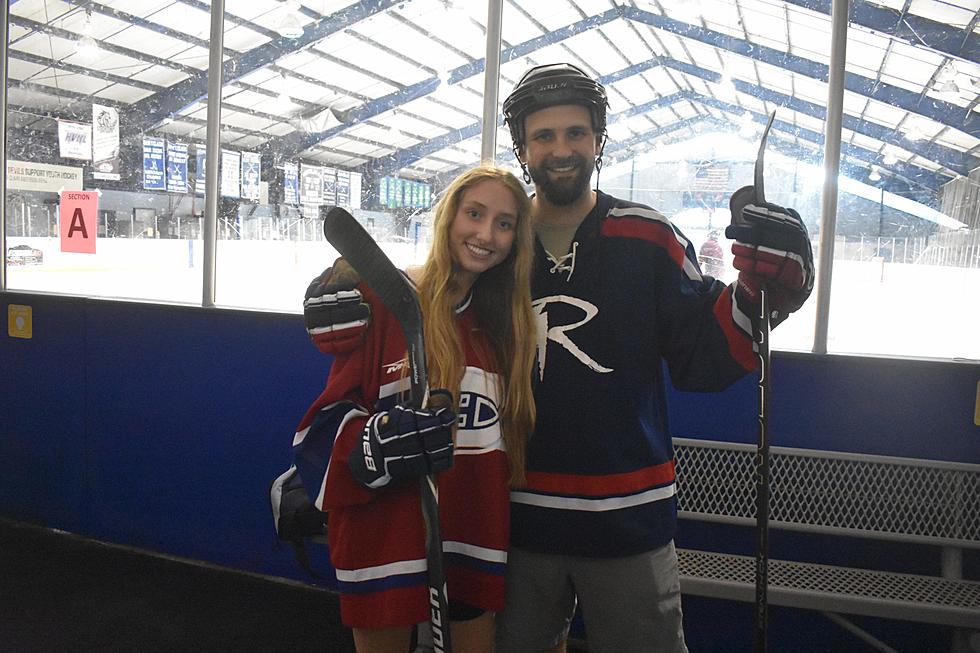 Montclair High sophomore looking to build girls hockey team
MHS sophomore Natalie Smith and her cousin, Connor Smith, are looking to give girls a space of their own on the ice with an all-girls hockey team at Montclair High.
ANDREW GARDA/STAFF
BY ANDREW GARDA
garda@montclairlocal.news
No matter who's held the post of athletics director at Montclair High School, the mantra has always been, "If there is enough interest, passion and people, we can find a way to do it." 
MHS could see another new sport next winter season, as efforts are underway to put together a girls hockey team.
There's a lot to be done before then, including getting approval from both the high school and the district, but the two things that the effort already has an abundance of are passion and interest.
That will make all the difference, according to MHS sophomore Natalie Smith, who hopes the efforts of her and her cousin, MHS graduate Connor Smith, will provide a space for girls to play, and play the type of game they want to. Girls hockey has no hitting, which lends itself to a fast, pass-happy game that can move quickly. There is more time to try various moves with the puck, unlike boys hockey, where a player always has to beware of a defender coming by to check him to the ice.
"Girls on the [Montclair High School] team haven't had great experiences," Natalie Smith said, citing lack of playing time and some isolation from the boys.
Smith is a field hockey player. She and several teammates were provided an opportunity to skate in a hockey rink via a sponsorship by the NHL's New York Rangers.
"They gave us a bunch of equipment and let us just go on the ice for the day and learn how to skate," she recalled.
She and others joined what she called a "little league team, just for fun," and then when her cousin returned to Montclair from Florida, the two got to talking about how great it would be to start a team just for the girls.
"We don't have one, and I know a lot of the girls who are on the boys team right now don't have good experiences when they're on the team, so it just seemed beneficial to our school," she said. 
The plan is for her cousin to be the coach, after going through the usual high school approval process.
"I've always wanted to come back and coach the hockey team," Connor Smith said. "So I've been in touch with the coaches. But Natalie said she wanted to play and I said, let's do this. Let's have a girls team."
---
READ: MHS BOYS TENNIS IN STATE SECTIONAL FINAL, TUESDAY AFTERNOON
---
As a young hockey player, Connor Smith was in part inspired by a teammate at Montclair High School — Jacquie Pierri.
Pierri graduated from MHS in 2008, played four years at Brown University and then went on to play professionally in Canada for the Calgary Inferno and then in Sweden for SDE Hockey.
"She's probably in the top 40 USA women hockey superstars and was close to making the USA Olympic team," he said.
When he was developing this idea, he spoke to Pierri.
"We did a Zoom call and we hadn't talked in about 10 years," he said. "She was on the verge of tears with how excited she is with this program starting here."
It means a lot to seniors and rising seniors as well. The Smiths say that the older girls want to leave a legacy behind for other kids, and that the veteran girls hockey players spend time helping the inexperienced girls. One such player brought a friend who had never skated before and spent practice holding her upright while she got her feet on the ice.
The team will probably need to put together a collection of high schools to get the team off the ground, not uncommon for High school teams of any gender. The Smiths say there is already a lot of interest and that they are hearing from parents in nearby towns like Nutley and Glen Ridge.
The interest is just as robust  inside the school, according to a survey they sent out to the MHS community.
"When we put out the original form," Natalie Smith said, "We had 44 responses, which is a lot. These were not just girls with experience, but girls who were like 'I'm putting on skates and trying this out.'"
The first year will see a mix of new and veteran players in uniform.
"Half the team will be girls who have never skated before, they're going to be holding onto the boards, trying to figure it out. Then another part of the team will be girls who have played their whole life. And then there's a group right in between the two," Connor Smith said.
That means the coach is going to have to be creative in balancing the players who can play and teaching those who never have. 
The team already has a lot of ice time set up, and that should help expedite the teaching and learning process between now and a winter season.
"We should be able to build a pretty competitive team while still being able, on the other half of the ice during practices, set up our JV system," Connor Smith said. 
There won't be JV games, but when members are ready, they will step right onto the varsity squad.
The team will play in the New Jersey Interscholastic Girls Hockey League, as the New Jersey State Interscholastic Athletic Association does not run girls hockey. If they can prove themselves sustainable, the league will let them join it officially.
While the Smiths are working on their end, Athletics Director Patrick Scarpello is lining up things on his end.  For now, that means scheduling a meeting with Superintendent Jonathan Ponds to discuss the effort in early July.
The Smiths know that even if Ponds and Scarpello say yes and they have the funding, the team needs to be approved by the district's business administration.
Still, Connor Smith said having Scarpello on their side is key because he pitched in on a girls hockey effort while with Summit. 
"He was one of the key components in actually putting together the New Jersey girls league which exists," he said. 
Until the green light is given by the district, the Smiths and the girls interested in the team are hitting the ice every time they can.
"We're practicing, we're working as hard as we can, we're having fun, and we're building momentum," Connor Smith said.
While the girls are practicing, they will also be trying to raise money. Their first big fundraiser will be on June 5 at Clary Anderson Arena from 2:00 pm - 5:00 pm], called A Slice on the Ice. The event will have other clubs there and feature $5 skating and pizza giveaways.