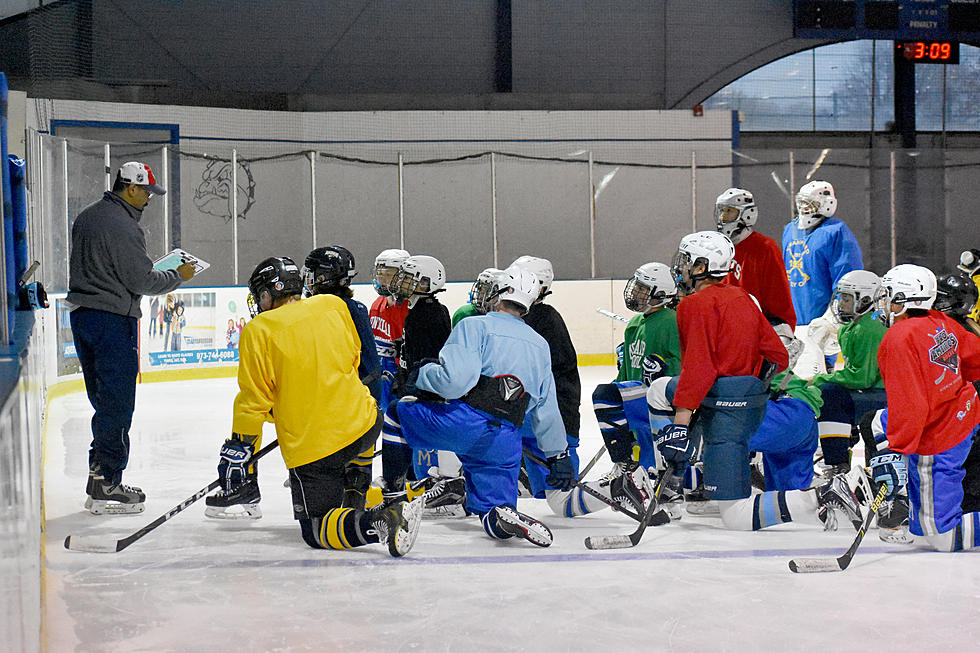 Montclair hockey: Ceccio steps into net, helps Mounties to 3-3 record
With many teams, including local rival Montclair Kimberley Academy, battling COVID-19 issues and shutdowns, Montclair has stayed focus, eschewing club play and other outside activities to protect against infection and stay on the ice.
PHOTO BY ANDREW GARDA/STAFF
by Andrew Garda
garda@montclairlocal.news
In an unusual year, sometimes unusual steps need to be taken.
The Montclair High School hockey team had to take one itself when it ran into preseason goalie trouble. Originally the Mounties (3-3, 1-2 NJIIHL - McInnis) expected to have three goalies, but then players opted out or got hurt, and suddenly they found themselves with none.
Which meant head coach Mark Janifer had to look in another direction. He found his answer in the unlikely person of senior Ben Ceccio.
If the name seems familiar, it's likely because of his efforts in the fall with the boys soccer team, during its state championship run. Ceccio had been a mainstay on the Mounties soccer squad for years and had a brilliant season on the pitch.
When a fellow senior on the team approached him, Ceccio agreed to jump between the pipes.
If you didn't realize Ceccio played hockey, don't feel bad – until this year, he didn't.
"We needed a goalie, and he volunteered," Janifer said. "He knows a number of the seniors on the team, he's good friends with them, we needed a goalie, and he was nice enough and had enough character to step up and do this. It's crazy."
Janifer said Montclair is lucky kids like Ceccio are around who have the self-confidence, courage and athletic ability to hop onto another field of play.
"He's a star in his own right in soccer, he had nothing to prove or nothing to gain by doing it," the coach said. "He's doing it just to support his friends."
It's been that kind of year. 
Montclair has been up and down, adjusting as several games had to be moved for COVID-19 or other reasons, with tough losses against West Essex, Livingston and Governor Livingston and solid victories over Cranford, Verona and crosstown rival Montclair Kimberley Academy.
Ceccio has done a good job keeping Montclair in games. After a rough first period against West Essex on opening night where he allowed two goals in the first period, he has settled down, and as long as the defense plays well in front of him, he gets the job done.
Ceccio and the Mounties were supposed to have their biggest test Tuesday night, as they were scheduled to face hockey powerhouse Summit on the road.
But Summit has been shut down right now due to a positive COVID-19 test, so that has been rescheduled. The Mounties had two Summit games scheduled and moved one to Monday, Feb. 15. The fate of the second game is up in the air.
Senior Brett Janifer has led the Mounties in scoring with 8 goals, as the Mounties have a plus-2 in plus/minus goals, scoring 25 compared to 23 allowed.
"It's crazy because you get hit with COVID and there goes a third of your season," Janifer said. "So we had two games with them and we've been able to reschedule one of them. I don't know what their schedule would have been, but over the first two weeks you'd have an absolute minimum of four and most likely five or six."
The entire season, including the preseason, will be eight weeks, with six weeks of play. 
"That's nothing. We might end up playing half of our games that we'd normally play in a season, if we're lucky," Janifer said. "I don't even think we'll get in half."
As has been the case for Montclair sports this year, the first phase of winter sports has been COVID-free, including hockey.
"All the seniors this year stopped playing on their club teams because they didn't want to have that interfere with the high school effort, and not only because of conflicts in schedule but also just making themselves vulnerable to COVID," Janifer said. "So there is a good dedication amongst the guys to get this season in and have it be as good as possible."
He said that as bad as it would have been to get a shutdown early, at this point it would be a disaster.
"At this point if you get it because there's no time to reschedule games, and if you got one in another week you might have just killed your opportunity to play in the playoffs," he said. "So it's particularly important for teams to stay clean and have some responsibility in terms of COVID."
The playoffs will run the same as they have in years past, but with new COVID-19 restrictions, including no fans.
If the Mounties want a shot at a run, they will need to give Ceccio help, scoring goals to give him a cushion as he continues to learn the position.
Senior Brett Janifer leads the team with 8 goals, while fellow senior George Osterberg has the most assists with 7. Junior Mark Rechan has the second-most goals with 5, while his classmate Benji Peiffer has the second-most assists, with 6.
Nine different Mounties have scored so far this season, for a total of 25 goals, while the team has allowed only 23 goals against.
Montclair played at Westfield on Wednesday, Feb. 10 (score coming after press time) and then is slated to face Millburn at home today, Feb. 11, at Clary Anderson Arena for Senior Night, with the puck dropping at 4:15.
Fans are not allowed to attend.