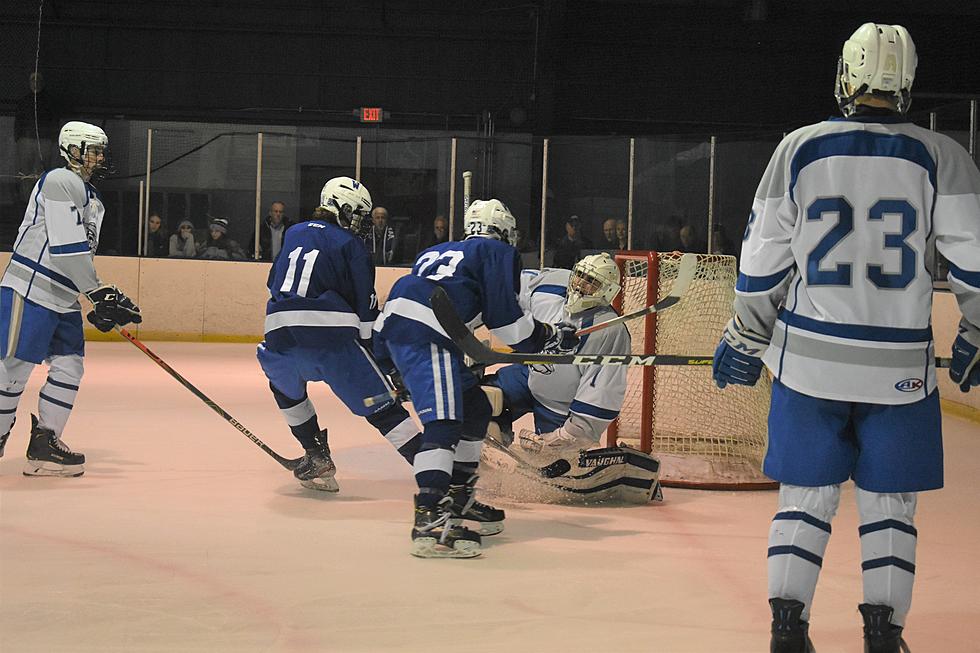 Montclair Hockey: Mounties skate past Westfield to McInnis finals
MHS senior goaltender Lucas Podvey makes a save with a crowd in front of his net during Montclair's 3-0 McInnis win over Westfield on Fe. 19, 2020.
ANDREW GARDA/STAFF
by Andrew Garda
garda@montclairlocal.news
The Montclair Mounties ice hockey team left no doubt it belonged in the McInnis Cup final with a 3-0 win over Westfield on Wednesday, Feb. 19, 2020.
The No. 2-seeded Mounties now face top-seeded Summit for the third time during the season, this time with the McInnis title on the line. The final will be played at Summit on Saturday, Feb. 22 at 6pm.
MHS dropped the first two games, but they know it's tough to beat the same team three times in one season, even if they just achieved that against Westfield.
"It's tough to beat a team three times, and that's the situation we were in tonight," said head coach Mark Janifer after the game. "We knew they would be tough and had a lot of incentive to win the game. I'm really proud of the guys."
That took no small effort as the Blue Devils fought hard for all three periods, and Montclair had to kill several penalties which threatened to pull the game closer during the second and third periods.
"We took a few too many penalties," Janifer said. "Our penalty-killing has gotten good but it's not something you want to rely on."
While penalty-killing was huge for the Mounties, it was their power-play which gave Montclair the lead they never relinquished.
It came on a slapshot from the point as Kellum Foster-Palmer beat goalie Jack Ruckman with 20 seconds left in the power play and 10:48 left in the first period.
Foster-Palmer was assisted by Cody Brennan and Eamon Thall.
Montclair didn't waste any time pressing the advantage, as George Osterberg added to the lead with a goal at 8:37 left in the period off a pass from Brett Janifer.
The Mounties got a little sloppy after that, logging three penalties in the second period, though Westfield hurt themselves as well with two.
Between their second and third penalty, however, the Mounties added an insurance goal as Janifer beat Ruckman stick-side off a Mark Rechan pass with 6:08 to go in the second period.
While Montclair would find itself a man down when Benji Peiffer for a crosschecking penalty with 2:43 left to go in the second period, they still managed to press the attack, logging four shots while shorthanded, including two breakaway chances which were denied by fantastic saves from the Westfield goalie.
The Blue Devils pulled the goalie with just over two minutes left in the third, but even then couldn't get many clear shots, and what they did get senior Lucas Podvey turned aside with relative ease.
"We got a couple of good breaks where they could have scored, but Lucas made a couple of really good saves," he said. "And a couple of pucks went off the end of sticks, maybe an inch here or there and it could have been different.
Some help from "puck luck" or not, Podvey has been red-hot for the Mounties for most of this month, allowing just three goals in the last four games since the Mounties lost to Summit 7-3 on Feb. 3. Even during that game, Podvey showed great poise and ability, as he had to deal with multiple miscues which allowed Summit to have odd-man rushes into his end.
"I think for any team, going into the playoffs in hockey, it's almost imperative that you have a good goalie. We're very fortunate to have a really good goalie," the coach said. "Tonight, the shots were 35-31. [Westfield] played a good game, they had a number of quality shots and quality chances. And he just made the saves. A lesser goalie, they're in the net and it's a different game. We don't take that for granted. We know what we have."
If Montclair is going to beat Summit for the McInnis Cup, they will not only need Podvey to continue his stellar play, but eliminate those mistakes as well.
"The problem with playing Summit is you almost have to play mistake free hockey, because any mistake you make it usually ends up in the back of your net. They have some really high level players that can finish. That can skate, that can handle the puck, that can shoot and who have a lot of skill."
Janifer said that means the Mounties need to be very disciplined, avoid allowing the odd-man rushes which hurt them in the last game and cut down on the penalties.
Everyone who shows up Saturday on both sides is well aware of what the other team brings.
"We've got to focus on playing our game, and playing the best that we can," Janifer said. "We know Summit, they know us. They're not going to surprise us, we're not going to surprise them."
There is one way to surprise Summit, however, and Mounties are hoping third time's the charm and they can find a way to beat Summit on Saturday.