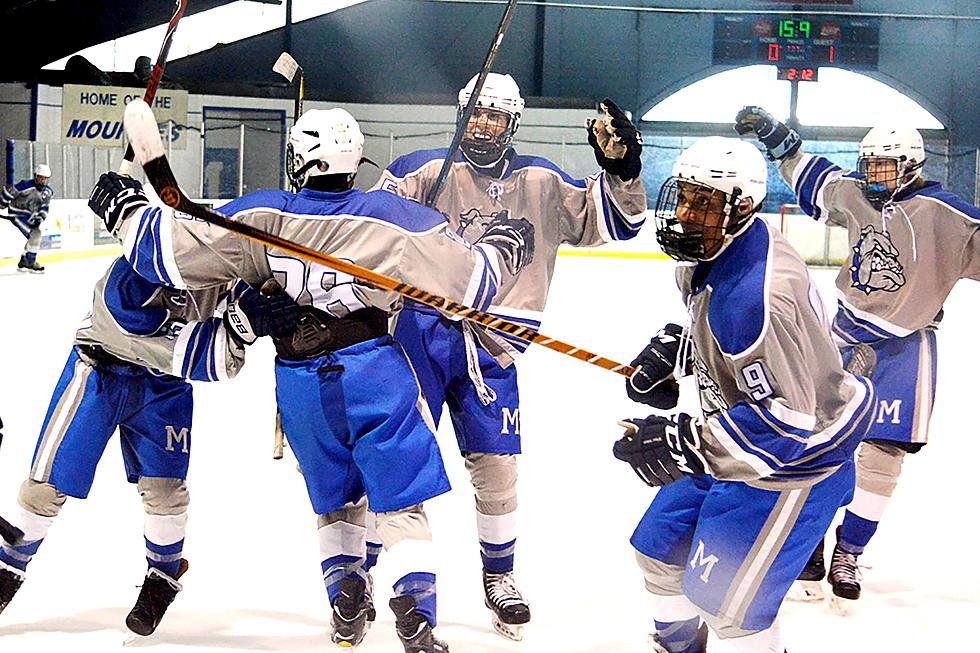 Montclair Hockey: Mounties top Ridgewood to take Holiday Tourney title
Montclair players celebrate after they tied the game at one in the third period against Tenafly/Cresskill Montclair's Mark Rechan scored on a deflection with 15.9 seconds remaining to salvage the 1-1 tie in the Montclair Invitational opener on Dec. 26.
PHOTO BY EDWARD KENSIK
By Edward Kensik
For the Montclair Local
The Montclair High School ice hockey team found its offense while one of its goalies excelled in net in Friday's holiday tournament finale.
That combination equaled a 6-4 victory over Ridgewood at Clary Anderson Arena Dec. 28, giving the Mounties (7-3-2) the Montclair Invitational Tournament title.
Montclair junior Eamon Thall had a huge day with four goals, including an empty-netter to clinch the victory late in the third period.
And Mountie junior goalie Lucas Podvey was stellar in net with 32 saves that frustrated Ridgewood, especially on their power play in the third period.
For Montclair head coach Mark Janifer, winning their own holiday tournament is the first item on the team's to-do list each season.
"Without a doubt that is one of our goals," said Janifer.
After Ridgewood took a 2-1 lead late in the first period after back-to-back power-play goals, it was Thall who came through on the offensive side, scoring twice in the second period and twice — including a shorthanded goal that extended the MHS lead to 5-3 with 10:21 to play — in the third.
"He did a really good job," said Janifer about Thall.
And it was the Thall line — Thall, Brett Janifer and George Osterberg — that proved to be pivotal in the win. Osterberg actually was just added recently to that line.
"That line has been good for us," said Mark Janifer. "Brett and Eric have shown real good chemistry and George is fitting in real well."
On the other side, Podvey had a brilliant game, stopping Ridgewood at several key moments throughout the game.
"[Podvey] did extremely well," said Mark Janifer. "He made a number of key saves to keep us in the game and keep us ahead in the game."
The Mounties went 1-0-1 in the three-team, round-robin tournament, also tying Tenafly 1-1 in a thriller last Wednesday, Dec. 26.
Ridgewood blasted Tenafly, 8-2, last Thursday, to set up Friday's winner-take-all matchup.
Mark Rechan was Montclair's hero in the Tenafly game, scoring  the game-tying goal with 15.9 seconds remaining in regulation, deflecting a slap shot from just inside the blue line past Tenafly goalie Charlie Goldman.
"I really didn't know it was going in," said Rechan, who came on to the ice as the extra attacker after MHS pulled its goalie. "Honestly I was just battling."
It was an important result for this young Montclair group, which graduated 11 seniors from last season's stellar 16-win squad.
The results have been positive this season, in part thanks to the team's senior leaders, including goalie Graham Roy, who made 19 saves to preserve the tie for Montclair.
Roy has been part of a two-goalie committee this season with Podvey and was shutting down Tenafly for most of the game with some great saves until Tigers' Christian Rosato finally broke through with a little less than six minutes left in the third period.
"I was disappointed," said Roy, who made 19 saves. "I felt like something was coming on. They were just playing a step faster than us… You don't want to be the goalie to give up the winning goal."
The Mounties' goalie duo has been working very well all season, allowing just 21 goals in 12 games thus far. Both Roy and Podvey also saw time on the varsity last year alongside Gus Bylin, who transferred to a prep school instead of returning to the nets at Montclair.
Right after Tenafly scored, Montclair head coach Mark Janifer called a timeout.
"He just was saying keep working hard and keep going until the buzzer goes off," said Rechan.
And finally Rechan scored with assists from Harry Bylin and Jared Topf to keep the hope of winning another Montclair Invitational alive.
But it probably did not have to come to the last-second heroics for Montclair.
Rechan, Kellum Foster-Palmer and Brett Janifer all had premium scoring chances at times throughout the game, their shots denied by either Goldman or the crossbar. The Mounties also had a minute-long 5-on-3 power play in the second period that they were unable to convert.