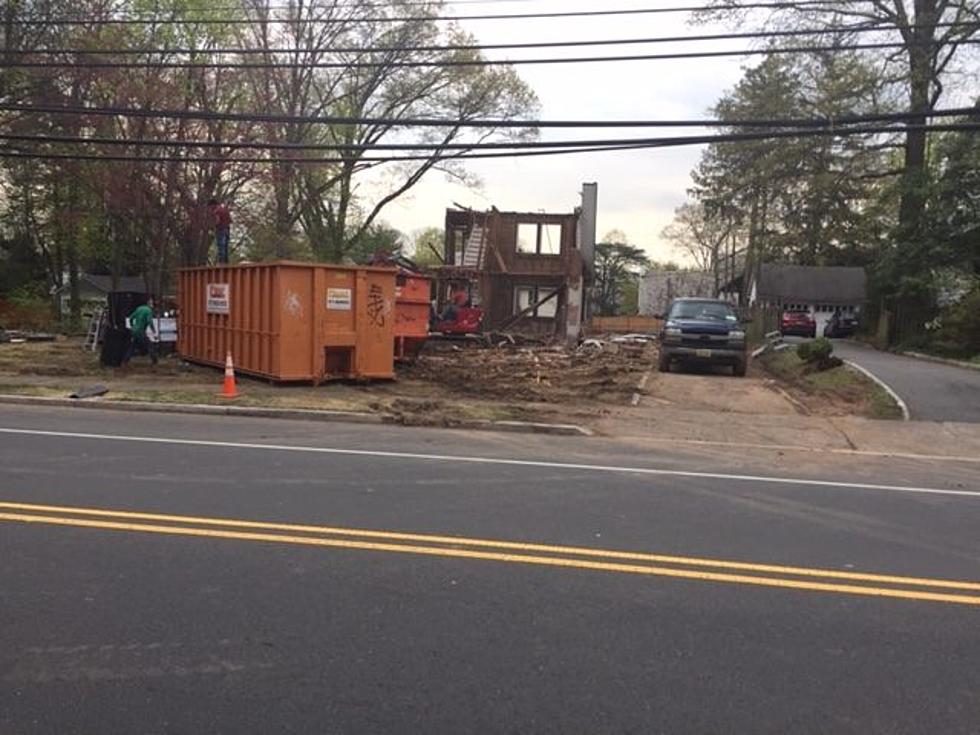 Montclair home gone over a weekend
Neighbor Dr. P. B. Markovic said that on Saturday only the back wall, stairwell and chimney stood on this Grove Street property. By Monday, it was completely gone without the owners' being issued a demolition permit.
Courtesy Dr. P. B. Markovic
By JAIMIE JULIA WINTERS
winters@montclairlocal.news
The township building department issued a stop-work order at a home on Grove Street, but only after the home was demolished. 
Permits were issued for work at the home at 515 Grove St., which was razed by Monday, April 19, but a demolition permit was not, according to township Communications Director Katya Wowk. Demolition of the home began Saturday, said neighbor Dr. P. B. Markovic, who alerted the town to the razing.
Since the home did not fall within a historic district and was not on the list of surveyed historic homes, oversight by the Historic Preservation Commission was not required even with the township's fairly new no-demolition law, said Preservation Commission President Kathleen Bennett.  
In May of 2019, the Township Council created laws to regulate the demolition of older homes following public outcry over the razings in February of two mansions on Lloyd and Undercliff — including one that dated to the Civil War. Those homes were also demolished on a weekend. 
The township placed an immediate moratorium on all razings while the township attorney drafted the laws approved two years ago. 
The law now requires the Planning Board and the Board of Adjustment to refer to the Historic Preservation Commission every application for development or demolition of homes in historic zoning districts or in a proposed historic district, or that are on a list of surveyed historic homes held by the building department. 
When a variance is not required to homes within designated districts or on the list, a certificate of appropriateness will be required for any permit request for an addition, alteration, replacement or substantial or total demolition on a building or site that is designated or located within a designated local, state or national landmark site, according to the ordinance.
Landmark Historic Zones include Pine Street, Town Center, Upper Montclair Business Center and Watchung Plaza. The areas of Oakcroft Avenue and Wheeler Street were proposed as districts, but never designated after residents objected, fearing the designation would place too many regulations on updates to their facades. Currently, the Estate section is under review as a designated area. 
The building department would not comment on what the work permits for the home at 515 Grove St. entailed, and instead requested that an Open Public Records Act request be made. Tax records show that the 100-by-200-foot property is owned by Deutsche Bank Nation Trust Co. and that taxes are $23,790. 
Assistant township planner Graham Petto said that no land use application for the property has been filed for Planning Board or Zoning Board review. If a new building followed the required yard setbacks, height and maximum coverage requirements, there would be no need for a variance, and an application would not have to be heard by the Zoning Board or Planning Board.
In the case of the Lloyd and Undercliff razings, an application to build a 60,000-square-foot home, "Lloyd Estate," on the cliff of Undercliff and Lloyd roads and abutting Eagle Rock Reservation was pulled in April 2019. Although massive in size, only two variances were being sought for the estate — one for a rear setback of 25 feet where 141 feet are required, and one for parking of 11 vehicles where four are allowed. The home could still be built without any board approval if the structure was moved forward and parking was reduced.
During the moratorium on razings in 2019, a Central Avenue homeowner demolished a 1907 home with no demolition permit after the town granted a permit for an addition and interior renovation. If the law had been in effect, that home would have fallen under the demolition review since it was in a historic district.
Bennett pointed to a Montclair law created in 2007 following the demolition of the Marlboro Inn, which created a one-year waiting period for demolition permits for homes 75 years or older. She said that it prevented developers from razing older homes and allowed the permit to be deferred until the Historic Preservation Commission could investigate the history of the building, analyze its architectural features and consider whether it should be an official, protected historic landmark.
In 2012, planning department officials suggested it be pulled due to changes to the municipal land use regulations, which they claimed made the local law moot.
Although the home at 515 Grove St. was not within a historic district, it was over 75 years old, being built in 1925, according to tax records. "This is the problem we have with our current ordinance and the home not being in a landmark [historic] district," Bennett said. Although the property owner violated the law by not requesting a demolition permit, homes can still be razed within the law, she said.
Markovic, who is a development project management consultant, said he also has environmental concerns, including asbestos abatement, lead paint, boiler removal and disposal of the debris since permits were not issued.
Correction: The Lloyd and Undercliff mansions were demolished legally with permits obtained by the township.