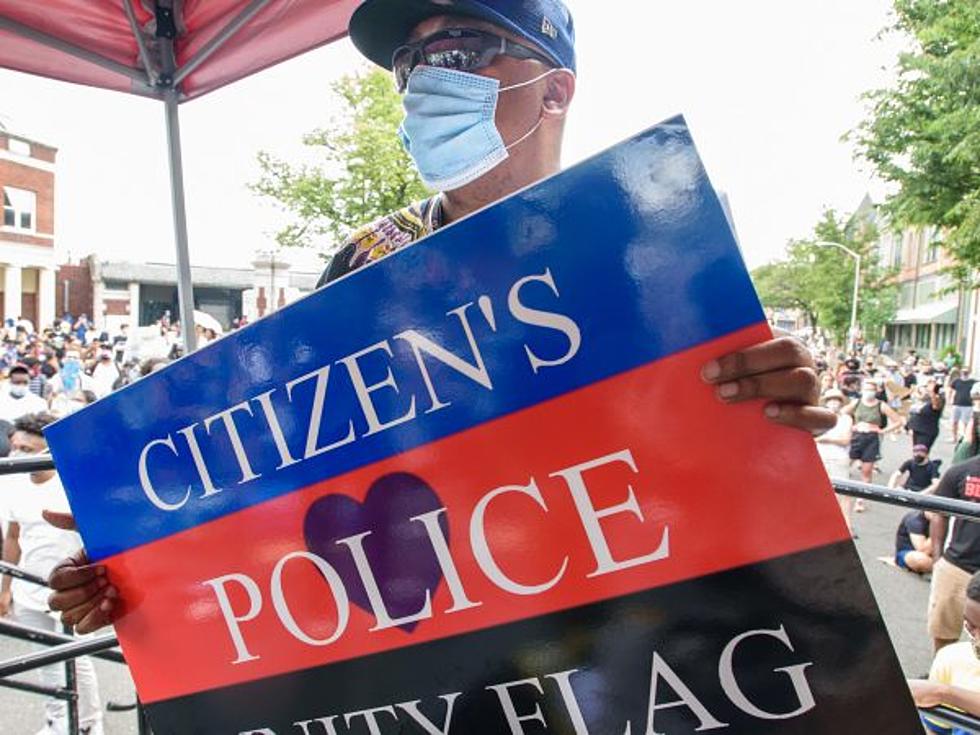 Montclair justice advocates call for police transparency
Caption: Long time Police Reform Advocate Abe Dickerson is part of a coalition of Montclair citizens demanding greater accountability and transparency from local police.

Adam Anik for Montclair Local
by Andrew Garda
garda@montclairlocal.news
A pair of marches over the course of two days in early June saw well over 6,000 people take to the streets of Montclair to protest police brutality and advocate that Black Lives Matter.
Abe Dickerson of Montclair Citizens for Equality and Fair Policing and Alexandria Kerr of the For the Peoples Foundation want that moment to become a movement.
"It's one thing to protest," Dickerson said. "And it's another thing to put something together that would change in terms of what we believe police reform should look like. So our message was that we hoped that folks weren't out here just to protest. We were hoping there would be some follow-up."
That follow-up has taken the form of engaging with the township, its Police Department and the Essex County Prosecutor's Office, with some meetings already having taken place and others still being scheduled.
"At the same time, we're engaging the public. So we're hoping that, as we put out information, we get the same [public] support that we did all those days of marching," Dickerson said.
Montclair Citizens for Equality and Fair Policing and the For the Peoples Foundation recently delivered a list of demands to various community leaders and have met with Essex County Freeholder President Brendan Gill as well as Montclair council members, while lobbying for a nine-point police reform resolution.
Dickerson is also looking for the Township Council to read the proposal at its next public meeting, on July 21.
"I just got off the phone with NAACP Montclair branch President Al Pelham," he said Tuesday night. "The NAACP are in agreement with our proposal, and we definitely will be doing a Zoom meeting with [them] next week. They will also co-sponsor our proposal." 
The demands are as follows:
• Mandatory body cameras for police 
• A civilian review board
• Police officer identification business cards, to be used when paperwork is exchanged during a traffic stop
• A requirement that police follow the traffic laws they enforce
• A conflict resolution program 
• A police de-escalation program
• A decompression opportunity program (mandatory real-time mental-health counseling after traumatic/hostile encounters)
• Removal of rhetoric such as "Blue Lives Matter" from all taxpayer-funded vehicles, buildings, etc.
• Introduction of the Citizen Police Unity Flag (to offset Black Lives Matter and Blue Lives Matter flags)
Dickerson and Kerr are both listed as signatories at the bottom, as are Alissa Brown, Aja Bussey, Olivia Chipepo, Alexis Dickerson, Maxi Lopes and Adarian Sneed, all of whom helped organize the June 6 "Black Lives Matter -- Crack the Blue Wall" march and rally. Some of the signatories were also involved in the Sunday march, which was led by Montclair High School students and saw in the neighborhood of 5,000 marchers attend. 
"We're not just fly-by-night people," Dickerson said. "I've been talking about police reform here in Montclair for the last 12 years or so. I've been thinking about police reform for quite a while."
Like all body camera and civilian review board advocates, Dickerson says accountability and transparency will help prevent incidents that could result in violence.  
Whether during a traffic stop, an emergency call or, as happened just over a week ago in Montclair, when a white woman called the police on her Black neighbors, Dickerson believes accountability could make all the difference.
How much difference body cameras would make is up for debate, however. A study by George Mason University's Center for Evidence-Based Crime Policy published March 23 in the journal Criminology & Public Policy found that while the cameras are generally seen as changing officer behavior for the better, many departments have found that they have not had a significant or consistent impact. 
The study, which touts itself as having the "most comprehensive narrative review to date of the research evidence base for body-worn cameras," says the cameras alone will not change how officers behave or how citizens perceive law enforcement, but are only one part of a much more complex puzzle.
Broader change
While there are questions as to how effective the cameras are, Dickerson and Kerr are not alone in calling for them and for other reforms in Montclair.
As previously reported by Montclair Local, activists such as Marcia Marley of BlueWaveNJ suggested a civilian review board at a Zoom meeting between MPD and town residents on June 2.
Montclair's police cars have been equipped with dash cams for more than two decades — Capt. Scott Buehler said he recalls the first ones recorded the video on VCR tapes — but several residents are pushing for body cameras as well.
MPD Chief Todd Conforti said he did not oppose an oversight committee, but said it would have to be formed with the new council's review. And while the police had no problem with wearing body cams, it could be cost-prohibitive.
In June 2015 the state began setting aside criminal forfeiture funds, which at that time came to about $2.5 million, for counties to distribute to local police for purchase of body cameras.
Conforti said at the Zoom meeting that it wasn't the initial cost of purchase, but "the storage, maintenance and producing of the video footage" that would be a concern.
At the same meeting, acting Essex County Prosecutor Theodore N. Stephens II said that the Prosecutor's Office was mandating that all police departments move toward the utilization of body cameras by the end of 2020.
While Dickerson and Kerr are focused on Montclair, others are working hard to move things in the same direction throughout New Jersey, including state Attorney General Gurbir Grewal.
On the same day of the meeting between the MPD and town residents, Grewal announced that the state's newly launched Use of Force Portal would allow for the gathering and analysis of uniform use-of-force data from all law enforcement agencies in New Jersey. It was originally a pilot program in some departments, but is expanding to cover the state this month. This information would be made public later this year. NJ Advance Media also collated use-of-force reports to produce The Force Report, a free, searchable use-of-force database. 
The last time the attorney general's office updated its use-of-force policy was two decades ago, though the process began again in December 2019, when Grewal announced that the Office of Public Integrity & Accountability would undertake a comprehensive evaluation of the policy.  Grewal said he intended to issue a directive revising and updating the policy by the end of 2020.
---
RELATED: AMID PROTESTS MONTCLAIR, COUNTY POLICE LEADERS DISCUSS POLICING
READ: MONTCLAIR HIGH POSTPONES IN-PERSON GRADUATION
---
Keeping up with the neighbors
While Montclair continues to discuss adding body cameras, some surrounding towns have either already done so or are in the process.
In late 2018, the Bloomfield Police Department used part of its budget to buy a body camera for every officer.
The Cedar Grove Police Department announced on June 16 that "they will be initiating a body-worn camera pilot program." The camera chosen was the Safe Fleet Mobile Vision BWX-100, which can "function as an audio and video recording device and could also be utilized as a still camera for photographic purposes." A red LED indicates when the camera is recording.
As of 2016, roughly 200 departments in New Jersey reported using body cameras, which is about 40 percent of the state's approximately 500 law-enforcement agencies, according to a press release by then-Attorney General Christopher S. Porrino. That number was quadruple the number in 2015, and the increase was due to the previous year's state funding.
The New Jersey State Police have still not outfitted all of their officers with body-worn cameras, despite Grewal's pledge to do so by the middle of 2019.
In May, Maurice Gordon was shot and killed during a motor vehicle stop by State Police Sgt. Randall Wetzel, who did not have a body camera. Three out of the four state troops — A, B and C — sign out body cameras before going on patrol, but Troop D — Wetzel's troop — does not have cameras.