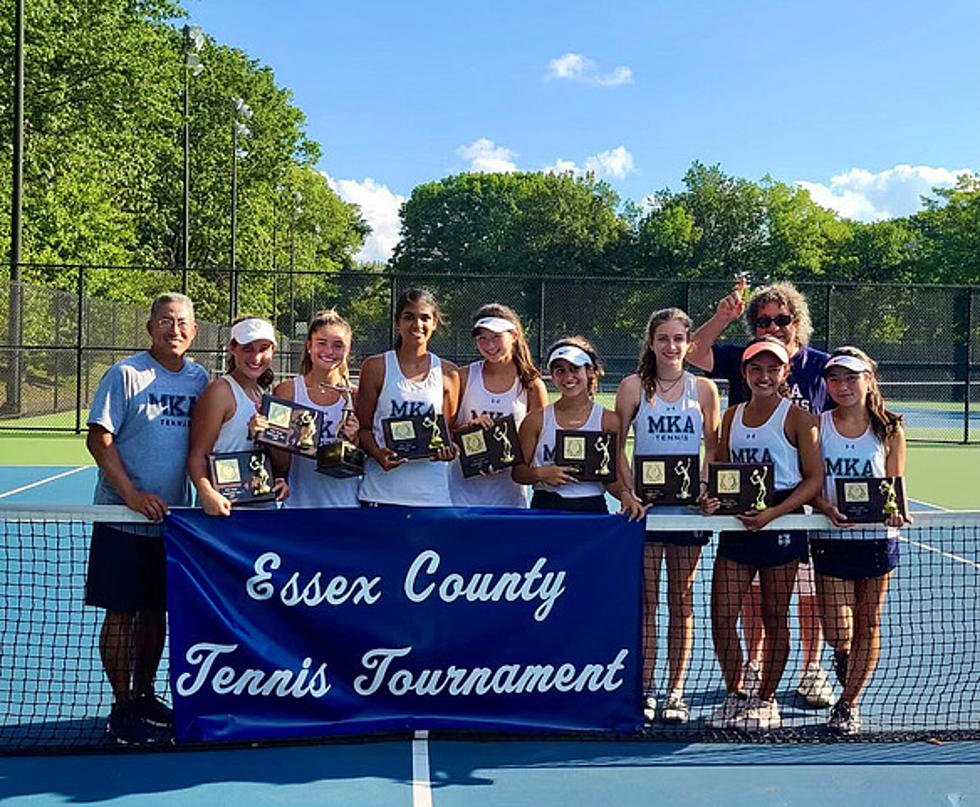 Montclair Kimberley beats Millburn for first ECT title since 2004
The Montclair Kimberley Academy girls tennis team beat Millburn 4-1 in the Essex County Tournament championship game on Saturday, Sept. 18. It was MKA's first ECT title since 2004.
COURTESY MKA ATHLETICS
BY ANDREW GARDA
garda@montclairlocal.news
For the first time since 2004, Montclair Kimberley Academy's girls tennis team has taken home the Essex County Tournament title, with a 4-1 win over top-seeded Millburn.
The No. 2 seed Cougars started things off on Monday, Sept. 13, with a resounding 5-0 win over No. 15 seed Belleville. They met crosstown rival and No. 7 seed Montclair High School later that day, again winning 5-0.
"Always nice to beat the hometown rival," said MKA head coach Bill Wing. "You know it's a big rivalry between MHS [and] MK, definitely."
The team had a few days off before the ECT semifinals, which placed them against No. 3 seed Newark Academy, a perennial powerhouse in the conference.
It was a very tight battle, with MKA finally advancing with a 3-2 win.
"First singles was tight. Hannah [Ganchi] lost, and because the match was decided she played a third-set tie-breaker, and that could have gone either way," Wing said. A third-set tiebreaker is a race to get 10 points first and is always exciting to watch, even when the match is decided. Sometimes it can be even more intense as the athletes don't have to play, and are doing so with nothing but pride on the line. Unfortunately in this case, Ganchi fell, 10-4.
At second singles, Milagros Carbajal Diaz had a tough first set against Newark Academy's Mallika Reddy, edging her opponent with a 7-5 win.  Carbajal Diaz ran away with the second set, though, winning 6-0.
"She played a great match at two," Wing said of Carbajal Diaz. "And then third singles was Amara [Bhatia], and she played a great match."
Bhatia won her match in straight sets, 6-0, 6-0.
With two wins out of the way, it would come down to doubles, and MKA clinched with the first doubles team, of Katie Chung and Katie Nossa, which won its first set 6-2 before battling through a tough second set to win 7-6.
wIt worked, as the team clinched a berth in the finals against Millburn. 
The match against Newark Academy was much closer than the finals match against Millburn, which MKA beat 4-1.
Ganchi bounced back from her close loss to Newark Academy with a decisive 6-0, 6-1 win over Angelina Lei. Carbajal Diaz and Bhatia both won in straight sets as well, as did Lewis and Lopiccolo at second doubles. Chung and Nossa fought hard at first doubles, but unfortunately couldn't overcome Millburn's Olivia Li and Saniya Sinkar, who won 6-4, 6-2.
Now Wing's team looks toward the heart of its division schedule and hopes to continue winning there, and then carrying that momentum into the NJSIAA tournament.
They'll see Newark Academy again on Oct. 4 after the game was rescheduled from Monday, Sept. 20. Then they will go up against MHS in a rematch of their ECT meeting on Thursday, Sept. 23.
On Friday, Sept. 24, they go up against Millburn again. Now that all three of those teams have seen MKA, the Cougars know they will have a tougher battle on their hands. 
That means MKA needs to continue to be at the top of its game.  Wing feels as though that is not going to be a problem.
"Hannah [Ganchi] has played one for us the last couple of years, but she's really playing a nice level of tennis and she's really worked hard in the summer and worked hard in the off-season," he said. "Milagros [Carbajal Diaz] at two, she came in and had a great freshman year, and she just keeps going, she's a workhorse. She hasn't lost a set yet."
Aside from the play of the junior Ganchi and sophomore Carbajal Diaz, Wing has also been impressed with Bhatia in the third singles spot.
"Amara Bhatia, who played first doubles for us last year, took the third singles spot from Katie Chung and she's 7-0," Wing said. "These kids have really worked hard."
Last season the Cougars finished 8-1, with a 3-1 record in the SEC-American. They were a very young team in a strange season, but they surprised a lot of people with a lot of wins and a NJSIAA Northeast E Non-Public state championship.
"I think last year we were young, but we knew our potential and as a team these kids really worked hard to get where we are," Wing said. "We had county's in sight, have conference in sight, and we'll see what we do in the states. We had to move up [in the tournament rankings], and now we've got to play Pingry and Kent Place, which is going to be tough." 
The coach said that was just the tip of the iceberg, and the girls know it.
"They've worked hard," he said. "They want to capitalize on this run, you know, because we're so young and they just love high school tennis. They really worked hard."