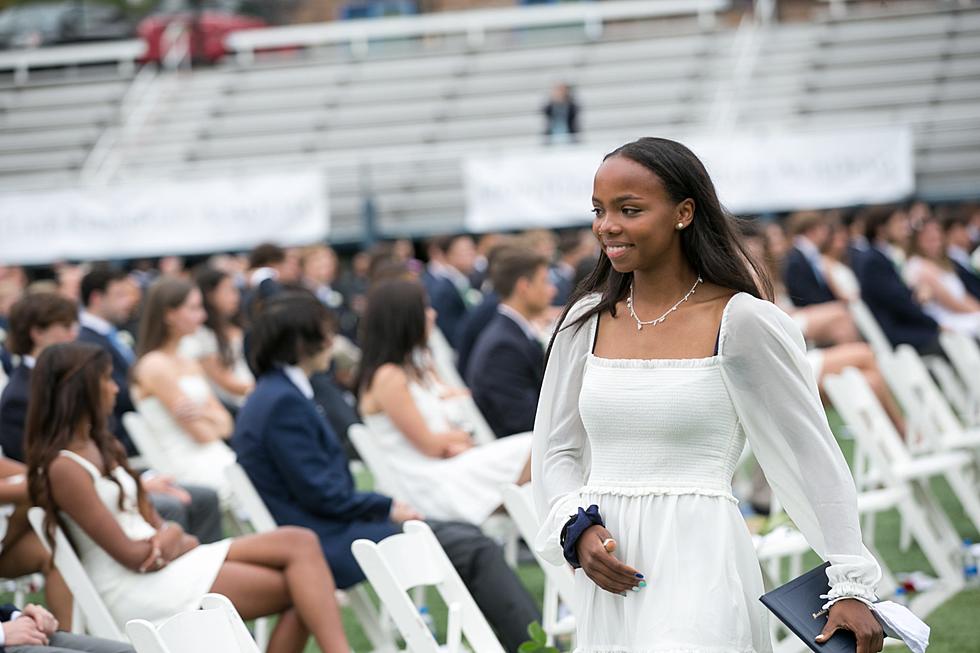 Montclair Kimberley commencement was first on campus since 1950s
Montclair Kimberley Academy Student Government Vice President Kelsey Freeman receives her diploma after delivering remarks and sharing reflections about her time at MKA. (COURTESY MONTCLAIR KIMBERLEY ACADEMY)
Montclair Kimberley Academy graduated 113 seniors Sunday, June 13, on the campus's Van Brunt Field — the first commencement ceremony held on campus since the 1950s.
Head of Upper School David C. Flocco, in his welcome address, credited the Class of 2021 for "not only helping us to be the community we are today, but also helping us to endure and emerge from this pandemic better than we entered it." 
Flocco urged students to remember the school as a home away from home they'll always be welcome to visit, and to think about "the memories and the community that you will take from here that will make up that home in your head that will never leave you."
Student Government Vice President Kelsey Freeman told the graduates their lives at MKA wouldn't be measured by academic achievements, but "the unscripted and unpredictable moments that remind us of who we are and lead us into the paths that we were always meant to follow." Senior Jonah Barbin urged his classmates: "Go out there, be confident, take risks, and be the special people I know you all are."
Head of School Thomas W. Nammack said he found inspiration and perspective in the work of student writers and artists in the final publication of the Upper School student literary magazine, Stylus. He told the graduates that "what I have witnessed of you and the community in the past 15 months [of the coronavirus pandemic] proves that you are, we are, all part of an exceptional school."
Student Government President Isa Luca and senior class President Nate Corbett officially concluded the ceremony by ringing the Academy bell, which dates back almost a century.  Honorary diplomas were presented to Nammack, who completed his 16-year tenure as the head of school and will be succeeded by Nigel Furlonge, as well as to George Hrab, an MKA faculty member retiring at the end of his 52nd year with the school.
More from Graduation 2021 in Montclair
The 2021 seniors from Montclair are Charlie Abdulhayoglu, Vanessa Amsinger, Kiara Bhatia, Nyla Boynton-Jarrett, Robert Di Geronimo, Taylor Everson, Jake Gale, Leah Glaser, Madigan Gyves, Louise Halbert, Holden Hargrave, Rollins Heath, Sarah Hobbs, Caleb Hofmann, Will Horn, Kailee Joseph, Colin Kearns, Alex Korfhage, Bennett La Londe, Aidan Larish, Christine Lindholm, Isabel Lucas, Neil Maharishi, Stella Marshall, Matthew McCann, Riley Rendino, Emma Ruddy, Ignacio Sanchez Gomez-Alvarez, O.B. Sedransk, Sebastian Seebach, Zach Sevrens, Arjun Sharma, Daniel Stehr, Gabe Stocus, Caroline Turgeon, J.P. Vizzone, Ethan Williams, Oliver Winters, Leah Wohl. 
Twenty-three students were inducted into the Cum Laude Society, including the following Montclair residents: Taylor Everson, Alexander Korfhage, Aidan Larish, Isabel Lucas, Riley Rendino, O.B. Sedransk, Ethan Williams, Oliver Winters. Residents of other towns inducted were Lola Coleman, Julia Conforti, Nathaniel Corbett, Anthony DiMaggio, Jeremiah Druckenmiller, Emani Fung, Spencer Goldberg, Madison Golodner, Nihaar Gopalji, Ariel Grossman, Zoe Lynch, Rohan Moniz, Isabella Szyfer, Sanaa Williams, Oliver Winters, Darren Zou.
The following awards were presented: Marjorie Winfield Easter Award: Jacob Gale; Ethel M. Spurr Award: Isa Lucas; Rudolph Deetjen Award: Sarah Hobbs; Robert C. Hemmeter Memorial Award: Alex Korfhage; Dr. Peter R. Greer Character Award: Riley Rendino; Head's Award: Vanessa Amsinger; Margaret Jenkins Osborne Prize for Excellence in Science: Sarah Hobbs; World Language Prizes: Caleb Hofmann (Latin) and O.B. Sedransk (French); Visual Arts Award: Ethan Williams and Nyla Boynton-Jarrett: Louis Armstrong Jazz Award: Bennett La Londe; Dance Award: Kailee Joseph; Mary K. Waring Scholars Award: Kiara Bhatia, Taylor Everson, Leah Glaser, Louise Halbert, Sarah Hobbs, Riley Rendino and O.B. Sedransk; Avery Barras Distinguished Scholar Award: Alex Korfhage and Isa Lucas; Presidential Service Award: Leah Glaser (Gold Award); Senior Community Engagement Award: Leah Glaser; Yogi Berra Museum's Best Teammate Award: Rollins Heath (soccer, lacrosse); Essex County Scholar-Athlete Award: Taylor Everson (tennis, lacrosse); MKA Varsity Award: varsity letters throughout her MKA athletic career: Sarah Hobbs (soccer, indoor track and field, outdoor track and field).
Montclair Kimberley Academy graduating seniors are set to attend the following colleges and universities: Bates College, Boston College, Boston University, Bucknell University (two students), Case Western Reserve University (two students), Champlain College, Colby College, College of Charleston (four students), College of William and Mary, Colorado College, Columbia University (four students), Connecticut College, Cornell University, Dartmouth College (two students), Elon University, Emerson College (two students), Emory University (two students), Fordham University (two students), Franklin and Marshall College, Furman University, George Washington University (two students), Georgetown University, Gettysburg College (two students), Hamilton College, Hobart and William Smith Colleges, Johns Hopkins University, Kenyon College, Lafayette College (two students), Lehigh University (two students), Loyola University Maryland, Middlebury College, Monmouth University, Muhlenberg College, New York University (two students), Northeastern University (two students), Northwestern University, Pratt Institute (two students), Princeton University, Providence College, San Diego State University, Savannah College of Art and Design, St. John's University, Stanford University, Stevens Institute of Technology (three students), Syracuse University (three students), The College of New Jersey, Tufts University (two students), Tulane University (five students), University of California Irvine, University of Chicago, University of Miami (four students), University of Michigan, University of North Carolina at Chapel Hill, University of Pennsylvania (two students), University of Pittsburgh, University of Southern California (two students), University of Tampa, University of Tennessee, University of Toronto (two students), University of Vermont, University of Virginia, Vanderbilt University, Villanova University (two students), Virginia Polytechnic Institute and State University, Wake Forest University (three students), Washington University in St. Louis, Wesleyan University (three students), Western University, Yale University (two students).
— Information provided by  Montclair Kimberley Academy
An earlier version of this post misspelled the school's name in the headline.