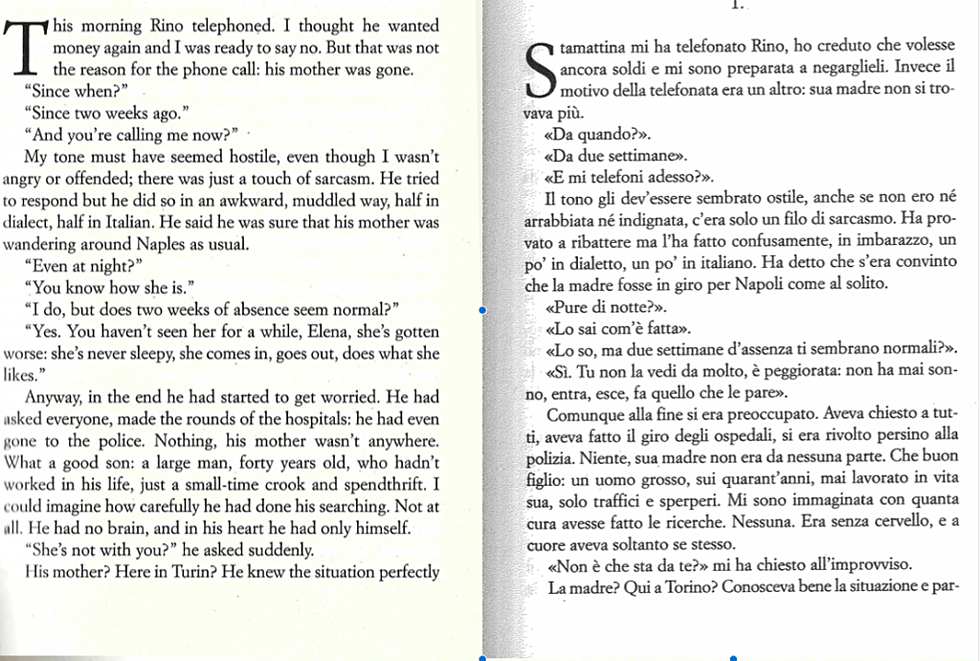 Montclair Literary Festival: Finding a common language, in translation
A page in English, and a page in Elena Ferrante's original Italian. COURTESY MICHAEL REYNOLDS
Found in Translation
Saturday, March 23, 1:30 p.m.
First Congregational Church Sanctuary
40 South Fullerton Ave.
Moderated by Garth Risk Hallberg.
Featuring Michael Reynolds, Ann Goldstein, Damion Searls and Emma Ramadan.
succeed2gether.org
By GWEN OREL
orel@montclairlocal.news
Sometimes the gaps between cultures seem vast.
Fifty years ago, in the anti-war song "Wooden Ships," David Crosby, Paul Kantner and Stephen Stills wrote that a smile is something "everybody everywhere does in the same language."
When it comes to actual words, language is not universal.
Europa Editions, which specializes in books in translation, was founded shortly after 9/11 to build bridges, said Michael Reynolds, the company's editor-in-chief.
"The effect of [9/11] was quite shocking," Reynolds said. "There was a communications breakdown worldwide. As publishers we thought, 'How can we address that, what can we do?' Professionally, not as citizens."
Reynolds will appear in a panel titled "Found in Translation" at the Montclair Literary Festival on Saturday, March 23, joined by Ann Goldstein, translator of Elena Ferrante's Neapolitan novels; Damion Searls, who has translated 40 books from German, Norwegian, French, and Dutch including Uwe Johnson's "Anniversaries;" and Emma Ramadan, a prize-winning translator from the French language. Montclair's Garth Risk Hallberg, author of "City on Fire," will moderate the panel.
ENGAGING THE WORLD
Hallberg is not a translator himself, but he has loved to read books in translation since he was in college at St. Louis University and took a class on Masterpieces of European Literature.
"Ever since then, it's been a part of my core idea of what literature is, something happening world-wide, not just in your backyard," he said.
The panel came about in part because of a suggestion from Margot Sage-EL, owner of
Watchung Booksellers, who had noticed Hallberg coming to order books in translation.
"She knew my reading taste from what I was carrying," Hallberg said with a laugh. He was also inspired by overhearing an enthusiastic conversation about the Elena Ferrante's popular book a table over at Italian restaurant Da Pepo.
Ferrante's four-volume work "Neapolitan Novels" have been nominated for awards and are very popular. The author, however, is a mystery: Elena Ferrante is a pseudonym, and she has kept her identity hidden since publication of her first book in 1992.  When Hallberg assembled the panel he knew he wanted Ferrante's translator, Ann Goldstein. He had met Emma Ramadan when both were on a panel at a French language bookstore in new York City. He had been to an event where Damion Searls unveiled his translation of German author Uwe Johnson's work "Anniversaries." The work is 1,700 pages long (it was originally published in four volumes), and considered a masterpiece. It is set in New York City during the 1960s, in the form of diary entries from a German woman who remembers Nazi Germany. The New York Times has called the work a masterpiece. Hallberg wants to ask Searls about living with this work for so long. He knew Reynolds personally.
________________________________________________________________________
READ: MONTCLAIR LITERARY FESTIVAL; JOYCE CAROL OATES EXPLORES 'DEAD-END ZEALS'
READ: MONTCLAIR LITERARY FESTIVAL BEGINS
________________________________________________________________________
"Three percent of fiction published is translated from other languages. That is not the case overseas. If you go to the Netherlands, you see that half the fiction is in English," Hallberg said.
Making work accessible drives Searls, who is also an author of a collection of short stories and a biography of the inventor of the Roschach test, "The Inkblots."
"I came to translation as a reader," he said. "What I read often matters a lot to me, and if I read something that isn't available to other readers, my impulse is to want to share it."
WOODEN GATES
How do you know if what you're reading is like the original?
"There really is no such thing as a faithful translation or an unfaithful translation," Reynolds said. "Translations happen in a very subjective way along a spectrum." A good translator is almost a ventriloquist, he added. And then there's the way new translations are in dialogue with older ones, he pointed out. Translators then need to wrestle, not only with the original, but also with existing translations. "I once had a translator describe translation of classics as a blood sport," he said.
The idea that a translation is "closer" to the original is not really how it works, Searls said. "The most important thing is to end up with a text that works in English (or whatever language you're translating into). One place this is obvious is with humor: There's no point
in translating the words of joke literally if you end up with something that isn't funny in the new language — you have to make it a joke, and change the content and timing as needed to make it work."
Europa Editions acquires books in the original language, but Searls said, you don't need to feel you can't judge a translation if you can't read the original: "It's the same judging as any other kind of book: If you like it, it's good!"
The hard puzzles for a translator, he said, are not usually the specific names: "what stumps you are the easy words, where you know what it is, but not what it's called." Those wooden gates in old elevators: what is the name for them in English? If the original author used a name, he said, "You'd want to get that texture, that granularity, into the translation too. How do you look it up, since you don't know what it's called? You can image search 'parts of elevator and hope you get lucky, but when that doesn't work?"
They are called "scissor gates."
ULTIMATE PARADOX
For Searls, it's a victory when a reader likes a book he's translated as much in English as he enjoyed reading it in the original.
Ultimately, a good translation is a mystery that Hallberg wants the panel to discuss. "It's actually a paradox. In a weird way, the closer and more literal the translation, the less literary it becomes. It starts to feel like someone who doesn't speak the language. Conversely, if a translation is too dynamic, too free, it may be wonderful, but not the author," he said.
His own work has been translated into 15 languages.
"Translation is the ultimate great place to observe the larger paradox. On one level we can't understand each other perfectly," he said. "On another level we find these brilliant solutions, and bring over meaning that should be impossible to convey."