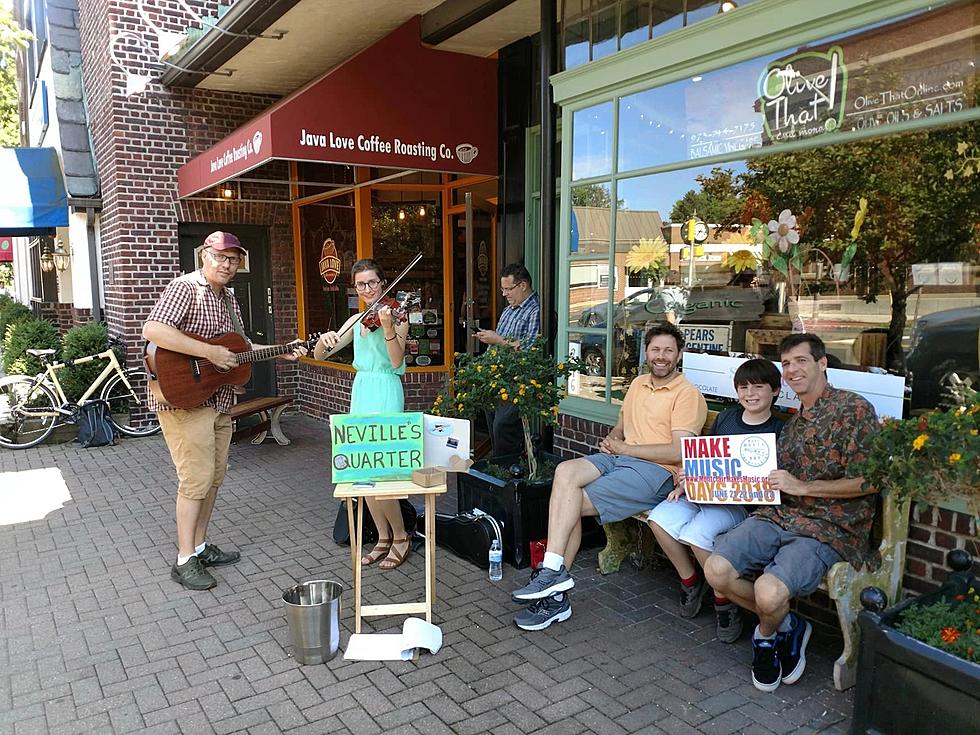 Montclair Make Music Days is back with live performances for 2021
Montclair Make Music Day will feature more than 100 performances across town from Saturday June 19 to Monday June 21. Performers are seen here in a past event.
(COURTESY INDIE ARTS MONTCLAIR)
By DIEGO JESUS BARTESAGHI MENA
bartesaghi@montclairlocal.news
Montclair Make Music Day — when more than 100 outdoor performances will be held across town — returns with live in person events this year, starting June 19.
The event, Montclair's eighth, will actually be three days in town — starting Saturday, June 19 and closing out June 21, when Make Music Day will be celebrated internationally in more than 1,000 cities and 120 countries. It was launched in 1982 in France, as the Fête de la Musique,
The event is open to every kind of musician, regardless of skill level.  The event is free and open to the public. 
Last summer, due to the coronavirus pandemic, Make Music Day was mostly virtual — with five in-person pop-up events on June 20, and an all-day livestream on June 21.
"We kept people separated," Greg Pason, Montclair Music Day event chair coordinator, said. "We just had some live music outside and it went really well. People were very responsible and I think they really enjoyed it." 
In recent weeks, most of New Jersey's restrictions on gatherings have been eliminated. But Pason said the event will adhere to any remaining guidelines and take steps to make sure people feel safe. 
"We're going to make sure we don't share instruments. We're going to take some basic precautions," Pason said. Organizers will share flyers prior to the event with recommended safety practices.
"We need to bring people back out again. So, music it's a good way to do that," Pason said. 
Pason first worked with Aaron Friedman, executive director of Make Music New York, in 2014 to bring Make Music Day to Montclair. 
This year's event begins on Saturday with the Festival Underground at Edgemont Park from noon to 5 p.m. at Edgemnt Park, as part of Terry's Serendipity Cafe, a non-profit, student run organization that hosts shows once a month to create a safe space for young people to showcase their talents. 
There will be live music on the Porchista Porch at 149 Forest St. — where friends have been writing and singing songs together for more than a decade, coming together as a band that has also played several venues and house concerts in town. Joe Alloco, John Cozz, Joe Galuppo and others will play on the porch from noon to 3 p.m. Several pop-up performances will be available in different venues across town. 
Montclair Make Music Day performers will also acknowledge June 19 as Juneteenth in their performances.
On Sunday, at Watchung Plaza, Rostafa will play at noon, followed by Jeff Hays and the Whole Shebang from 2 to 3 p.m., then poetry, spoken word and storytelling from 3:30 to 4:45 p.m.
Also on Sunday, at the Rand Park tennis courts on North Fullerton Avenue, there will be "Get Rad With Dad." From 9 a.m. to noon there will be free skate lessons as well as contests for skaters and their parents, contests for the best dad jokes and relay races. Live music will begin at 11 a.m. with DJ sets and performers including The You and Eyes, and Your Mystery Guest.
"We are excited to work with the skate park, and this is the first year we're going to be doing something formally with them," Pason said. 
Live performances will happen all over town, including the Montclair Pop Up Band at Edgemont Park. 
On Sunday, there will be a window serenade for residents at South End Gardens, 340 Orange Road, by father and son duo Josh and Houston Herman at 2:30 p.m.  And there will be the "CoMMMunity" (the three Ms stand for Make Music Montclair) sing-along at Watchung Plaza from 5 to 6 p.m. The Bloomingfields and the TNT Rambles will be performing.
"We're going to have little parades, and we're all going to get together at Watchung Plaza and do three songs together," Pason said. "Everybody can sing songs that everyone knows. And I'm hoping it makes people feel the community and feel a little better."
On Monday starting at 11 a.m. at Crane Park, there will be a performance of "Flowerpot Music," written by composer Elliot Cole and directed by percussionist Peter Ferry using flower pots as instruments. 
And, celebrating the official Make Music Day, there will be live performances at Lackawanna Plaza from 2 to 7 p.m. by Bern and the Brights, Eddie Nicholas and Your Mystery Guest. 
There will also be special events on that day. 
"We are going to have fun musical things," Pason said. "We're going to have steel drums and the harmonicas and a lot of ways for people just to pick up a percussion instrument and play."
An earlier version of this post incorrectly stated a date of last year's Make Music Day event because of a typo in information provided to Montclair Local.