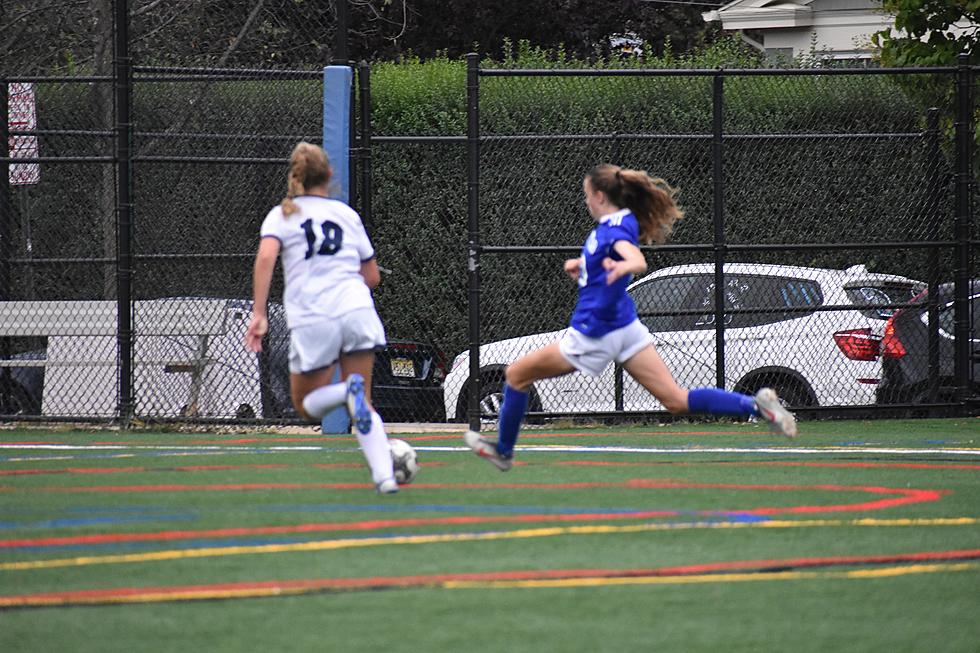 Montclair/MKA Soccer: Mounties stay perfect in 3-0 win over Cougars
MHS junior Claire Manning sends the ball into the net for one of her three goals during the Mounties' 3-0 win over Montclair Kimberley Academy on Monday, September 16.
ANDREW GARDA/STAFF
by Andrew Garda
garda@montclairlocal.news
The combination of Claire Manning, Sydney Masur and Sonia Neighbors has been deadly for the Montclair High School girls soccer team this season.
So it was understandable that some worried that the absence of the freshman phenom Neighbors — who was hurt and not available to play against Montclair Kimberley Academy on Monday, September 16 —might cause the Mounties to stumble.
That was not the case, as MHS rolled to a 3-0 victory on the strength of three Manning goals and assists by Masur, Clare Daddabbo and Emma Belsky. Montclair now sits undefeated at 5-0 as they head into Thursday's match at Verona.
"We worked hard to make sure nobody knew Sonia was hurt," said MHS head coach Ashley Hammond, "but that seemed to squeak out early, so I'm sure [MKA coach] Jordy [Raper] planned around us not having her."
The MKA coach might have planned for Neighbor's absence, but once Manning scored the first goal with four minutes to go in the first half, the floodgates opened and the Mounties more than made up for Neighbor's absence.
One thing opponents are learning about this Mounties team is that you have to account for more than one player.
"We've got more than the one punch now, we've got multiple punchers up front," Hammond said. "Em Craine worked hard off the ball, Syd Masur and Chloe [Nemes] in the middle were just crazy good, [putting in] hard work underneath Claire and giving her opportunities."
"I just had all my teammates around me and creating the open space for me to take my shots," Manning said about her hat-trick. "They were peeling off to create that open space and take away defenders. And I was just able to be composed and get those shots off."
"We had a plan in terms of when we said Claire should go and she listened," Hammond said. "She's a smart girl and she went at the right times."
Hammond said that timing is critical against MKA because of defenders like Chloe Skipper and if you go at the wrong time, you'll have problems.
"Claire picked the right times to go and was able to get through Skipper, which is not an easy feat," he said. "So, kudos to my girls for being smart today."
While Manning was putting in her ninth, tenth and eleventh goals of the year, Masur was controlling the ball.
Already a fantastic player, Masur seems to have taken a massive leap forward this season. Her ball control is fantastic, her patience is endless and her ability to command the field is second to none.
There are players who are a joy to watch work on the field, and Masur is definitely one of them.
Hammond said that as impressive as she is on the field, her off-the-field work is even better.
"So that all-around player and all-around captain is where we've just had such a step up [from her]," Hammond said. "She sets the tone, she 'quiet bus rides' to games now. She says "we're going to quiet bus ride because we're going to focus." She's changed a few things as one of the captains and that kind of attitude off the field is as good as what you see on the field."
Don't get Hammond wrong though — Masur's work on the field is game-changing.
"What you see on the field is sheer class and brilliance day in and day out, she never stops working."
While the Mounties have dominated competition — outscoring the opposition 19 goals to 2 — Hammond said there's no easy game coming anytime soon.
"I think everyone is a test. Verona has a couple of really good players. We've worked hard off the field looking at all the other teams, I've watched MKA a couple of times, I've watched West Orange, I've watched Livingston more than any team. I've seen Verona. I've seen them all, and they've all got good players and I think the plan is for me to keep watching them and try to come up with a plan and the girls keep executing, which they have done to the letter."
That knowledge — that no matter what Hammond puts in front of his team, they can execute — makes Hammond even happier than all the wins so far.
"They are so smart, these women, and that is what I find to be the most enjoyable part of my job," he said. "Working with really smart women who take a game-plan, and say "all right coach, we'll do it." And then I just watch them do it. It makes my life easy."