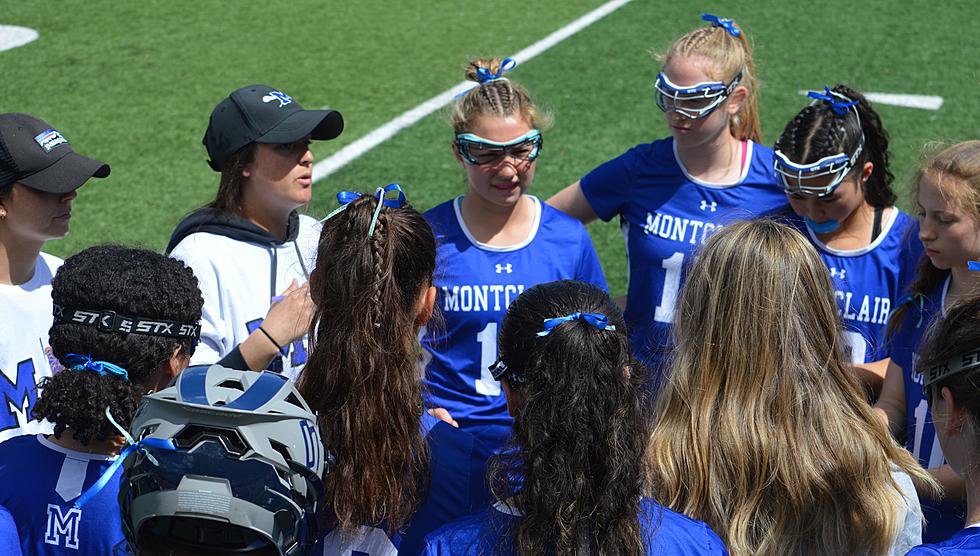 Montclair, Montclair Kimberley lacrosse teams seeking state championships
Montclair girls lacrosse. (EDWARD KENSIK/STAFF)
The Montclair High School and Montclair Kimberley Academy lacrosse squads will be starting their drives for state titles this week and next week.
The Montclair High School girls team (7-9), who are seeded fifth in North Group 4, will face off on Friday, May 26, (4 p.m.) against 12th-seeded Phillipsburg (4-16) at Fortunato Field, because Woodman Field is under renovation. If the Mounties defeat Phillipsburg, they will travel to fourth-seeded Westfield on May 30.
The Montclair High School boys team (6-11) are also seeded fifth in North Group 4 and will host 12th-seeded Parsippany Hills (13-6) on Saturday, May 27, at Watchung Field in Montclair. If the Mounties win on Saturday, they will take on the winner of 13th-seeded Phillipsburg vs. fourth-seeded Hunterdon Central on May 31.
The Montclair Kimberley girls lacrosse team has the best seed of all the area squads at No. 2 in the Non Public B state tournament. MKA plays host to 15th-seeded Moorestown Friends (1-13) on May 31 (4 p.m.).
The Cougar girls (12-7) will look to continue their success after winning the Prep B Tournament title over Princeton Day, 10-9, on May 12. 
Also Montclair Kimberly girls lacrosse moves back to the Non Public B. Last season the Cougars lost in the quarterfinals in Non Public A.
The Montclair Kimberley boys team (4-12) is the seventh seed in the Non Public B state tournament. The Cougars will play host to 10th-seeded Dwight-Englewood (9-5) on May 30. A victory over Dwight-Englewood would send MKA on the road to second-seeded Rutgers Prep on June 2. Last season, the Cougars lost to Rutgers Prep, 11-4, in the Non Public B title match.
Girls Lacrosse
Montclair High School
Montclair girls lacrosse goes into a stacked North Group 4 section with the hope that the experience of the last two months will bear fruit.
The section includes some powerhouses, especially top-seeded Ridgewood and second-seeded Morristown.
The Mounties schedule has been geared toward a run for the next couple of weeks. The schedule has included tough opponents, including Morristown, which defeated Montclair 20-8 in the season opener in April.
"It's important that we take all of our trials and tribulations, successes and failures and apply them to what's to come," said Kim Kolodny, Montclair girls lacrosse head coach. "Everything we've been through has prepared us to play with heart and drive."
One of the keys for a run in North Group 4 for the Mounties will be support from players other than Montclair's top scorers, sophomore Olivia Nicoll (43 goals) and junior Lizzy Giordano (41). Contributions from the next highest scores, senior Meghan Crane (28), sophomore Aven Hodgson (27) and senior Megan Previdi (25), will go a long way from keeping the pressure off Nicoll and Giordano.
"Confidence and composure will be our two key components moving into the state tournament," Kolodny said.
The Mounties defense will also need to keep the scorers from Ridgewood and Morristown off the board and that starts with senior goalie Talia Cohen Vigder.
Montclair Kimberley Academy
The Montclair Kimberley girls are looking to add to their hardware this season.
The Cougars took home the Prep B Tournament title and could see the team they defeated in the Prep championship game, third-seeded Princeton Day, in the Non Public B tournament semifinals on June 6.
There's a lot of lacrosse before then and Montclair Kimberley will need to win a couple of games.
MKA head coach Chelsea Goss knows that her team needs to be "focused."
"The key for a run in the state tournament is remaining focused and disciplined through these next few weeks and continuing to build on what we have accomplished this season," Goss said.
Heading into the state tournament, the Cougars had won six of its last eight contests, including defeating Mount St. Dominic on May 22 and Cedar Grove on May 23.
"We have improved on our team defense and our offensive transition," Goss said of the second half of the season. "We are starting to play faster and more aggressively. We will need to keep this up heading into the state tournament and start each game strong."
For the Cougars to get to the Non Public B final on June 9 at Hunterdon Central, Montclair Kimberley will need offensive input from other players than leading scorer Aeryn Curren (46 goals), who will be double teamed by opponents. 
That support may come from the freshman twins Maggie Murphy (29 goals) and Shea Murphy (28), and their sister, senior Caroline Murphy (35). The three Murphys have a total of 92 goals, helping to fill the gap left by the graduation of last season's top scorer, Patricia Columbia-Walsh, who had 67 goals.
This is the second season in goal for junior Orly Sedransk, who has improved significantly and has only allowed seven goals per game.
Boys Lacrosse
Montclair High School
The boys lacrosse team ended its regular season with a two-game winning streak, defeating Glen Ridge (9-8, May 20) and Livingston (14-3, May 24).
But like the Montclair girls team, the boys team has a tough section in North Group 4, with three of the top teams in the state: first-seeded Westfield, second-seeded Bridgewater-Raritan and third-seeded Ridgewood.
Montclair head coach Mike Diehl hopes his team has the ingredients, like last season when the Mounties almost stunned Bridgewater-Raritan in the 2022 North Group 4 quarterfinals before losing 11-8. Bridgewater-Raritan would go on to win Group 4.
Heading into this season's state tournament, Montclair has the return of senior goalie Kyle Alexander, who missed time this season because of an injury. Recently, Alexander made nine saves in the victory over Glen Ridge.
Offensively the key for Montclair will be to get scoring from several sources.
There is no doubt that the Mounties' opponents will take out Montclair's top scorer, senior Luca Ward, whose 48 goals is twice as many as the team's next highest scorer, junior Drew Pfeifer with 24.
Some other sources of scoring for Montclair could be junior Evan Schmitt (16 goals), senior Ian Muchineuta (12), senior Simon Miklaszewski (11) and junior Ryan Duffy (11).
Montclair Kimberley Academy
The Montclair Kimberley boys have certainly taken their lumps this season, facing a heavy schedule that has included several top New Jersey schools.
The Cougars' schedule has included top teams, like Ridgewood, Pope John, Randolph and Bernards.
But MKA was also hurt by the injury bug with a condensed schedule this season that resulted in the Cougars at times playing several games in a short period of time.
Montclair Kimberley head coach David Giarrusso said that the theme this spring has been "amor fati," or love your fate, and that the struggle this season has resulted in growth for the team.
"It has been great to see the growth of each kid on the team, from varsity down to first-year players on the junior varsity," Giarrusso said. "The good teams will take away your strengths and make you pay for your mistakes, being held accountable like that has forced us to get better with our skills and rely on a team system to have success."
The Cougars ended the regular season on a high note in defeating a 14-win River Dell team, 11-8, on May 23.
For the state playoffs, the MKA head coach is counting on his seniors to lead the way for a relatively young team: the two captains, Evan Grossman and Jordan Fishback, along with Charlie Kenrick, Trent Bednar and Sohan Agarwal.
The seniors "have been incredible in keeping the kids positive and focused during some tough stretches in the season," Giarrusso said. "We will need that leadership and newfound poise and confidence of the younger kids."
The team also expects to get lots of help from the underclassmen, including freshman goalie Simon Hardiman.
Offensively Montclair Kimberley has a balanced attack with six different players scoring goals in double digits, led by Grossman and junior Nick Snyder with 21 goals each. Sophomore Henry McCann chipped in 19 goals and Kenrick added 15 goals. Junior Jack MacEvoy and freshman Noah Rodgers scored 11 goals each.