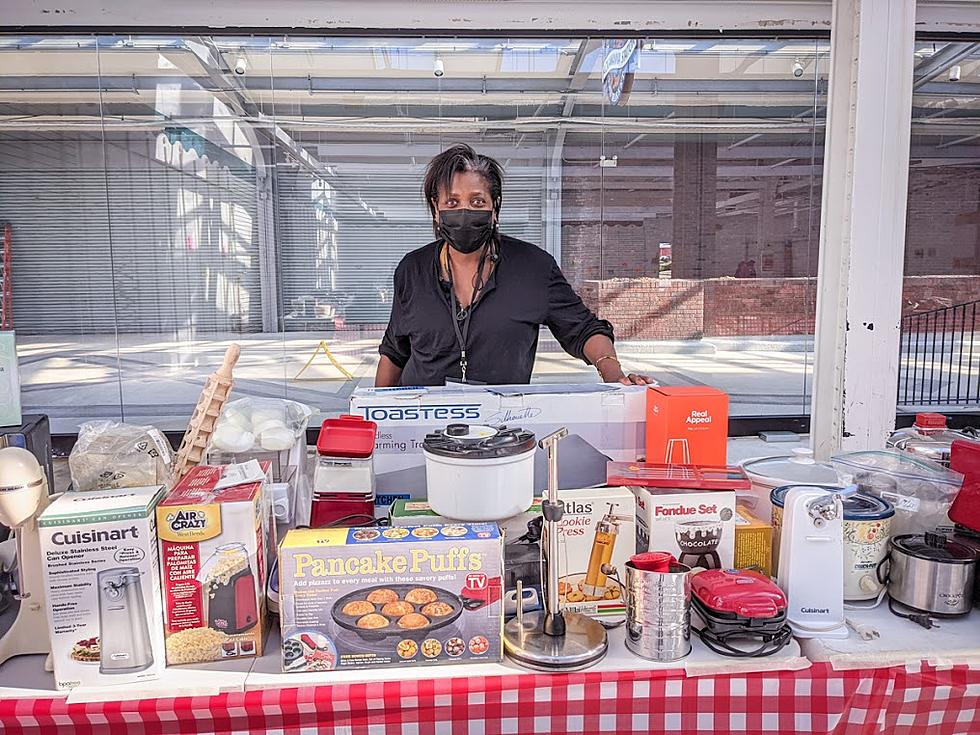 Montclair Mutual Aid's Free Shop featured dishes, stories and more (PHOTOS)
Reubena Spence volunteers at the Montclair Mutual Aid Kitchenware Freeshop on Oct. 17. (KATE ALBRIGHT/ COURTESY MONTCLAIR MUTUAL AID)
Montclair Mutual Aid, in connection with Montclair Neighborhood Development Corporation, held a Free Shop event Sunday at Lackawanna Plaza, bringing more than 200 people to shop through donated kitchen items collected by the organization.
The event, organized by a team of volunteers, emphasized making connections among neighbors as much as it did stocking the kitchens of those who came to shop, according to an press release about the event. Items given at the Free Shop included dish ware and dining utensils, cooking tools, barware, small appliances, cookbooks and seasonal table decor.
Storytelling provided entertainment for shoppers outside of Lackawanna Plaza and brought together local writers and enthusiastic home cooks to share vignettes of kitchen memories, recipes with meaning and nostalgic stories about items they donated to the Free Shop.
Storyteller on NPR's "The Moth" and Montclair resident Angela Dohrmann hosted the dozen speakers, and herself shared a story of her love of the kitchen junk drawer. Lesley Masuzzo, a Hillside School teacher, led the audience in a sing-along of "This Land is Your Land" after it was incorporated in a poignant story. Anisah Muhammad, a longtime Montclair resident, also spoke alongside two of her young grandchildren and their illustrations.
"Today not only turned out beautiful weather for Montclair, but was a successful community building event, where we shared stories, made connections and extended the use of unneeded kitchen items to others in our community," architect Rocco Giannetti said in the press release. "It was beautiful to participate."
Visitors to the Free Shop were treated to donuts and cider, courtesy of Montclair Bread Company, and given free tickets for raffle prizes provided by Williams Sonoma, Moss & More and Abode Consulting. BDP Holdings donated the use of the event space.
"Montclair Mutual Aid Kitchen Free Store is a hand up not a hand out; as we aim to continue to help members of the community," Montclair Mutual Aid member Aminah Toler said in the release.
— Information submitted by Montclair Mutual Aid
Aminah Toler is also an employee of Montclair Local.