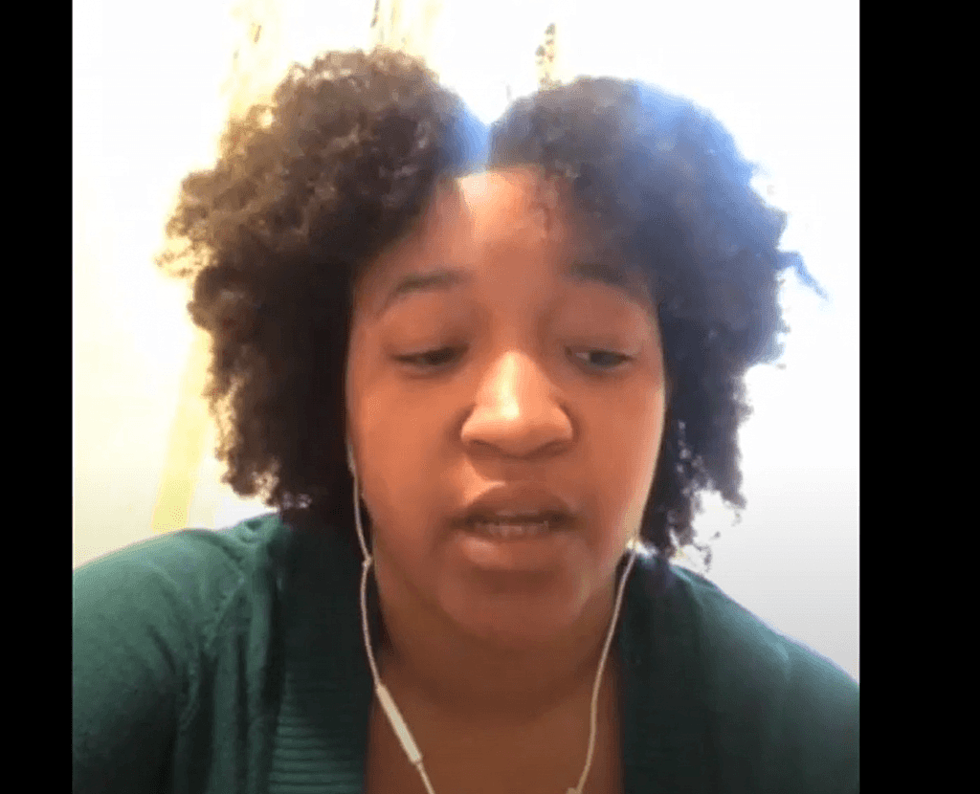 Montclair NAACP Youth Council holds mayoral candidates' forum
COURTESY MONTCLAIR NAACP Genesis Whitlock, a junior at Montclair High School and the president of the Montclair NAACP Youth Council, moderates the May 1 online forum with mayoral candidates Sean Spiller and Renee Baskerville.
By ERIN ROLL
roll@montclairlocal.news
Montclair High School students got an opportunity to ask the mayoral candidates questions relevant to them and issues facing the schools.
Students from the Montclair NAACP Youth Council and the Montclair High School Black Student Union conducted an online forum Friday night, May 1, with mayoral candidates Renee Baskerville and Sean Spiller. The May 12 election is by mail in ballot only.
The forum was co-moderated by MHS juniors Genesis Whitlock and Shayla George, who serve as the president and vice president, respectively, of the Montclair NAACP Youth Council. George is also the president of the MHS Black Student Union.
Diane Anglin, the acting education chair of the Montclair NAACP and the advisor for the Youth Council, provided the official welcome and introduction at the start of the forum.
Whitlock and George presented the candidates with six questions, all of which were submitted by Montclair students.
The questions posed by students ranged from how the candidates would help address Montclair's long-existing achievement gap, whether they agreed that additional transportation for students from Montclair's South End, to recognizing the mental health needs of students in the wake of incidents such as bomb threats at the high school this year.
As an opening question, both candidates were asked to demonstrate how they would immerse themselves into the community. Spiller cited his work as a science teacher and the vice president of the New Jersey Education Association, and his experience in working for what students and teachers needed. Baskerville noted that she had attended the Montclair public schools for all of her school years, and cited her work as an educator, a PTA parent, a member of the Board of School Estimate, and a member of the restorative justice committee.
Achievement gap
The COVID-19 pandemic has pointed to another aspect of Montclair's long-existing achievement gap, in which many students reported having difficulty obtaining the devices they needed to participate in online classes and homework.
"I think we always need to be prepared to make sure students have access to the technology they need," Baskerville said. The issues that arose during the pandemic are a "perfect example" of not being prepared, she said.
Baskerville said the district needs to continue its efforts on the achievement gap, including on issues such as Pre-K and transportation. "Now is definitely not the time to slow down our efforts, if anything we need to redouble our efforts."
Spiller said there is an intersection between the achievement gap and the opportunity gap, and the schools need to meet the needs of students as they're in this distance learning environment, and to continue addressing long-standing issues such as institutional racism, as well as to keep strengthening the restorative justice program. "All of these things are pieces that start with consistency, and we haven't had it."
Spiller said that the BOE has been divided in recent years, with important issues often being determined by one vote in either direction. "Because of that, we've seen a turnover in superintendents, business administrators and others," he said. That issue has hampered Montclair's ability to address the achievement gap and other issues of importance, he said.
The BOE announced last week that it had selected a new superintendent, but has not yet released that person's name to the public.
Transportation
Regarding the busing, both candidates agreed that the South End needs equitable access to transportation, which has been lacking.
"If there are needs for our students to get to school, or get to where we need them to be, we have got to support that work," Spiller said. "This doesn't have to wait for a new mayor, this doesn't have to wait for a new board."
Baskerville said bussing from the South End has been an ongoing issue. "The equity is that all students need to have equal access to getting to school on time," she said. Baskerville noted that she was on the transportation committee that is attempting to address the issue. One suggestion that was being discussed is a township shuttle buses, but she said that would be a stopgap measure until the schools could provide their own transportation.
Mental health
Montclair High School was the scene of two hoaxes this year: a report of a weapon on campus in November, and a bomb threat in February. Both threats required the school to go on lockdown, with the first threat also requiring Renaissance Middle School to go on lockdown as well.
Both Spiller and Baskerville acknowledged threat incidents have an impact on students' mental health and ability to learn, and that there must be a plan in place to help students cope.
"I know that it isn't something you go back into school the next day and, 'oh, I'll go back to learning my anatomy today,'" Spiller said. He said that in appointing BOE members, addressing the emotional needs of students will be a priority.
Baskerville said it was a "travesty" that students felt there is no mechanism to address how students cope with threats. She noted that mental health issues in the community, including among students, were taking on heightened importance. "As adults, we are missing things that we shouldn't miss." It was likely, she said, that the students who perpetrate acts such as the threats may be in need of help themselves.
Teacher pay
One question also addressed an incident in October in which teachers did not get paid on time due to a paperwork error, and how it would be kept from happening again.
The paycheck error was one of several problems affecting teachers' salaries for the 2019-2020 school year, including a contract error that required teachers to be paid at 2017-2018 rates while district officials tried to determine each staffer's correct pay.
Baskerville and Spiller both agreed that the incident was due in part to inconsistencies and repeated administrative turnover at the district level.
Skateboard and parking permits
Students also asked about issues such as refunds for unused student parking permits, and when the long-needed skate park for Montclair would open.  Both Baskerville and Spiller said that the opening of the skate park was imminent before the COVID-19 outbreak occurred. "That's the only thing that brought us to screeching halt," Baskerville said.
Regarding the parking permits, Baskerville said that was more of a question for BOE members and township parking officials. But she said that she would appoint, as mayor, BOE members and BOSE members that would be attuned to the financial needs of students and families.
Spiller said that as mayor, he would call for a COVID-19 task force. He said that the parking permit issue was a sign of larger financial issues affecting students and families. The township would have to look at the financial impact of COVID-19 on the community, and determine what the township could do to rectify some of those issues with available funds.
Both Baskerville and Spiller praised Whitlock, George and their peers for being closely involved in important issues for the schools and for Montclair as a community.
Whitlock thanked Spiller and Baskerville for their participation, on behalf of the Youth Council.
NAACP President Albert Pelham said, In the forum planning it was deemed of utmost importance that the students ask the questions. "It's important that you guys hear the voice of the youth of this community," Pelham said.