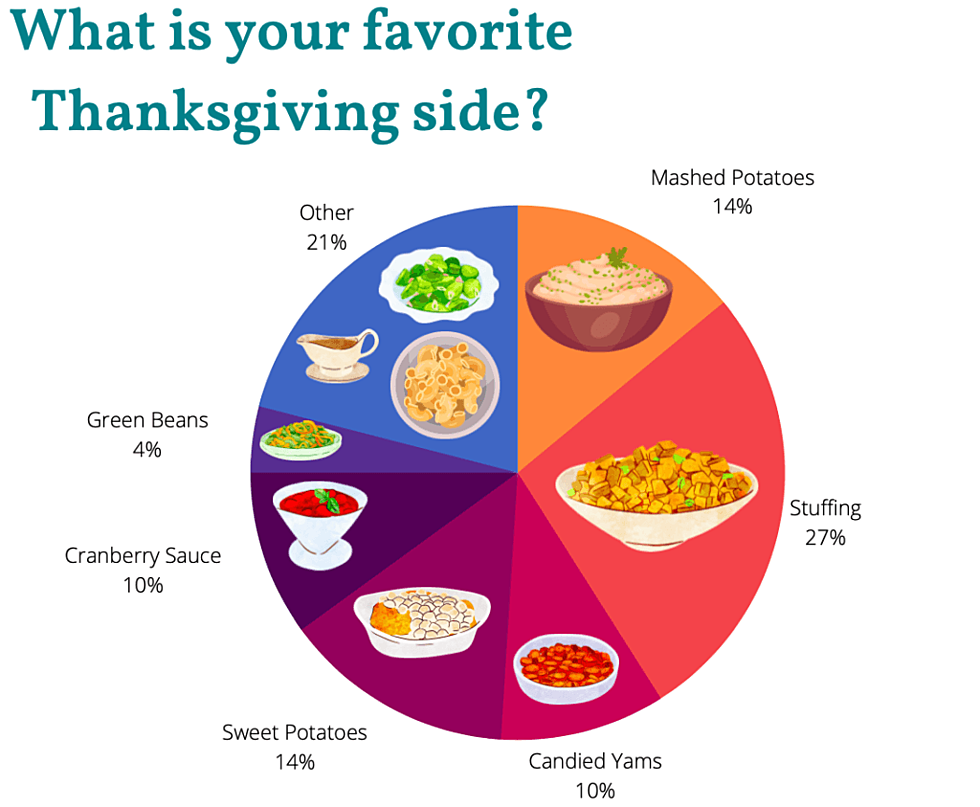 A Montclair Thanksgiving survey
Stuffing is the clear winner. MADELINE BIEBEL/STAFF
By GWEN OREL
orel@montclairlocal.news
We asked, you answered! 
What is Montclair's favorite side dish for Thanksgiving, we wondered. The favorite was stuffing — 25 percent. Mashed potatoes and sweet potatoes were tied at 14.6 percent (we think there should be a runoff). Candied yams made a showing, too, at 10.1 percent.
After that, we had a bunch of write-ins: Brussels sprouts, pearl onions, butternut squash…
 "My uncle always makes spätzle (German noodles that verge on tiny dumplings) and sends us kids (even though we are in our 30s now) home with extra bc my Nana would have wanted that," one respondent wrote.
"Two favorites: Colcannon — mashed potatoes with leeks, kale and butter — and whole-berry cranberry sauce." We're guessing that came from an Irish person. (Colcannon is an Irish dish.)
"My husband loves turkey stuffing pie from The Pie Store."
"Water chestnuts, dipped in soy sauce and brown sugar, wrapped with bacon (more of an appetizer, but love it)."
You can still vote: We're accepting answers through the weekend (we know you have leftovers).
We also wondered how you were going to handle Thanksgiving during a pandemic.
Many people are being cautious: 52.1 percent said they would be spending Thanksgiving at home, with family on Zoom or online. Hosting and visiting family made showings as well: 14.6 percent are hosting, and 10.4 percent are visiting family. Other responses include "Planning on visiting, but may cancel due to COVID," "With a few family members in our 'bubble,'" "I'm staying at home with no turkey dinner to devour." (Aw.)
_______________________________________________________________________
READ: RECIPE OF THE MONTH: STUFFING TO WARM THE HOLIDAYS
________________________________________________________________________
And what about your favorite Thanksgiving traditions?
Here are a few:
"Watching the Macy's Thanksgiving Parade / contributing food to Toni's Kitchen & MESH."
"Making a cornucopia out of Crescent Roll dough then baking."
"Bloody Mary for Breakfast."
"Tacky turkey centerpiece & items -- salt & pepper shakers, gravy boats, platters, candles, oven mitts, etc…"
"At the end of dinner we have a grab bag of little gifts."
"Watch 'March of Wooden Soldiers' and surf n turf instead of turkey."
"Eating!"
When we asked "Anything else you want to say?" these were some of the answers:
"Not all vegetarians eat Tofurkey! (I have never had one in my 26+ years of being veg!) Only me and my kids are vegetarian in my family and we always have plenty of delicious food to eat!"
"A family tradition is delivering meals to many families and singing to and with the families who we deliver to. This year starting this Friday we will deliver food boxes to the families each Friday until Thanksgiving. If a family in Montclair would like to receive one, please call 973-746-3100 and leave a message."
Many of you said, "Stay safe."
Stay safe, Montclair, and have a happy holiday!