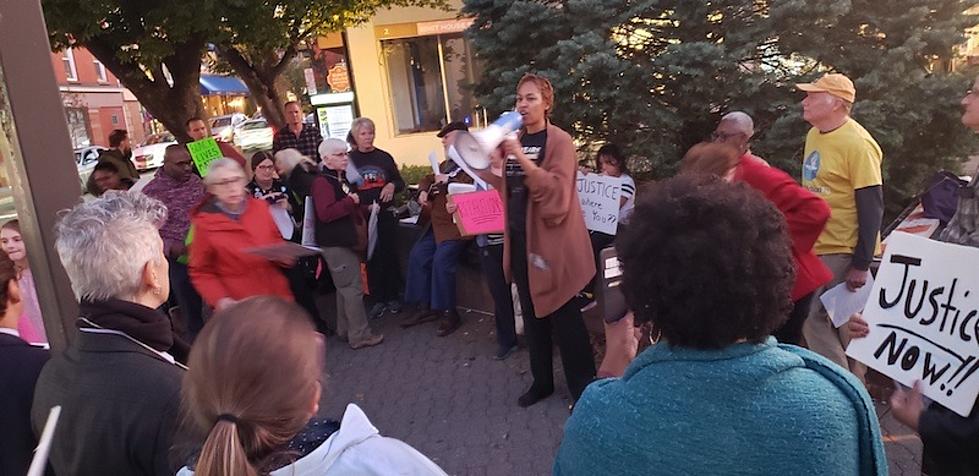 UUCM: fighting racism, for the long haul
Andrea McChristian of the New Jersey Institute for Social Justice speaks at a 2019 UUCM rally at Church Street Plaza attended by 45 people, who then marched back to UUCM for a reading of the play "Just as Cruel," by Montclair State University alumna Jessica Baskerville. COURTESY JANE GAERTNER
Undoing Racism Committee
uumontclair.org/social-justice/undoing-racism/
For information, contact uucmurc@gmail.com.
Information on UUCM committees ARE, BLUU and DRUUM is on the UUCM website, uumontclair.org.
By GWEN OREL
orel@montclairlocal.news
The box is only six by nine feet.
It has traveled around the state. It has been displayed at the Unitarian Universalist Congregation at Montclair.
It is the size of a solitary confinement cell.
The box is the work of the Undoing Racism Committee at UUCM, which has held book talks, presented speakers, organized marches, and more over the years since it was formed in 1992. It works with the New Jersey Institute for Social Justice, Antiracist Alliance of North Jersey, HANDS INC. (a rebuilding project in Orange and East Orange), and other organizations. 
The committee's members march in the African American Heritage Parade.
Currently it is working with UU Faith Action, the legislative arm of the Unitarian Church, to release detainees from ICE detention and urge correctional facilities to work with prosecutors to release low-risk prisoners.
"The public health crisis we are experiencing glaringly exposes the health, housing, and poverty issues which a disproportionate number of people of color in our nation confront daily. Immigration injustices are hurting people and children. How can we change these large, complex systems, institutions such as prisons and our courts, which seem so entrenched?" Jane Gaertner, who chairs the committee, writes on the Undoing Racism page of the UUCM website.
The committee will participate in Rev. William J. Barber's "Digital Justice Gathering" on Saturday, June 20, and urges the community to join.
The Undoing Racism Committee includes members of UUCM as well as members of the community.
UUCM AND IDENTITY
In addition to Undoing Racism, UUCM's Intern Minister, Antonia Bell-Delgado, has established three other groups expressly devoted to exploring racial identity and bias within the organization: 
 The

Allies for Racial Equity

, with a mission "to examine white privilege and white supremacy within the UU faith, and use the resources of ARE under the United Universalist Association auspices," according to an emailed statement. ARE is for persons who identify as white.

BLUU, or Black Lives of Unitarian Universalism. The organization, which had already been in formation before Bell-Delgado's tenure, is for persons at UUCM who identify as black.

DRUUMM, Diverse Revolutionary Unitarian Universalist Multicultural Ministries.
Anneliese Scherfen is heading ARE, which has its first meeting tonight, June 18. The three UUCM groups, Scherfen said, are spaces where congregants can "explore their identity and have spiritual growth through that exploration." The Undoing Racism Committee, she explained, is more "committed to undoing underlying racism in its systemic forms."
Scherfen sees herself as a point person, facilitating the meeting and bringing up questions. "We really feel that it's important for white people to do this work, because if we don't, then we can't get anywhere. If we can't acknowledge our own identity and our own role in the system of white supremacy, then we can't change it."
RACISM AND HISTORY
"I was 13 when Martin Luther King was assassinated," Gaertner said. "That was a life-changing moment for me, as this moment is for many people in the world, but young people in particular." She has been part of the Undoing Racism Committee since it was founded. She has been leading the committee for four years, and is starting on her fifth.
Now, with the death of George Floyd at the hands of a Minneapolis policeman on May 25, she sometimes feels sick, and that there has not been progress. "It was a knee-lynching, that's what I call it," Gaertner said. "You see that, and now the whole world has been galvanized to make change, to demand change. And that's where I hope the movement will continue, that people won't just go away once they are tired of standing on the street.
"People of color, black people, are being killed by police." 
If the committee helps bring awareness to that, it is succeeding, she said. Right now the committee is focusing on the use of force by police —  there is a Use of Force subcommittee. 
And she herself has become a better listener. 
________________________________________________________________________
READ: UUCM URGES TOWNSHIP TO BE MORE INCLUSIVE FOR LGBTQ PEOPLE (2019)
READ: MEA PANEL TALK CALLS FOR LONG-TERM, SUSTAINED ACTIONS AGAINST RACISM
READ: HISTORY MARCHES IN THE MAAHF PARADE (2018)
________________________________________________________________________
It's important for people to understand history, she said: For example, many people new to town may not know that the African American Heritage Parade began after the Township Council said no to a request from the African American community for the Fourth of July parade to go south of Bloomfield Avenue, and into the Fourth Ward.
"So they said, 'Well, we're going to make our own parade.' I do make a point of telling people that history, just so that they are aware," Gaertner said. Undoing Racism meets once a month, to plan upcoming events such as film showings and presentations. There are about 30 people on the committee, Gaertner said. 
She meets regularly with the UUCM ministers to update them and "align with Unitarian Universalist values. From a spiritual and religious perspective, I have an obligation to do this work in the world."
BOOKS, MARCHES
Discussions of Robin DiAngelo's 2018 book "White Fragility" became a cornerstone of the Undoing Racism Committee, and have taken place twice. 
"I started reading it, and I said, 'I need to talk about this with people,'" Scherfen said. "I was already part of the Undoing Racism Committee, but I just didn't know where to go with this idea." 
Gaertner and she put together a three-evening program last year, and did so again this year, when the meetings were held over Zoom.
Undoing Racism ran a book club that has also discussed Michelle Alexander's "The New Jim Crow: Mass Incarceration in the Age of Colorblindness," Gaertner said. 
For Becky Doggett of East Orange, a former head of the committee, that discussion was particularly meaningful. A call had gone out to all UU congregations to read the 2010 book.
UUCM had about half a dozen discussions.
"Once we finished we were kind of stunned. There was all this information, and this realization about what had been going on, right under our noses. And so we said okay, now. What are we going to do about it?" Doggett said.
That was when UUCM became a very active part of the legislative ministry. "We were working with all the congregations in New Jersey, and it meant that it was a much stronger voice," she said.
Several bills were passed that reduced some of the practices that created mass incarceration, and then the legislative ministry worked hard on banning the use of solitary confinement. A bill was passed that established guidelines for when solitary confinement could be utilized, eliminating its use for juveniles.
"Youth of color in particular were being criminalized," Doggett said. "For things that kids do when they're teenagers, doing crazy stuff. Whereas in the past or with white kids, they would be things that you called the parents and gave the kids a talking-to. Being a truant or even some mild vandalism, you know, kids would think of it as a prank, but it would be vandalism to a store owner. 
"And even within the schools. Whereas in the past the kid might be sent to the principal's office for something he was doing, acting up in the classroom, being fresh with a teacher, the police were brought in much more quickly into the scene.
"We found that the youth prisons were spending something like $200,000 a year for these kids to be there."
Another revelation that came out of discussing "The New Jim Crow" was that young black kids were arrested 10 times more than young white kids for marijuana usage, Doggett said. "And I would point out, 'Yeah, the cops are only going to black communities to pick up kids, they don't go on the college campuses. You're only going to find black kids because that's where black kids live.' 
"But of course we were really supporting the idea of decriminalizing or legalizing marijuana, because what we found is that the large majority of young people who were imprisoned were there for relatively small marijuana possessions, and becoming labeled as felons."
That's why the book is called "The New Jim Crow," Doggett said, because "once they were named felons they lost so much of their civil rights. So that was a real eye-opener to everybody."
UUCM has a more diverse congregation than some others in the area, she said, but added that when people are talking about how to attract more black people she reminds them that "in the African American community, the black church is a very important vehicle for the community, for emotional support. It is very hard to peel away from that community, and from that solidarity."
Undoing Racism has been holding an annual rally in October, in the Church Street Plaza in Montclair, to call attention to mass incarceration in the criminal justice system. Last year, the committee invited Jessica Baskerville, an aspiring playwright from East Orange and a recent graduate of Montclair State University, to hold a reading of her play "Just as Cruel." The play, Scherfen explained, is based on a New York Times interview with two formerly enslaved persons who moved to the Montclair-West Orange area during the 1880s. 
SOLITARY CONFINEMENT
And then there is the solitary confinement box.
The committee built the six-by-nine-foot replica to show people what the experience of being in confinement was like, Gaertner said. It was part of a movement to end solitary confinement in New Jersey.
On average, 1,000 persons per day were once kept in solitary in New Jersey prisons, Gaertner said. Sometimes the number rose to 1,500.
The box was "easily put together and disassembled," she said. "It was on our front lawn for about a week, around the time that a bill was moving through the bowels of the legislature." That was in June 2016.
The committee worked with the National Religious Campaign to End Torture and the American Friends Service Committee. After sitting on the UUCM lawn, the box traveled around northern New Jersey, and then came back to the township, to the lawn of First Congregational Church of Montclair. (It now sits in a member's garage, disassembled.)
Then state-Sen. Raymond Lesniak sponsored a bill restricting solitary confinement, the Isolated Confinement Restriction Act (S51/A547), which passed the state assembly in 2016. Among other things, the law restricts solitary confinement to 30 days total over the course of 60 days, with no more than 20 served consecutively, and restricts isolation of "vulnerable populations," including people under 21, over 65, pregnant women, people with disabilities, and members of the LGBTQ community.
Murphy signed it into law in 2019.
Gaertner said that exploring issues from the perspective of Unitarian Universalist values is meaningful to her: "The inherent worth and dignity of every person is our first principle. It is a privilege for me to be able to do this work."