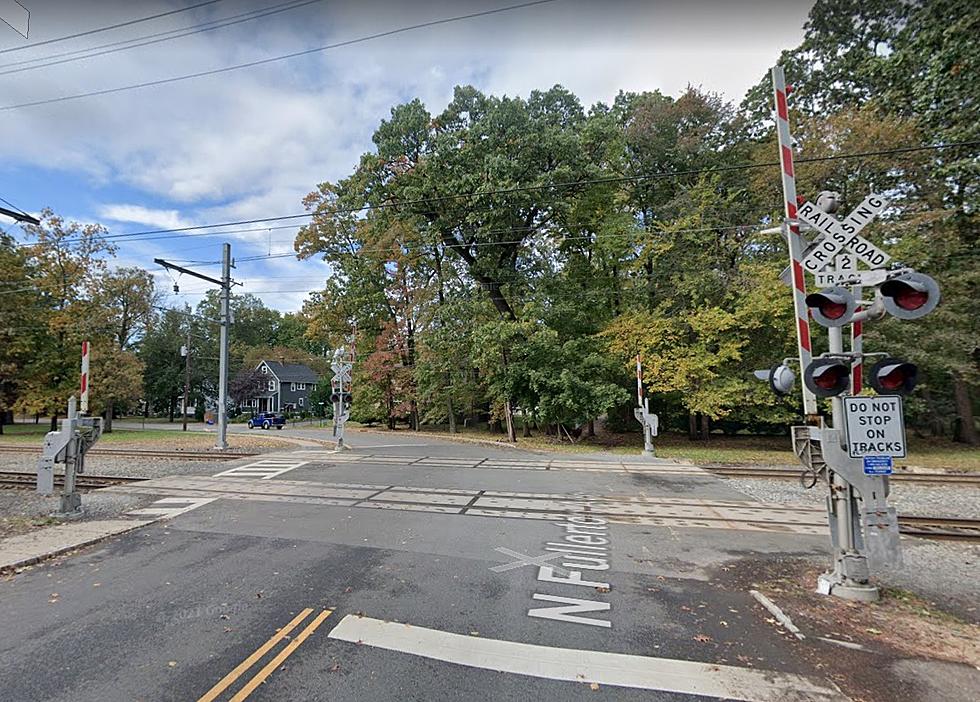 Montclair officials want crossings audited following death of media critic Eric Boehlert
Tracks crossing at North Fullerton Avenue
GOOGLE STREET VIEW
Montclair officials are asking NJ Transit to conduct a complete audit of the train crossing at North Fullerton Avenue, where township resident and veteran media critic Eric Boehlert was struck and killed by a train on April 4. 
Boehlert, an avid cyclist who lived down the street from the North Fullerton Avenue crossing, was hit at around 9:40 p.m., according to NJ Transit officials. On April 11, NJ Transit communications officer Jim Smith said an inspection following his death found "the lights and crossing gates were working as intended." Authorities haven't yet made any statement describing how or why the crash occurred. 
But Montclair Township Council members Robin Schlager and Peter Yacobellis, after visiting the crossing, are asking that the township manager request a complete audit of the safety devices there.
"Given what happened, a couple of us were talking and just want to see if we can ask NJ Transit for a special inspection/audit of the timing for the gates going up and down, lights functioning, the sequencing of gates going up and down in relation to trains stopping at other stations and crossings throughout town," Yacobellis said.
Schlager, whose husband was close to Boehlert as they worked together at Billboard Magazine, said she visited the crossing after the fatal collision. She told Montclair Local that although the crossing has "lights, bells and crossback signs," she is concerned with the length of the gates.
"It's not a safe crossing, with a big space left open when the gates are down," she said. "I am also concerned because students use the pathway to get to Woodman Field and to Watchung School." 
Smith told Montclair Local that the safety mechanisms at the crossing meet Federal Railroad Administration requirements. He said that the crossings are inspected every 30 days. 
"The gates do not cover the entire width of the roadway to allow cars to exit the crossing as the gates begin to come down. Cars and pedestrians should never enter a crossing when the lights begin flashing and gates are down or are in the process of coming down," he said.
Yacobellis said local officials want an evaluation conducted to see "if the arms coming down for both sides of the road on both sides of the track" can be updated with longer arms.
Schlager said she is also concerned with "confusing" timing of gate closures that residents have brought to her attention.
Smith said that, as an eastbound train approaches the Watchung Avenue station, which is 1,200 feet from the crossing, the gates at North Fullerton Avenue are activated and move down. When the train stops at the station, the gates are raised to allow street traffic to pass while the train is boarding. When the train begins to leave the station, the gates are again lowered to protect the street traffic from the passing train, Smith said.  
Some area residents recently told NorthJersey.com they found that behavior confusing, and that they didn't understand why sometimes arms went down then back up without a train yet passing by. Smith didn't elaborate on why the arms go down briefly when a train is approaching the Watchung Avenue station and about to stop there, but not yet headed to the crossing.
For trains that do not stop at the station, the gates are lowered as the train approaches and remain in the down position until the train leaves North Fullerton Avenue, Smith said.
Resident Elana Segal told Montclair Local she had a harrowing experience at the crossing on Jan. 31, when she was driving her daughter and a friend to field hockey practice at Woodman Field. 
"We were approaching the railroad tracks that cross North Fullerton. The lights were blinking, the arms came down and we stopped. A train slowly approached on one side and came to a stop. It did not pass us. The arms lifted. I began to drive, but the arms came down again as my car was on the tracks. We all screamed as we saw a train coming quickly towards us from the other direction. Thankfully we made it through unscathed. It never occurred to me to stop and look both ways after the arms go up," Elana said. 
She also pointed out "the extremely shortened arm on one side of that track."
The incident was not reported to police or NJ Transit, and Smith would not comment on the incident beyond saying that he provided Montclair Local with "an explanation of how the gates function."
Over the past 20 years there have been six other fatalities involving trains in Montclair, with three being confirmed suicides, two considered possible suicides and one considered undetermined, Smith said. The times of those incidents varied: 3 p.m.,11:05 a.m., 6:32 a.m., 5:30 p.m., 4:52 a.m. and 5:19 a.m.. he added.
Most recently, on Thursday, Jan. 27, an adult man was struck by an eastbound train in the vicinity of North Fullerton Avenue, at around noon. The man survived and was transported to a hospital, an NJ Transit spokesperson said at the time.
Since February of 2011, Montclair has been classified as a "quiet zone." At the township's request, the Federal Railroad Administration approved the designation. 
"As a result, trains are not permitted to blow horns for crossings as they would at other crossings throughout the state that aren't located in a municipality-designated quiet zone," Smith said.
Schlager and Yacobellis would like all of Montclair's crossings audited as well, to give residents "some peace of mind after such a tragic accident."
Open Public Records Act requests seeking accident reports sent to both the township and NJ Transit on April 14 had not been responded to as of Tuesday, April 19, Montclair Local's print deadline for this week. Government entities have seven business days to reply to public records requests, and can ask for extensions in some cases.