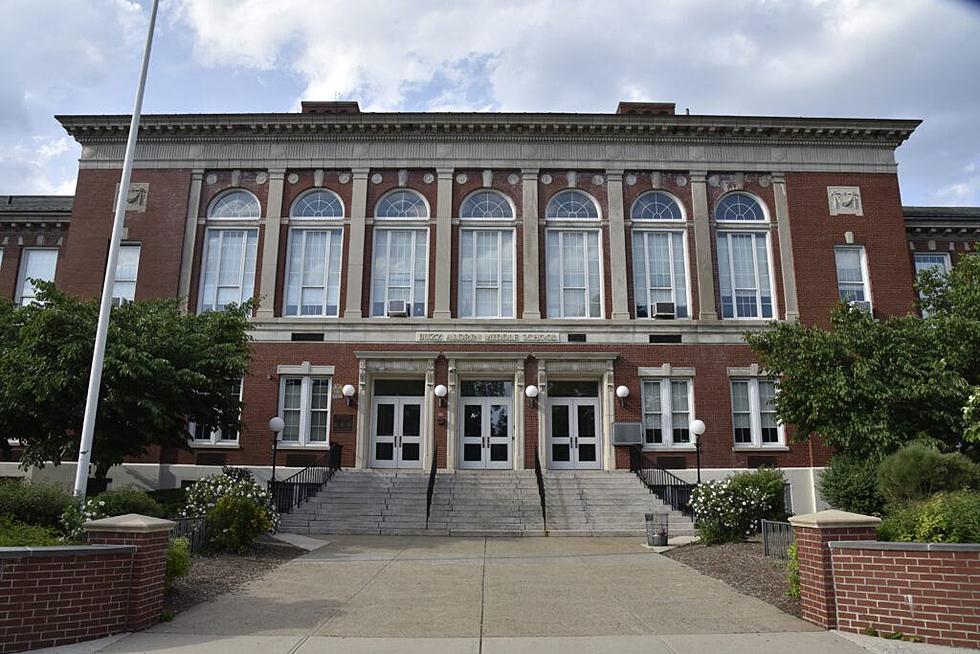 Montclair parent shares daughter's experience with antisemitism at school
Buzz Aldrin Middle School. (FILE PHOTO)
A Montclair parent spoke up last week about antisemitic comments and gestures made toward her daughter in school during the past two years.
Last school year, Michele Silver's daughter was called a "Jewish ____" by a classmate, who used a vulgar slur referring to female genitalia.
"That's pretty offensive, isn't it?" Silver said at the Oct. 17 Montclair Board of Education meeting. "Disgusting, misogynistic, but let's call it what it is, antisemitism."
The incident involving Silver's daughter, a student at Buzz Aldrin Middle School, was investigated by the district and determined not to be harassment, intimidation or bullying, referred to as HIB. Silver received a letter that instructed her daughter and the other student to stay away from each other and seek counseling, she said.
Two weeks ago, two students at Buzz Aldrin held up their arms in a Nazi salute in the direction of Silver's daughter, Silver said. Two HIB investigations are ongoing, she said. 
"When is enough enough?" Silver asked at the board meeting. "What else has to happen to my child or anyone else's for Buzz Aldrin and the administration to wake up and realize that antisemitism has been and continues to be a major problem in our schools?"
The comments and gestures directed at Silver's daughter have made her anxious, stressed out, and impacted her ability to focus on school, Silver told Montclair Local.
"It's a level of unwanted emotional and psychological impact," Silver said. "She just wants this to go away."
According to an April report by the Anti-Defamation League, antisemitic incidents "reached an all-time high in the United States in 2021, with a total of 2,717 incidents of assault, harassment and vandalism." That's the highest number of incidents recorded since the league began tracking in 1979, and "an average of more than seven incidents per day and a 34 percent increase year over year," the report says.
The experiences of Silver's daughter are not the first instances of antisemitism in the Montclair school district. In May 2021, an email from Montclair High School honoring American-born Israeli ultranationalist Rabbi Meir Kahane offended community members who described Kahane as a "racist, violent terrorist." During the 2019-2020 school year, swastikas were found at the high school on three separate occasions.
During her comments at the board meeting, Silver cited the reported belief of Nicholas Cruz, the Marjory Stoneman Douglas High School gunman, that "Jews are a part of a conspiracy to unseat white people from power and destroy the world" and recent antisemitic comments by rapper Kanye West.
"I am angry, I am enraged," Silver said. "I am also terrified."
Silver said she wanted to bring attention to the issue and "to help enact Holocaust education and teach our students."
"It is our job as parents and educators," she said at the meeting. "It is our duty as a town, community and the citizens of the world. This has to happen now." 
Schools Superintendent Jonathan Ponds responded that he would be meeting with the religious leaders and could not speak to the specific situation due to confidentiality. 
Board member Kathryn Weller-Demming then asked him to condemn antisemitism. 
"We are against antisemitism," Ponds replied, apologizing for any mispronunication of the term. "We care about all kids and all children here, and we will definitely do what we're supposed to do with respect to our bullying."
Board president Latifah Jannah said she wanted to reiterate the statement from Ponds on behalf of the board. The board continues to work on policies and regulations regarding anti-bias and antisemitism, and Maggie Shaver-Dock, the district's new mental health and anti-bullying coordinator, is working on trainings for staff and administration "to make sure our policy is carried out," she said.
Silver told Montclair Local she was disappointed by the comments from Ponds.
"The superintendent mumbling a response and acting like it was not something that mattered, not something critical, not something that he should be speaking on with strength and conviction, I was done," she said.
Silver hopes the board will further discuss increased Holocaust eduation at an upcoming board meeting, she told Montclair Local. Her goal is not to punish offenders, she said.
"Awareness is the first step," she said. "The second step is education. There's clearly a level of ignorance and that ignorance is alarming to me." 
The district is adjudicating the case involving Silver's daughter, David Cantor, executive director of communications and community engagement, told Montclair Local. 
"Antisemitism is reprehensible and we won't tolerate it in Montclair schools," he said. 
Holocaust education is a required part of the district's curriculum, Cantor said. New Jersey law requires that every board of education includes instruction on the Holocaust and genocides, "in an appropriate place in the curriculum of all elementary and secondary school pupils." 
The instruction should teach students to "identify and analyze applicable theories concerning human nature and behavior; to understand that genocide is a consequence of prejudice and discrimination; and to understand that issues of moral dilemma and conscience have a profound impact on life."
"The instruction shall further emphasize the personal responsibility that each citizen bears to fight racism and hatred whenever and wherever it happens," the law says.
Montclair High School also offers a course on the Holocaust, titled "Holocaust, Genocide, and Modern Humanity." And teachers required to teach about the Holocaust sometimes get more training through Kean University, Cantor said. 
Rabbi Ariann Weitzman, associate rabbi and director of congregational learning at Bnai Keshet, was part of a group of area rabbis who were convened last week to be briefed on the incident by Ponds and Cantor. After local rabbis invited Ponds to attend a meeting early on in his tenure, he has briefed the group on any antisemitic incidents in the district, Weitzman said. 
This is the first incident during this school year that Weitzman and her fellow clergy have been made aware of, she said. 
During the meeting, the rabbis were told about the incident and the district's follow-up, Weitzman said. 
The group discussed "additional possibilities for anti-bias training, curricular enhancements, and improved communications to school communities around antisemitic incidents to the extent possible under privacy laws," Cantor said. The district will keep the public informed about any decisions in this area, he said.
"Middle schoolers are middle schoolers, and it's basically their job to push buttons," Weitzman said. "That being said, not all middle schoolers become bullies and not all middle schoolers harass other students."
And the role of the adults in the room when incidents like these happen to correct and educate, Weitzman said. In the past, she has worked with the district to provide professional development for staff about Jewish history and culture after instances involving antisemitism. 
During the meeting, the rabbis and Ponds also continued a discussion about Holocaust education and curriculum that has been happening between clergy leaders and the district since before Ponds was hired, Weitzman said.
"It's not a special program to teach about the Holocaust," Weitzman said. "It's part of a standard curriculum for K to 12 schools."
The New Jersey Commission on Holocaust Education has curriculums available that the members have developed in line with state guidelines, Weitzman said. One-off assemblies are not enough, she said. 
Weitzman said she has heard from some congregants who are concerned about antisemitism in the school district. Some point to instances similar to that experienced by Silver's daughter but others highlight situations that are more subtle and difficult to rectify, Weitzman said — teachers giving homework over Jewish holidays or students not feeling comfortable wearing clothing with Jewish messages. The district is closed for Rosh Hashanah and Yom Kippur. 
But as a religious leader in town and not a district administrator responsible for curriculum decisions, all Weitzman can do is advocate, she said. 
"Hopefully we are working toward a Montclair that is fully inclusive, that kids feel comfortable showing up exactly who they are," Weitzman said.  
And Weitzman has felt that Ponds has been responsive to the clergy's concerns, she said.
"Whenever things show up in the schools, they're a reflection of the fact that we live in a society where there are inequities and where there are biases and where there are prejudices," Weitzman said. "I personally am really committed to having a working relationship that gets us to a better place for all of our students. And I think that's a shared vision."
There is a follow-up meeting between the group of rabbis and Ponds scheduled in a few weeks, she said. 
On Tuesday, Ponds sent a community email saying the district is aware that students have been talking about West's recent antisemitic statements. 
"I want to take the opportunity to remind you and our students that the district denounces any kind of hate speech," Ponds wrote in the email. "We do not tolerate any form of antisemitic behavior — whether it's expressed in verbal or online bullying, graffiti, jokes, or other kinds of activity."
He instructed parents and caregivers to reach out to school principals or central office if they have any questions or concerns.