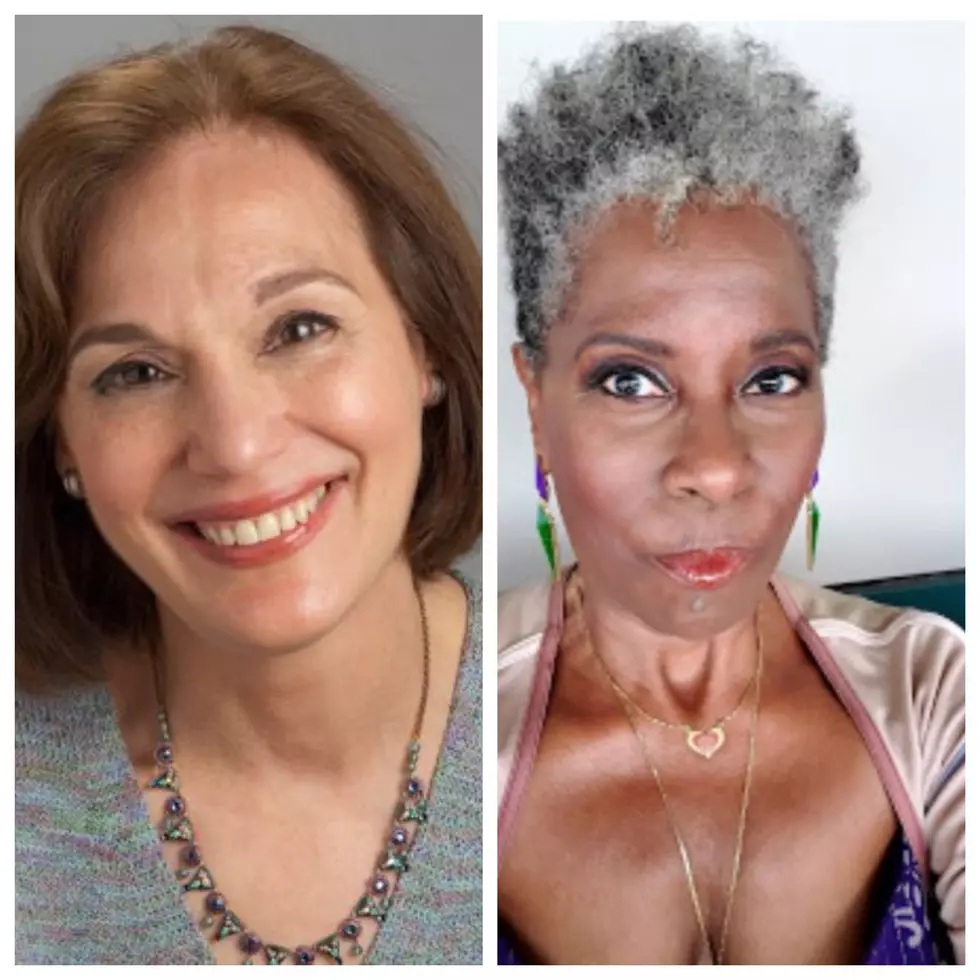 Montclair playwright to debut play at New York Theater Festival
Karin Abarbanel, the playwright, and Rhonda "Passion" Hansome, the director. (Courtesy Karin Abarbanel)
When Karin Abarbanel stumbled into a bookstore in East Durham, New York, more than 10 years ago, she wasn't expecting that it would lead to a new career path, becoming a playwright.
Abarbanel holds many titles, novelist, entrepreneur and most important, mother. But when she came across a book about Sojourner Truth, her role as a mother compelled her to share the story about the fight Truth went through to get her son. 
Truth was an enslaved woman who went on to become a monumental figure through her abolitionist and women's rights activism. 
Truth was born into slavery, not far from East Durham in Swartekill, New York. She escaped from her slave master in 1826 with her infant but had to leave her four other children behind. It was this moment in Truth's life that catapulted Abarbanel to bring the story to the stage. 
"A mother's heart knows no boundaries, a mother's heart is very powerful." Abarbanel said. After fleeing slavery, Truth found out one of her children, Peter, was being sold to a slave owner in Alabama. If Peter was sold to an owner in the South, he wouldn't be freed when he turned 21, like the State of New York allowed. 
In 1828, Truth went on to sue Solomon Gedney, the slave owner who her son was sold to and became the first Black woman to win a court case against a white man. 
Now, Abarbanel is bringing Truth's story to the New York Theatre Festival on Nov. 15, 18 and 19.
Abarbanel, a Montclair resident for more than 30 years, spent more than 10 years perfecting the play and now" Dust of Egypt" is finally ready to hit the stage. 
"One of the advantages as a writer is if you take a break from something, you see it in a fresh way," Abarbanel said. 
Abarbanel took many breaks while writing the emotionally charged "Dust of Egypt." Though she would pick up other projects during her breaks, including writing a children's fantasy book, "Britomar and the Forest of No Return," she said something always would pull her back. "Sojourner kept tapping me on the shoulder and was like you need to get back to this," she said.
Abarbanel's writing process wasn't a traditional one. She didn't outline the play. She didn't write in chronological order. Her writing style was more abrupt and would require her to pull out her notebook the minute an idea came to her. She refers to herself as a "pantser," as in she writes by the "seat of her pants" as the common phrase goes. Though she would prefer to be a "plotter" and construct outline's for her writing because she feels it may be more efficient, Abarbanel's instinctive writing style has proved to be successful as reviews for the play start to roll in.
reg e gaines, playwright and two-time Tony Award nominee said, "'Dust of Egypt' is one of the greatest plays I've ever read. It's more about what is happening today, almost metaphorically through this character, Sojourner. It's really compelling, it's passionate and the detail is remarkable." 
Though Abarbanel's play was inspired by her day at that bookstore in New York and takes place in New York, she is overwhelmed by the support that the town of Montclair has shown her while putting the production together. Her costume designer is Mary Blackburn, who served as the director of the Dance Company of the School of Visual and Performing Arts in Montclair. The stage manager, Emani B. Simpson, worked as a staff liaison at Montclair Art Museum. Abarbanel is also a part of the Montclair Write Group, which provides free classes for writers interested in a plethora of genres. 
"I'm just so, so grateful for all the help I've received from my Montclair community and everyone who has stepped up." 
The play will be directed by Rhonda "Passion" Hansome and produced by Domani Productions. To buy tickets, visit www.dustofegypt.com