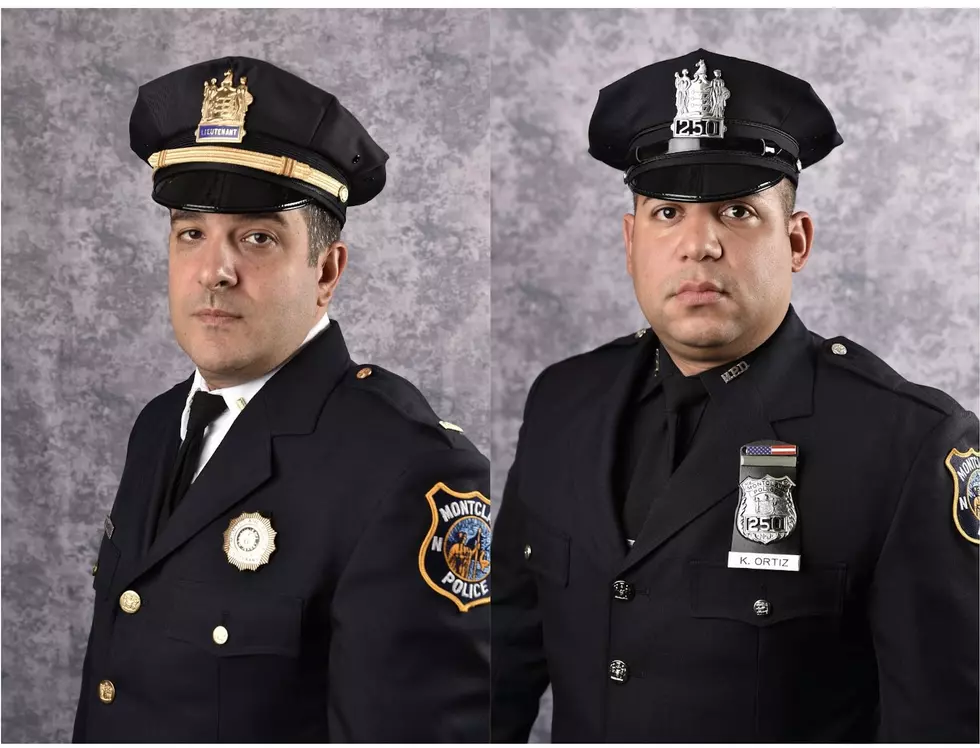 Montclair Police officers stop a suspected robber in foot pursuit.
Lieutenant Michael DeGrazio (left) and Officer Kevin Ortiz (right).
Two Montclair police officers captured an individual who was attempting to rob a resident outside of his home, the Montclair Police Department said in a news release.
The police gave this account of the incident:
The individual, identified as 19-year-old Tashawn Hall of East Orange, was arrested on armed robbery, aggravated assault with a firearm and other charges, Chief of Police Todd Conforti said. 
On Tuesday, Nov. 29, Lt. Michael DeGrazio was patrolling the area of Stonebridge Road and Graham Terrace in an unmarked police vehicle in response to an increase in reported burglaries last week. DeGrazio saw a pedestrian in dark clothing, a hooded sweatshirt and white gloves.
The lieutenant lost sight of the individual but decided to patrol the area on foot. DeGrazio then heard screaming coming from the area of Stonebridge Road and the sound of someone running on the street. DeGrazio saw the man he had seen earlier, now running east on Graham Terrace. He chased the man while ordering the man to stop. 
Off-duty Officer Kevin Ortiz saw DeGrazio pursuing the man. Ortiz joined in the pursuit and followed the man up a driveway, where the man reportedly turned and pointed a loaded 9mm handgun at the officers. Ortiz hit the man, which caused him to drop the gun. He was wrestled to the ground by the two police officers. 
While arresting the individual, Montclair Police Dispatch received a call that an armed robbery just occurred on Stonebridge Road. The resident reported that he was on a ladder outside his home when he was approached by the individual, who was later apprehended by the officer and lieutenant. The individual reportedly pointed a handgun at the resident and said, "Give me the keys to the car" while shaking the ladder with his other hand. The resident screamed, which was the scream that had alerted DeGrazio. 
"I commend these officers for their quick actions and bravery in apprehending this armed robbery suspect," Conforti said. "Lieutenant Degrazio relied on his instincts and experience in further investigating this individual, resulting in his immediate pursuit and apprehension."
Conforti continued: "Officer Ortiz, while off-duty, did not hesitate to assist in pursuing and detaining this armed subject. The fact that this suspect had just committed an armed robbery, and then pointed a loaded firearm at these officers illustrates the dangers that police face every day. I cannot put into words how proud I am of these officers."