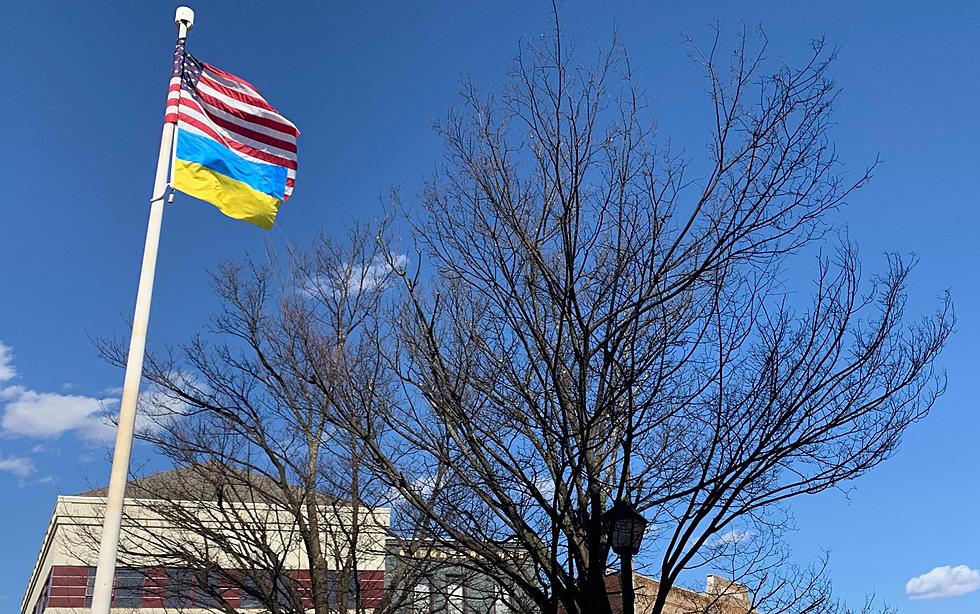 Montclair raises Ukrainian flag in Township Center to show solidarity
Montclair raised a Ukrainian flag in Montclair Center to show solidarity with Ukraine during the ongoing Russian invasion. The flag is at the corner of Bloomfield Avenue, Church Street and South Fullerton Avenue. (TALIA WIENER/STAFF)
Montclair has raised a Ukrainian flag in Montclair Center, an effort to show solidarity with Ukraine during the ongoing Russian invasion. The flag is at the corner of Bloomfield Avenue, Church Street and South Fullerton Avenue. 
The flag is just one way in which Montclair residents have shown support for Ukraine in the past weeks. Clergy, Montclair-area civic leaders and residents gathered Feb. 24 during a vigil for peace in Ukraine. A Facebook fundraiser by Councilman Peter Yacobellis has raised more than $25,000 since it began Feb. 26. Resident Tim Witzig protested Russian-based oil company Lukoil Feb. 27, asking drivers to fill up their tanks elsewhere (though some oppose boycotts of Lukoil, noting stations are owned by individual franchisees). One Montclair business, The Wine Guys, threw out their Russian-made inventory. 
Montclair Mayor Sean Spiller has also notified officials in Cherepovets that he was beginning the process to withdraw from a sister cities relationship with the Russian community, but so far, the Township Council hasn't taken any formal action to dissolve or pause that relationship.